Fully Promoted Bathurst
Our Work
SELF PROMOTION - Reusable straws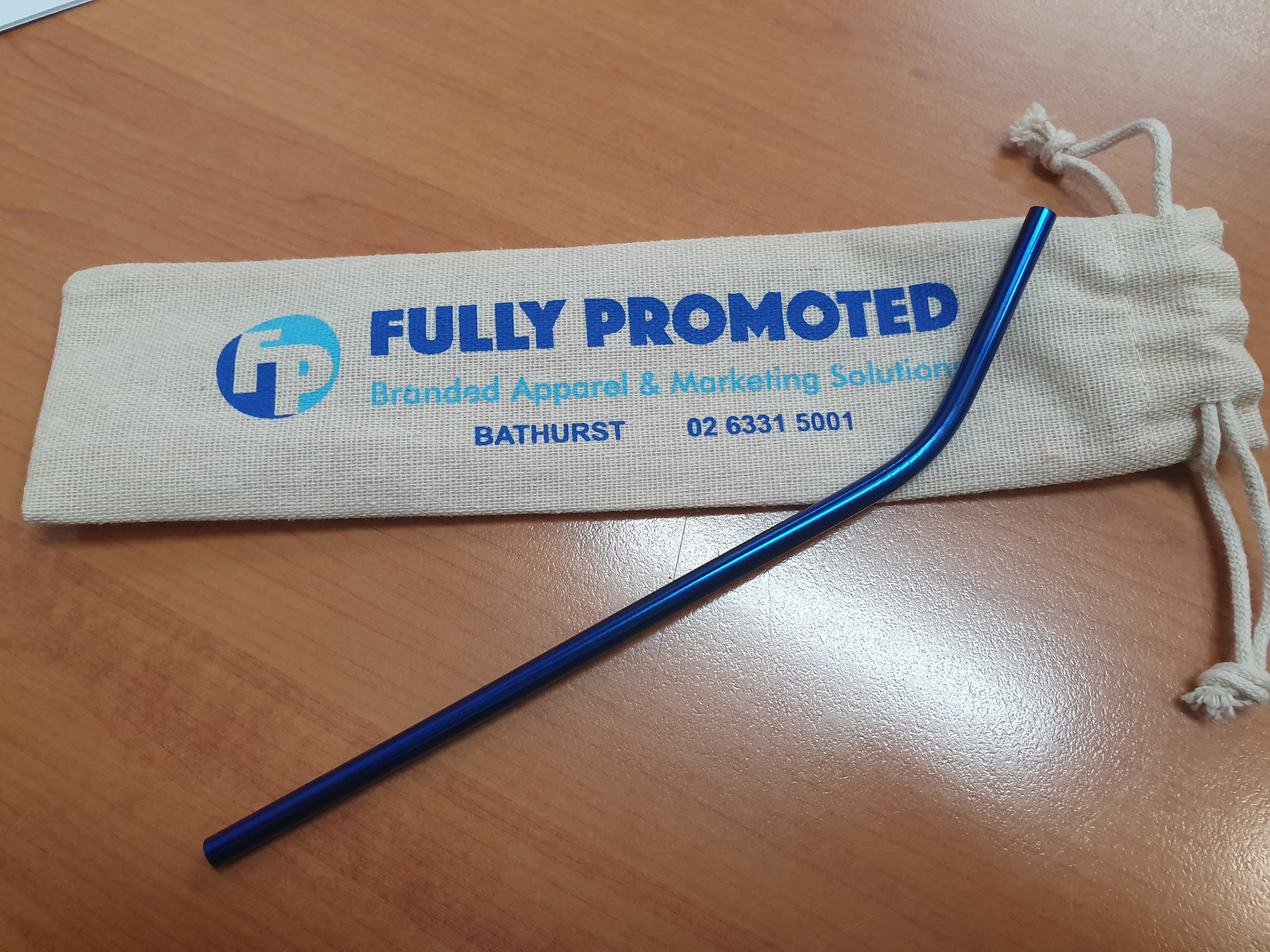 Who doesn't want to help save our planet?

Why not do it while branding your business, these great useful reusable steel straws come either branded or the bag can be branded or both.

People will carry these with them in their handbag, briefcase, when travelling etc
In House Design - Island House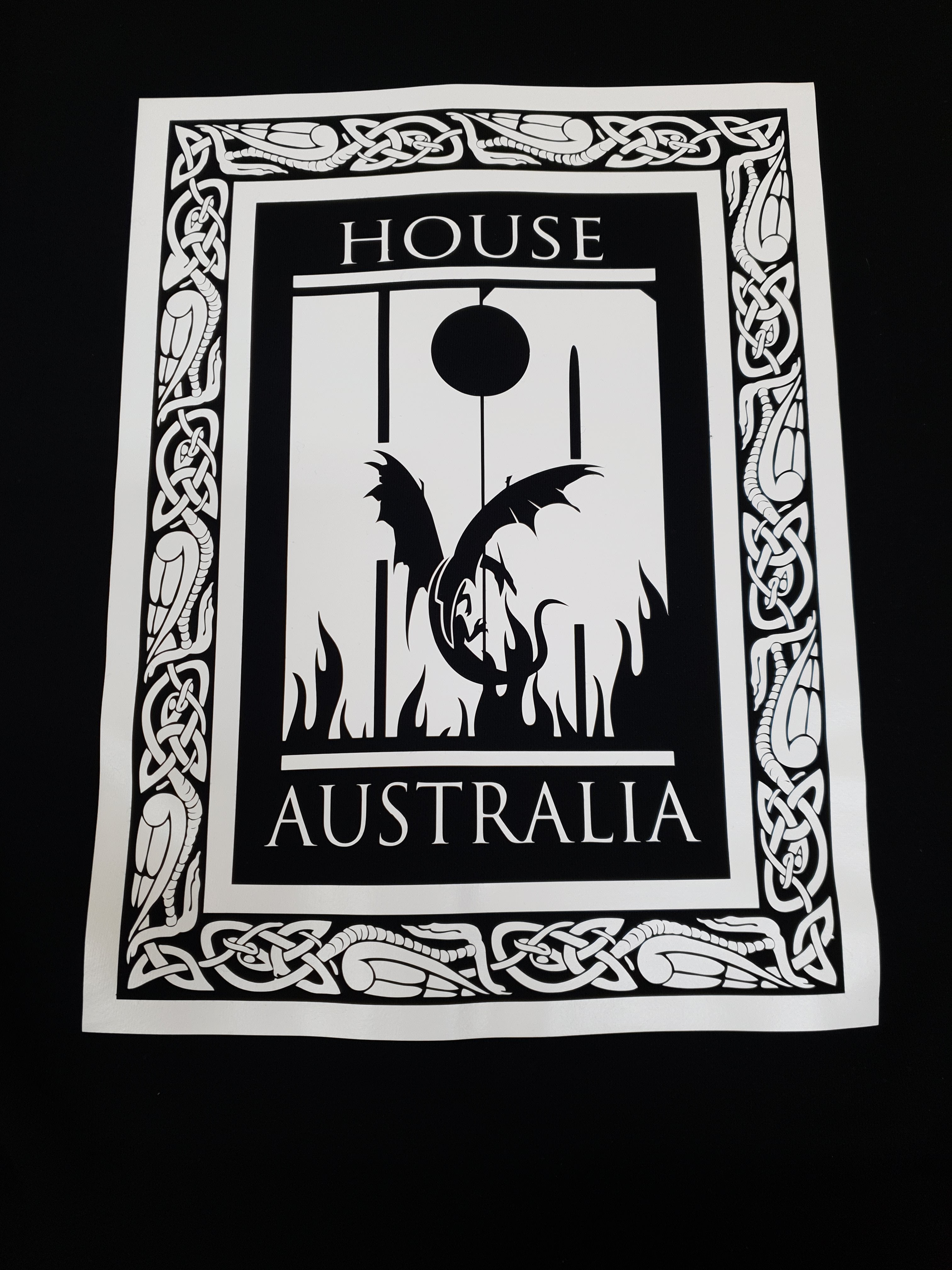 Designing was a nightmare - wedding wasn't much fun either but the end result is perfect!" class="sharethis-inline-share-buttons">
Another creation for the "clash of clan" team. This time Stan threw a little Islander heritage into the mix with this incredibly detailed boarder.

Designing was a nightmare - wedding wasn't much fun either but the end result is perfect!
In House Design - House baby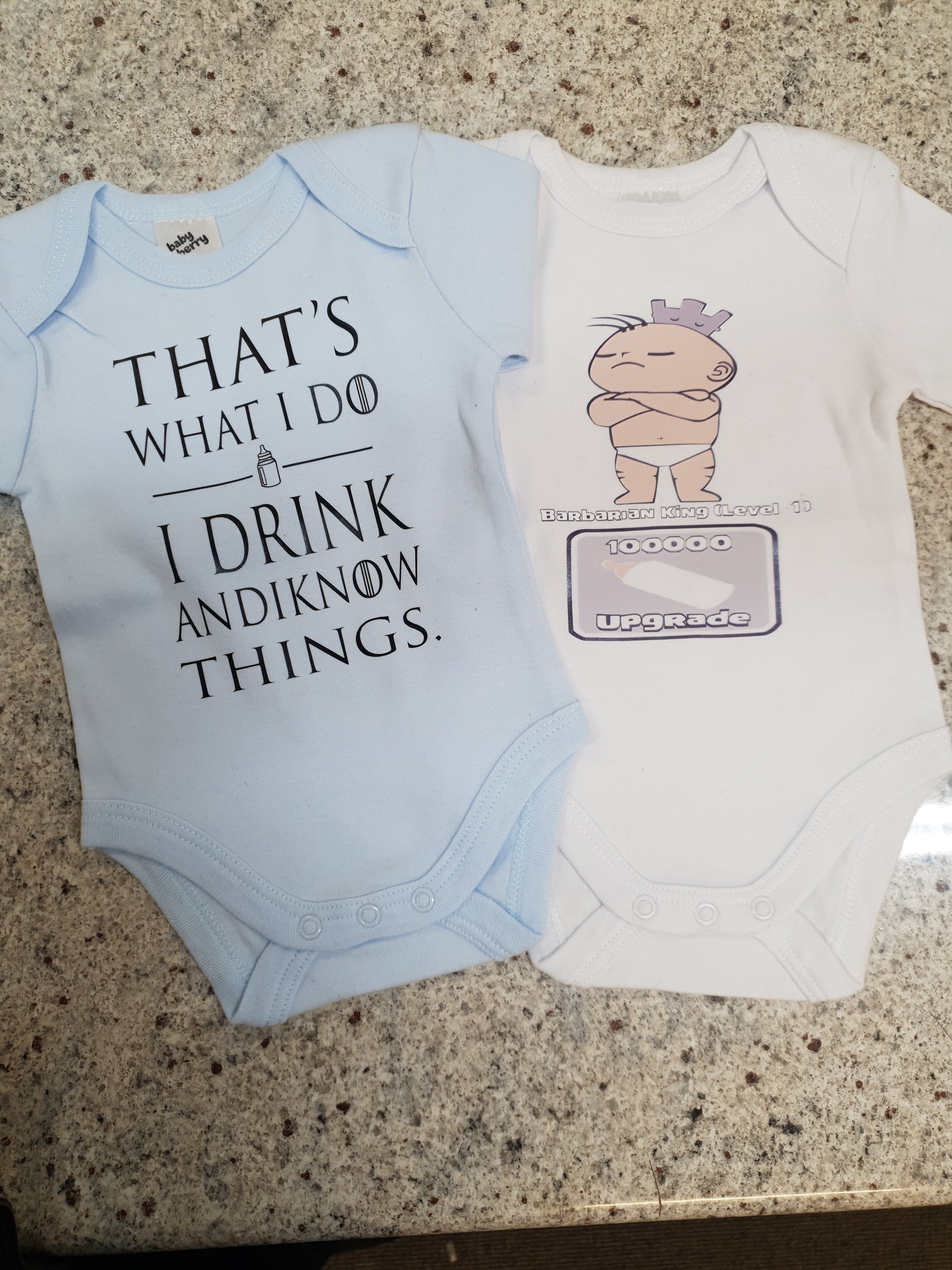 A custom made and designed baby romper.
All credit to Stan Luisi Graphics designer" class="sharethis-inline-share-buttons">
When two Gamers who play "Clash of Clans" decide to have a baby gamer, what do you get them as a baby gift ?

A custom made and designed baby romper.

All credit to Stan Luisi Graphics designer
In House Design - House Australia1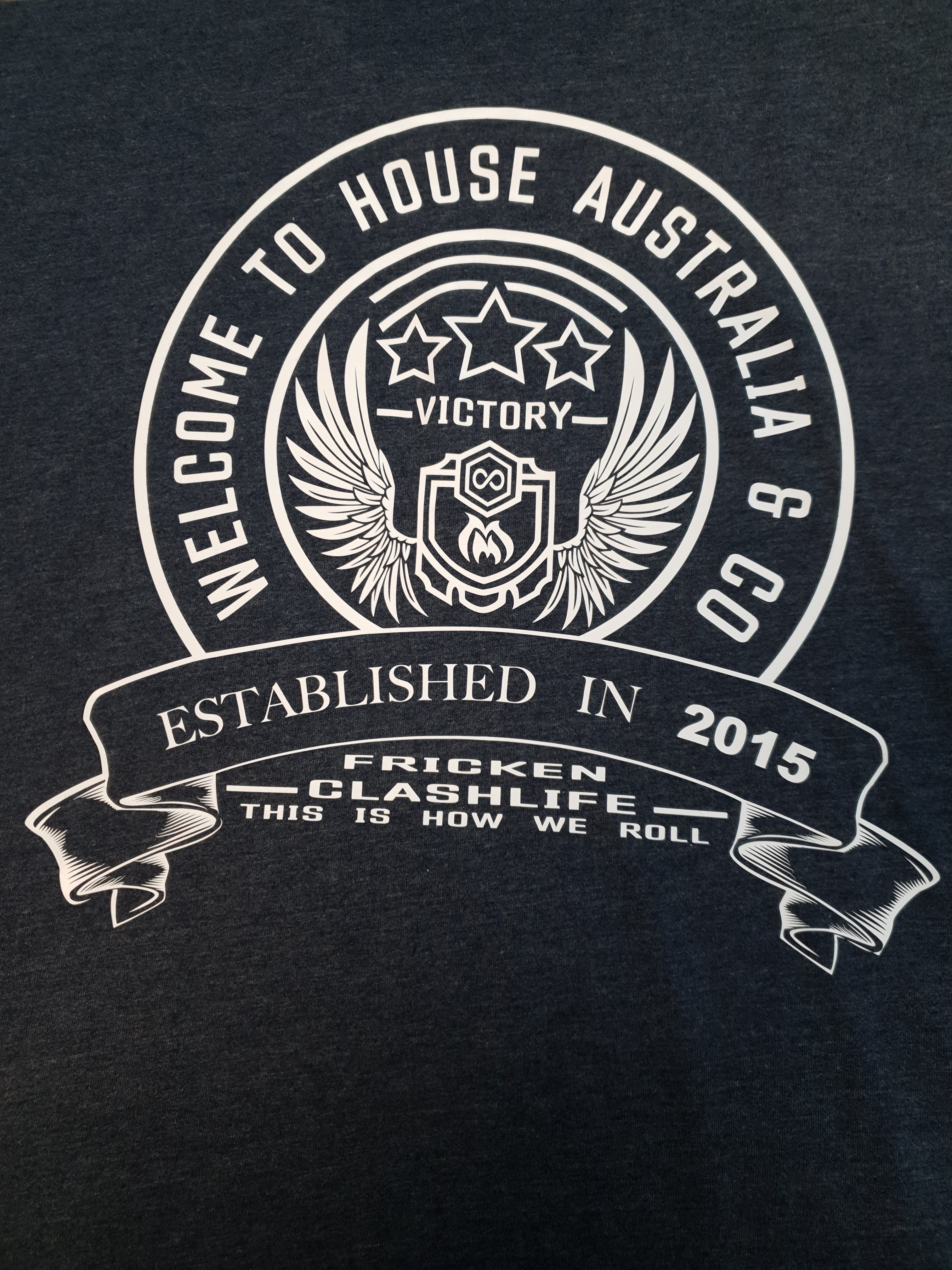 Designer - Stan Luisi" class="sharethis-inline-share-buttons">
Another beauty for the "Clash of Clans " Crew

Designer - Stan Luisi
In House Design - House Australia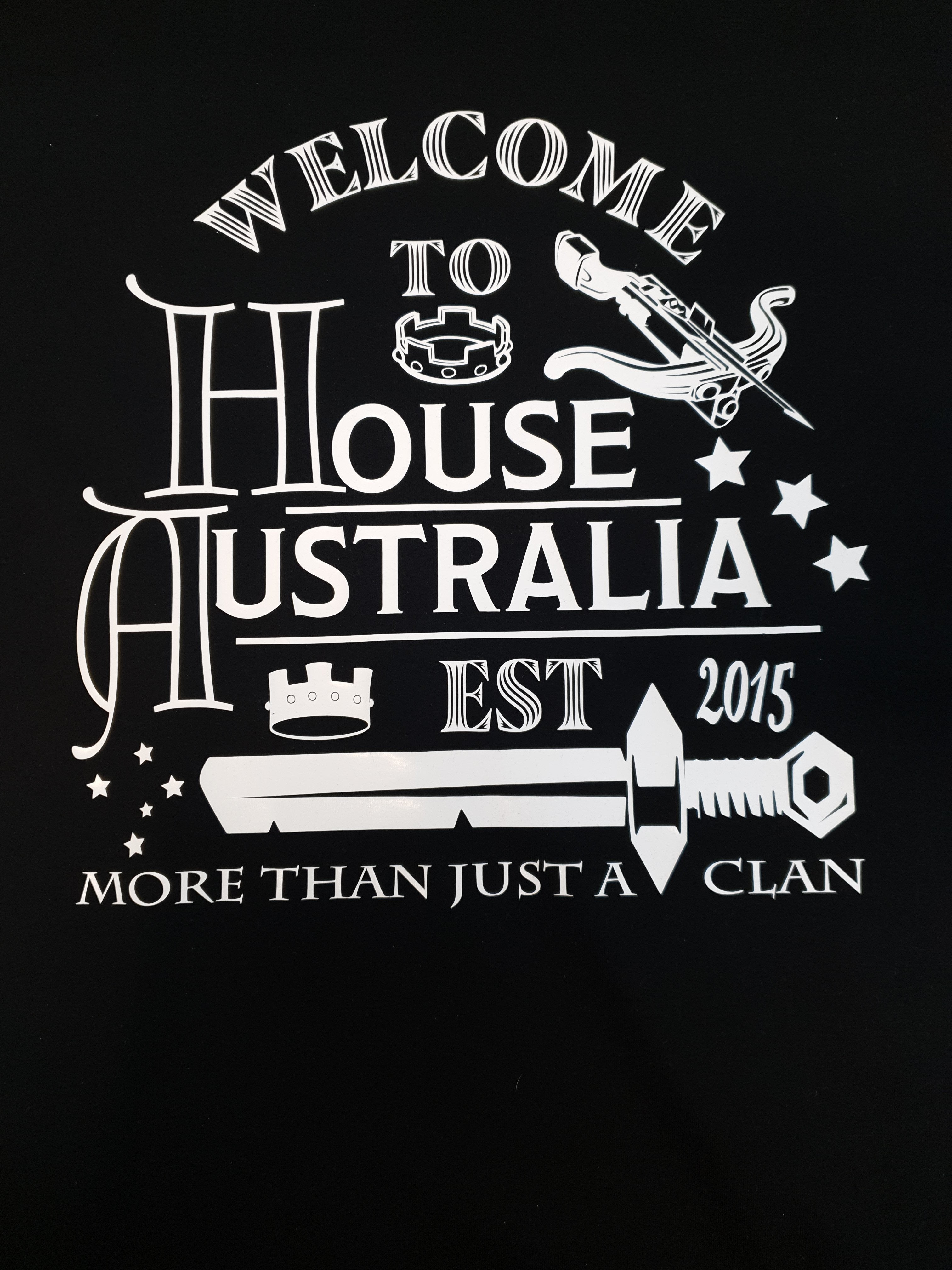 Our wonderful Graphic designer, Stan was requested to make a few designs that they could wear to promoted their team.

You never know just who will want branded apparel." class="sharethis-inline-share-buttons">


We have a wonderful group of Gamers that play the online game "Clash of Clans".

Our wonderful Graphic designer, Stan was requested to make a few designs that they could wear to promoted their team.

You never know just who will want branded apparel.



In House Design - Die Cut Business card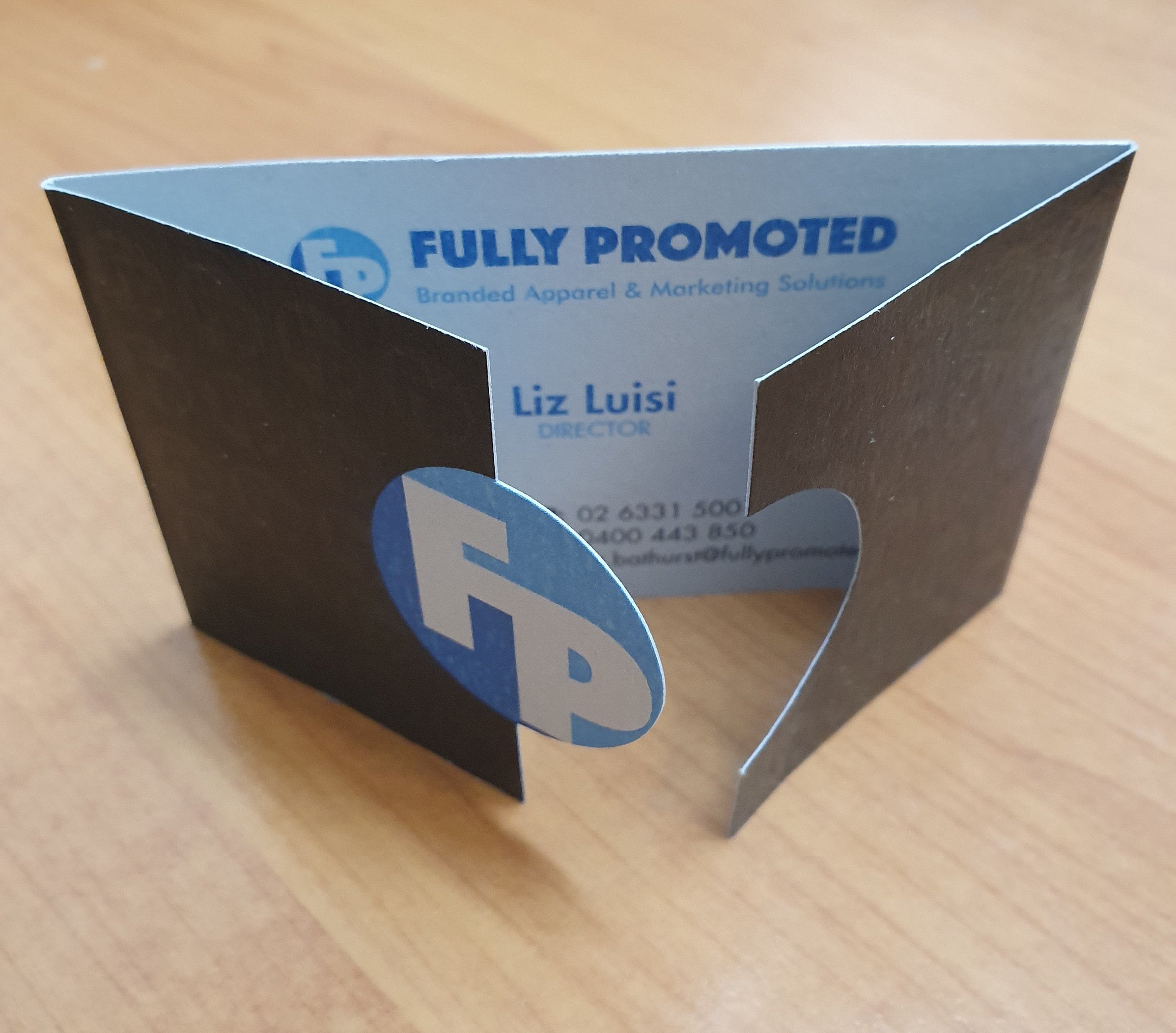 The possibilities are only limited by your own imagination.

Liz wanted to show our clients how their business card can stand out against all the others and this is what she came up with.

A business card that has a die cut around the logo to make it the most memorable feature, which invites you to open it to reveal contact details, Printed on metallic silver card with spot varnish FP logo on the reverse side.

The cost on these are not for the faint hearted but it is one of a kind and totally custom.
In House Design - Baby Wear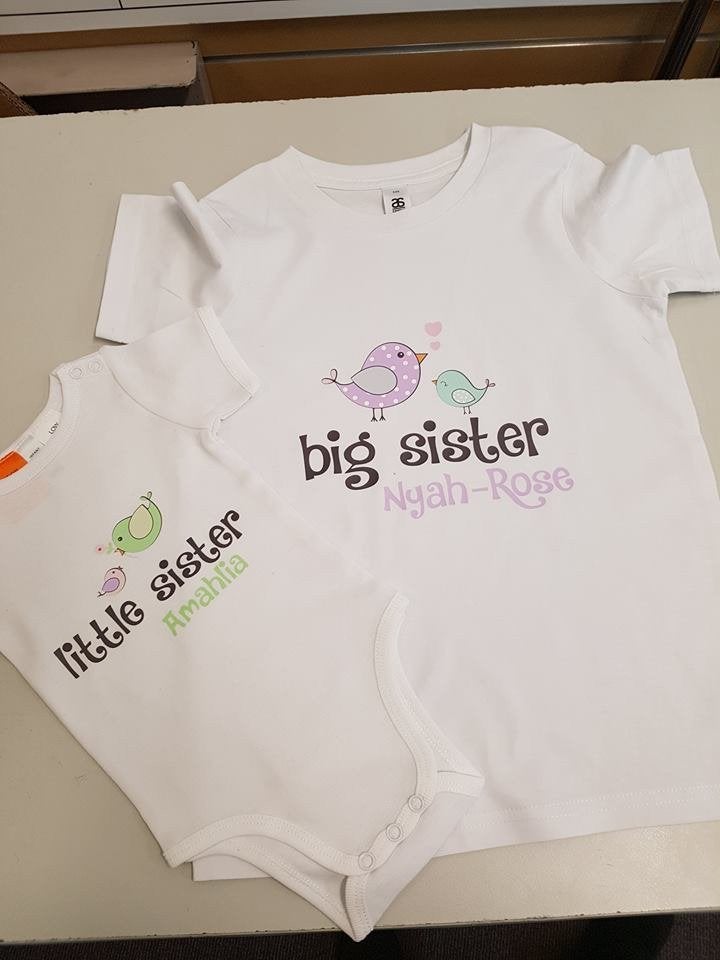 Something special was in order when a new baby was born.

These beautiful little onsies where a hit with our client. We can arrange for any design to be created and pressed onto a garment for a special event.
In House Design - Free Style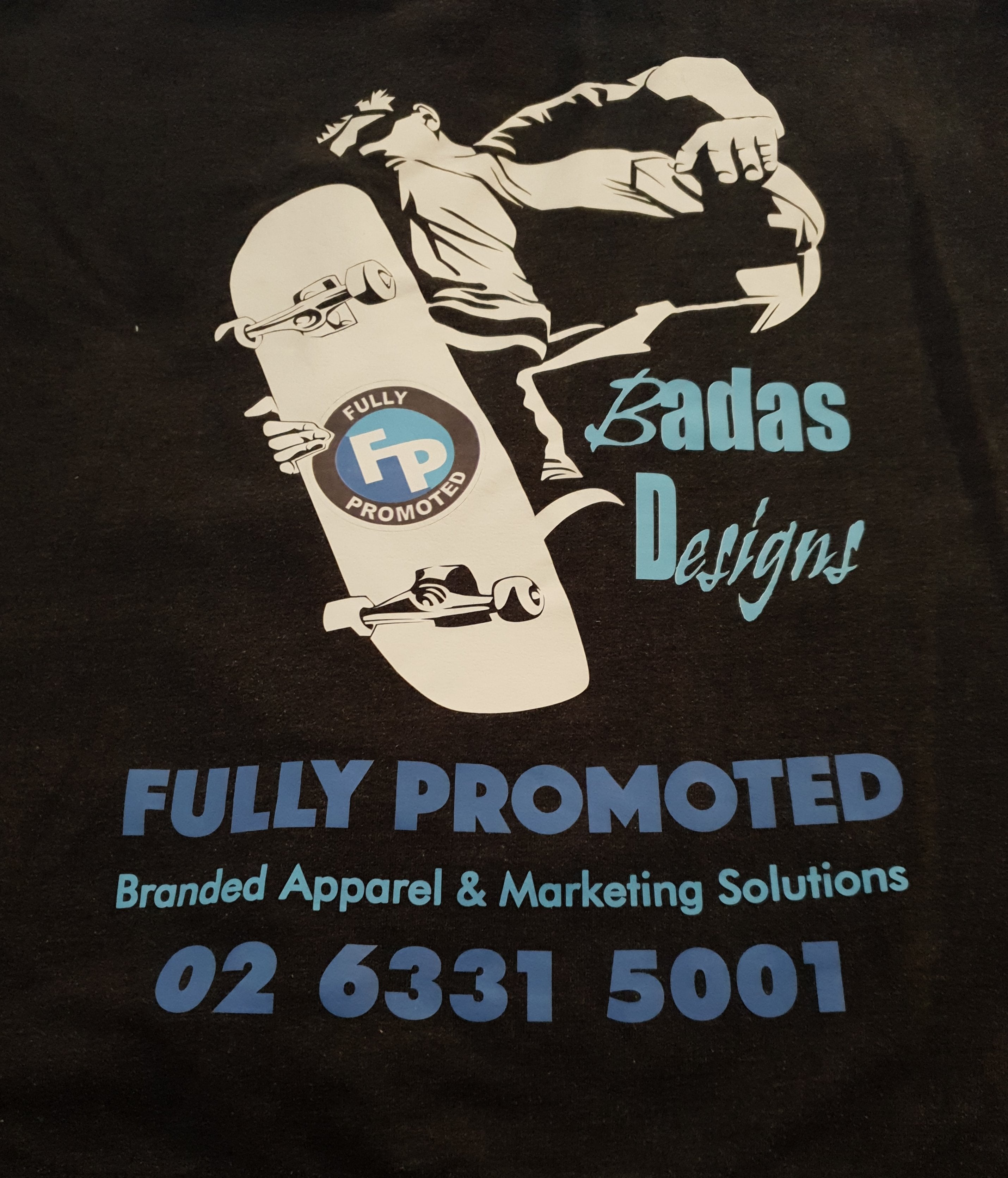 Letting our in house graphic designer Stan go crazy is sometimes a good thing. Check out this excellent skateboarder featuring our FP logo.

Stan is always working on new concepts for his own design label "BADAS DESIGNS"
Self Promotion - Clock
Every office needs a clock - why not be proud of your logo and brand it

We love our Fully Promoted Clock and a lot of people comment on this in the office. Call us today and inquire about yours.
Self Promotion - Note Pads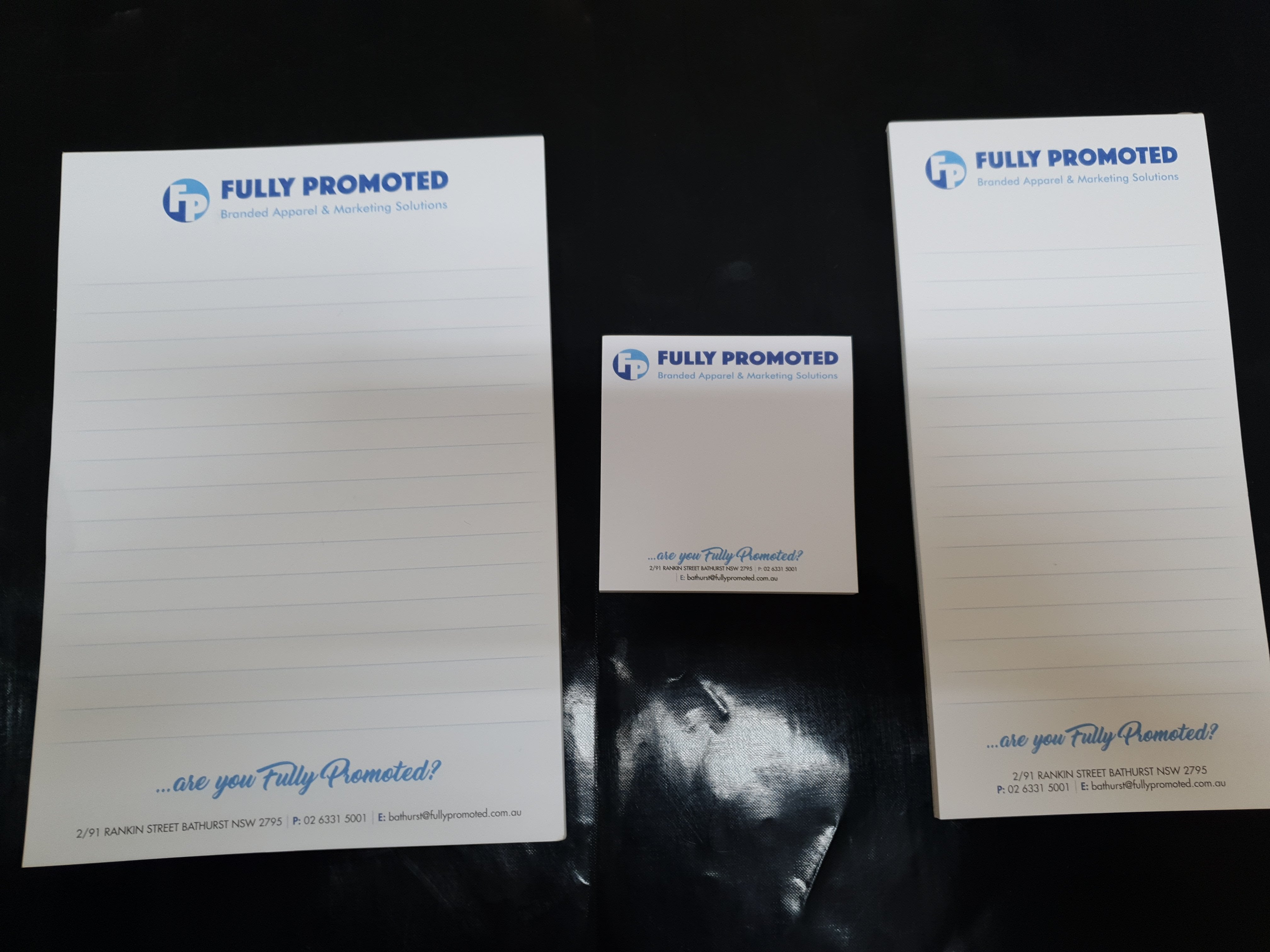 From Sticky notes, shopping lists to any size note pad we have you covered.

Fully Promoted Bathurst offers a wide range of printed services, why don't you leave your mark on your clients desk and hand them a note pad branded with your Logo
Self Promotion - Christmas Gifts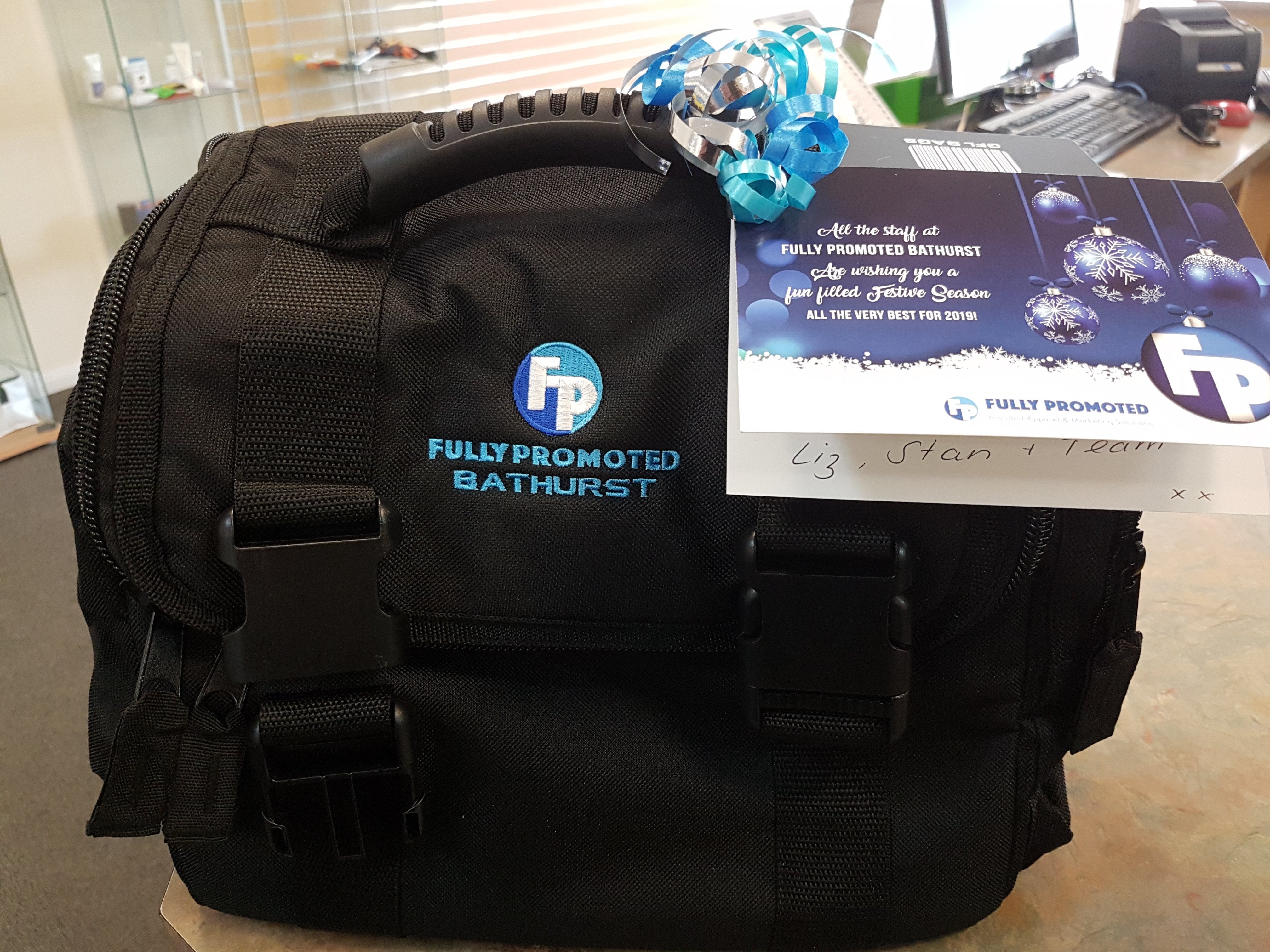 Are you stuck for a Christmas gift to hand out to your top 50 clients? Maybe your loyal staff members. We found these were a great hit to give away for a lunch pale or a cooler bag that will carry a six pack. Fantastic for a small picnic - All while promoting your brand.

A gift that keeps on giving
Self Promotion - Phone Pops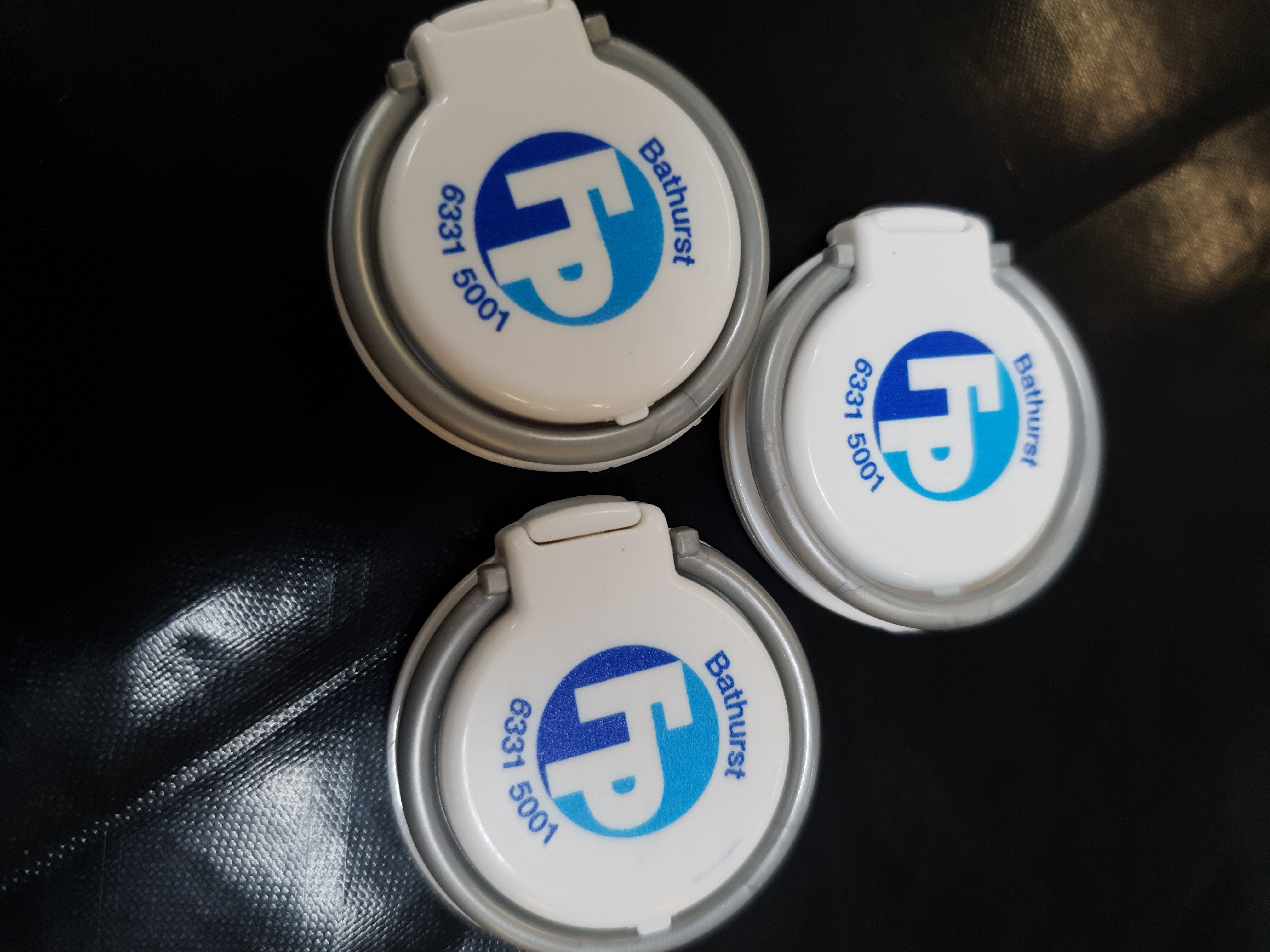 Looking for a great cost effective give away. Anything related to technology is a hot promotional product at the moment and these little phones pops will have your business name circulating quicker than lightening.

If you are marketing to High school students or uni students - really anyone that uses a mobile phone these are for you.
Self Promotion - Lip Balm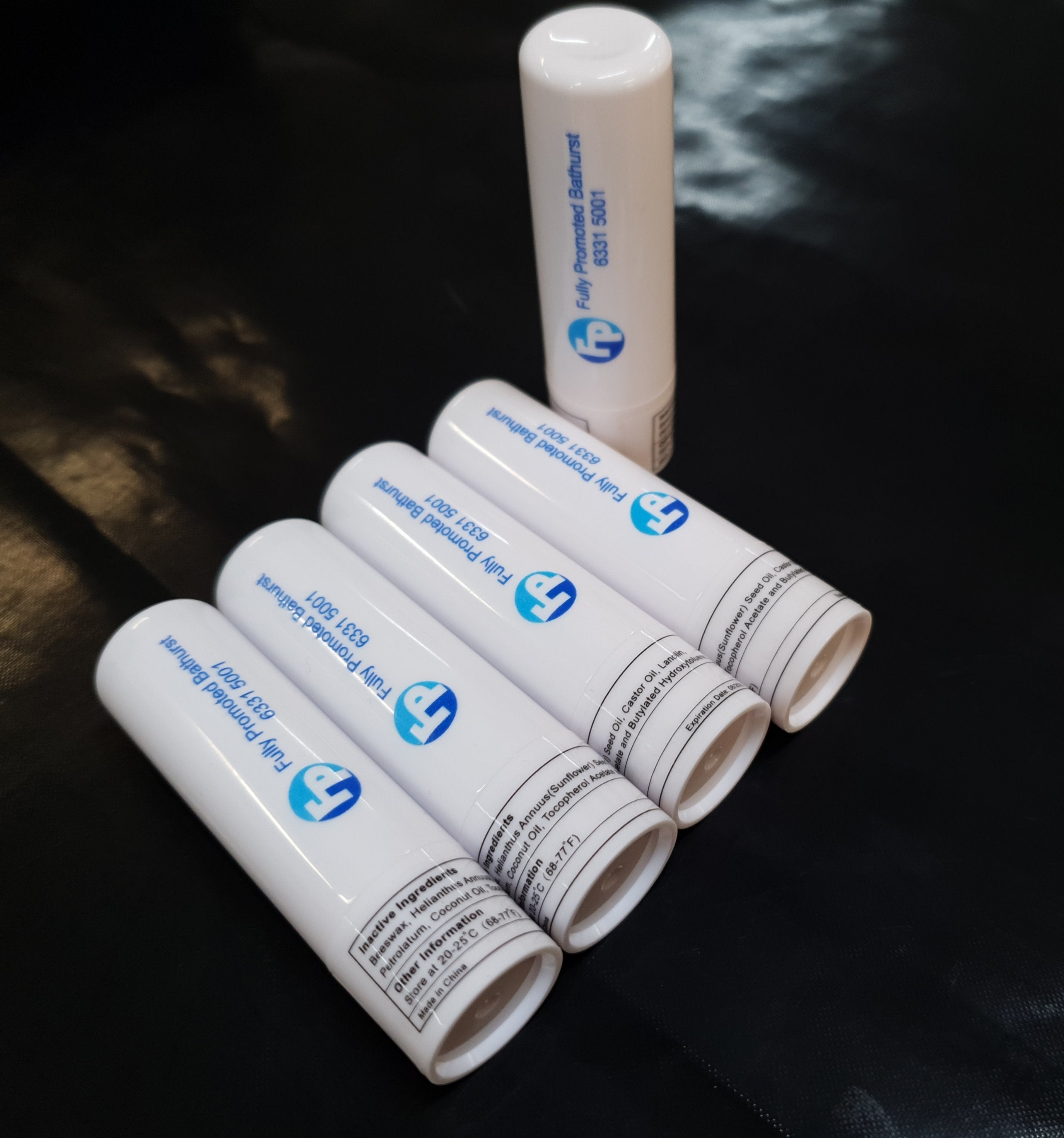 With this cold weather we were looking for something useful and cost effective to give away to our clients.

These branded Vanilla flavoured lip balms were a HUGE hit in the colder climates.
Self Promotion - Water Bottles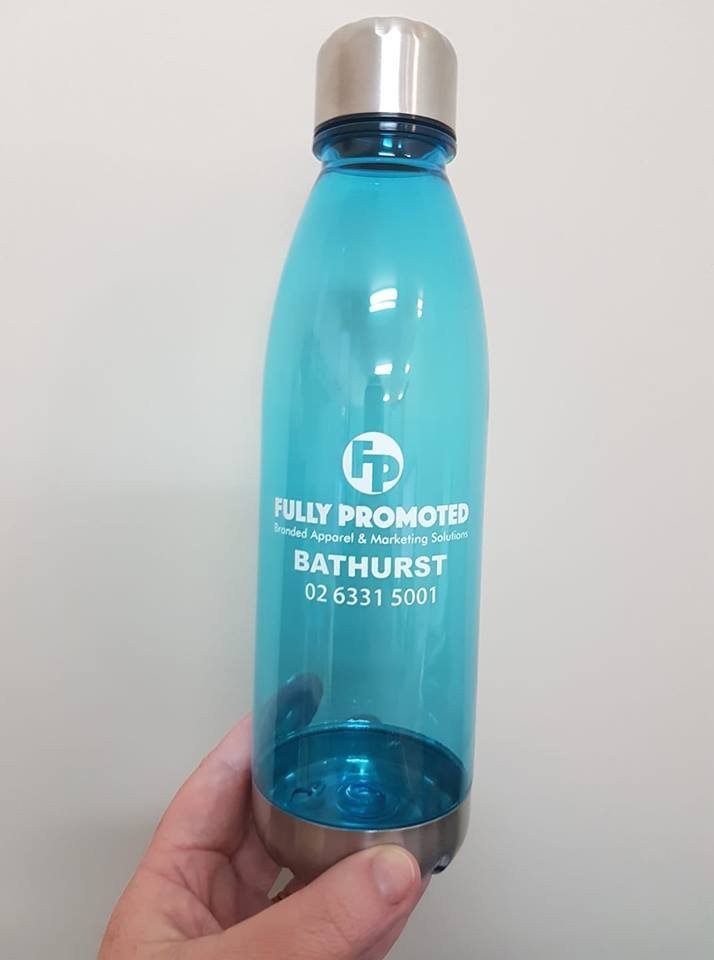 Don't just pick any water bottle pick something that is bang up to date and on trend. something that works with your corporate colours well.

These little beauties are exceptionally cost effective. Call us today to find out more
Self-Promotion - Lollipops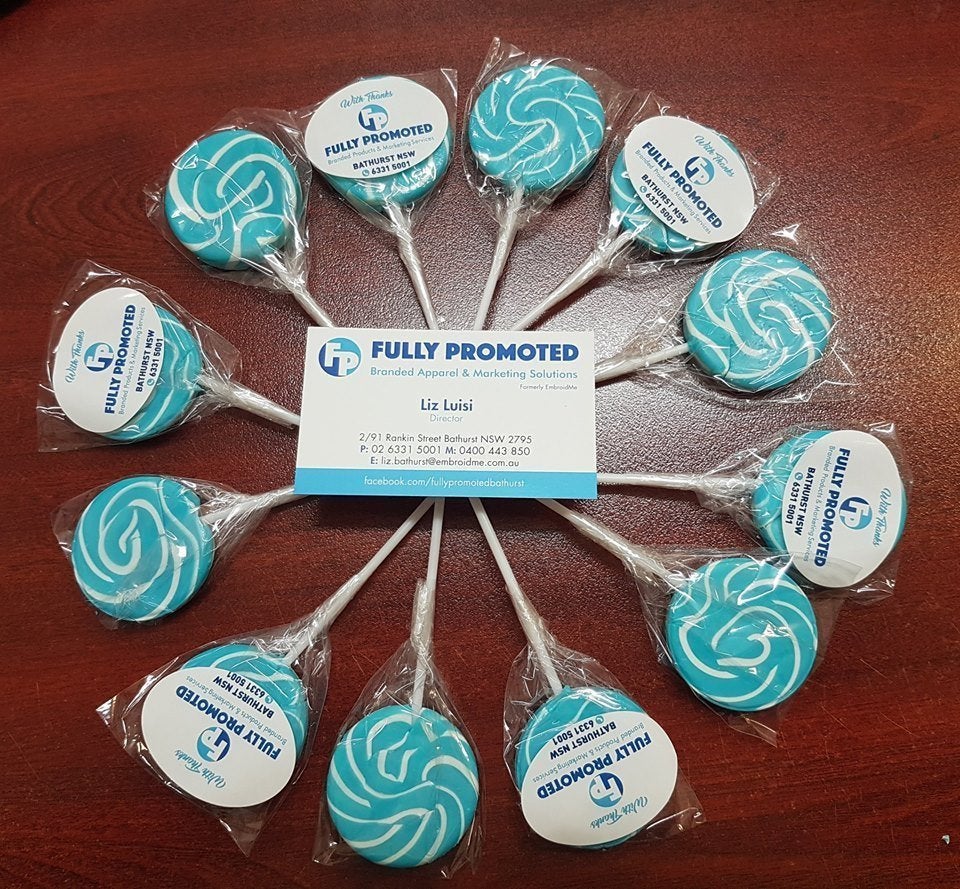 We always try to sweeten a deal here at Fully Promoted Bathurst. Our staff can help you with a confectionery promotional Product that suits your colour scheme too.

Just Give us a call
Self Promotion - Kiddie Table & Chairs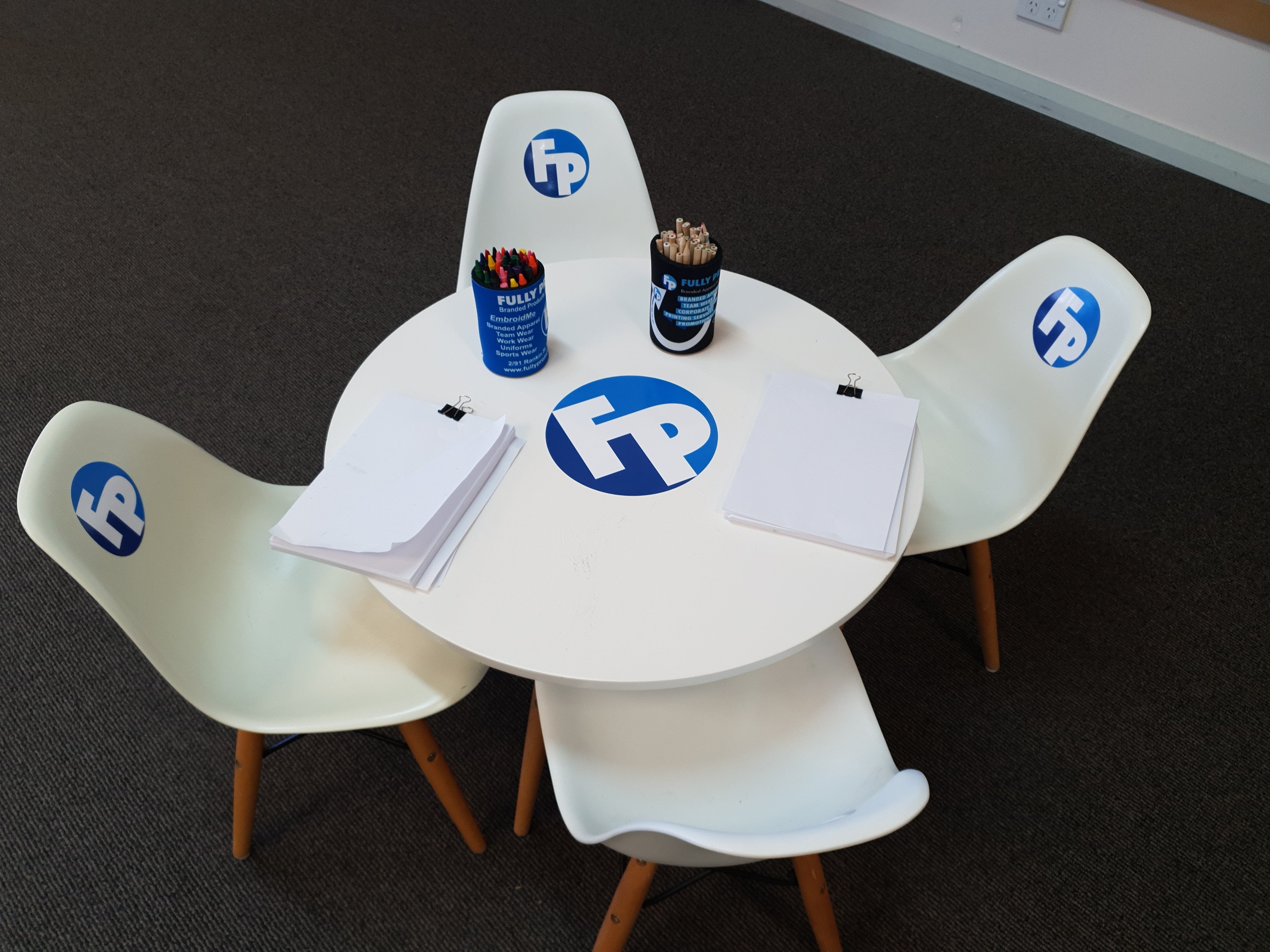 At Fully Promoted Bathurst, we love it when the little ones come in and shop with Mum and Dad.
To keep them occupied while mum and dad select their newest garments or promo product or maybe even to design their new business cards we have made them comfortable with their own little art studio - BRANDED of course
Non- Profit - White ribbon 2019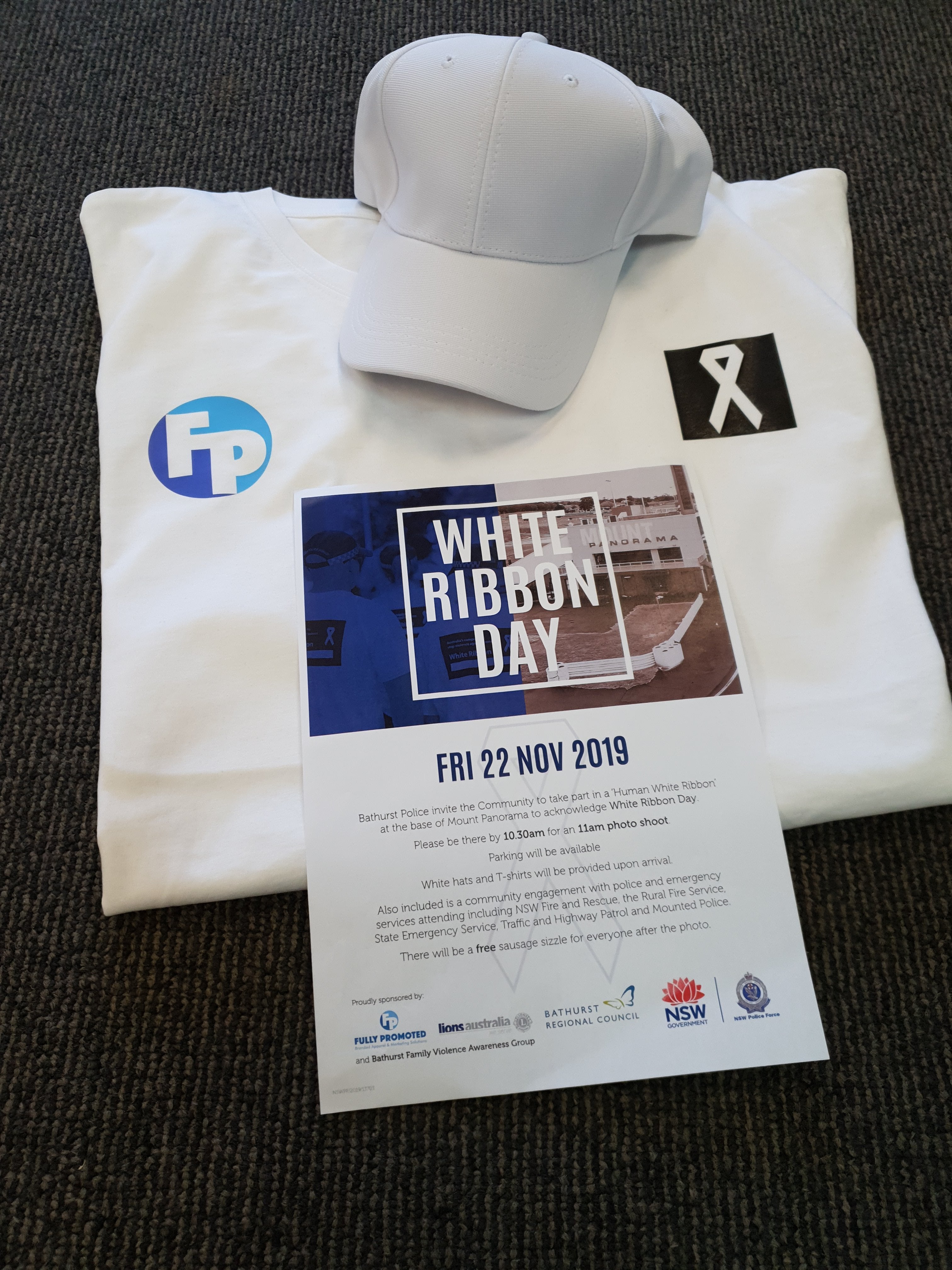 We are a great community here in Bathurst and our direct Liz makes a huge part of our business giving back to the community that we live in.
When approached by local police to help out we just couldn't stand idol and not help.
With the help of our suppliers BOOST UP / ROLY and BIZ COLLECTION we were able to donate these branded items for all volunteers to wear on the day to show our support of White Ribbon Day.
Non- Profit - Beanies for Cancer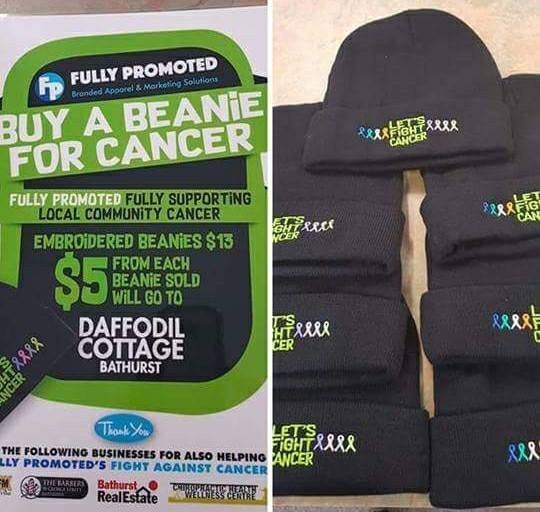 When our director Liz calculated how many of her family and friends had been effected by cancer she thought it time to do something about it and in turn help her local community.
A design was born and included a memorial ribbon associated with each type of cancer that a dear one had suffered from.
Fully Promoted made no money from this charity drive, they simply covered cost and then was able to donate a whopping $5000.00 to the local oncology unit here in Bathurst. This is what makes us smile.
Promotional Products - NATSIC - Footballs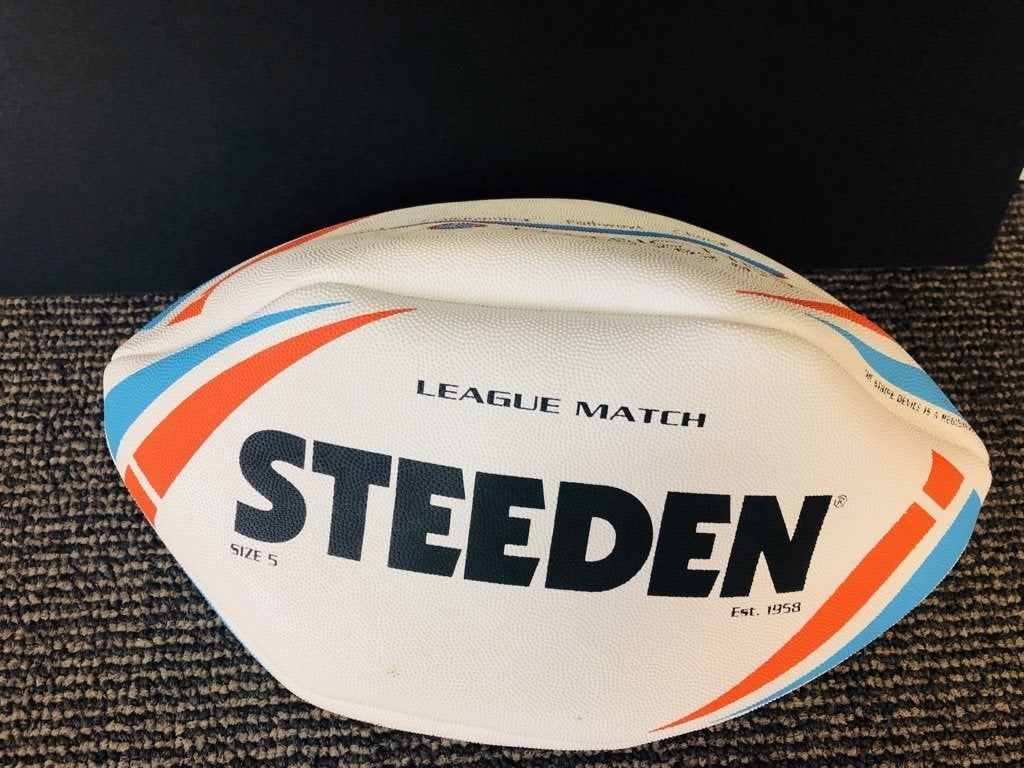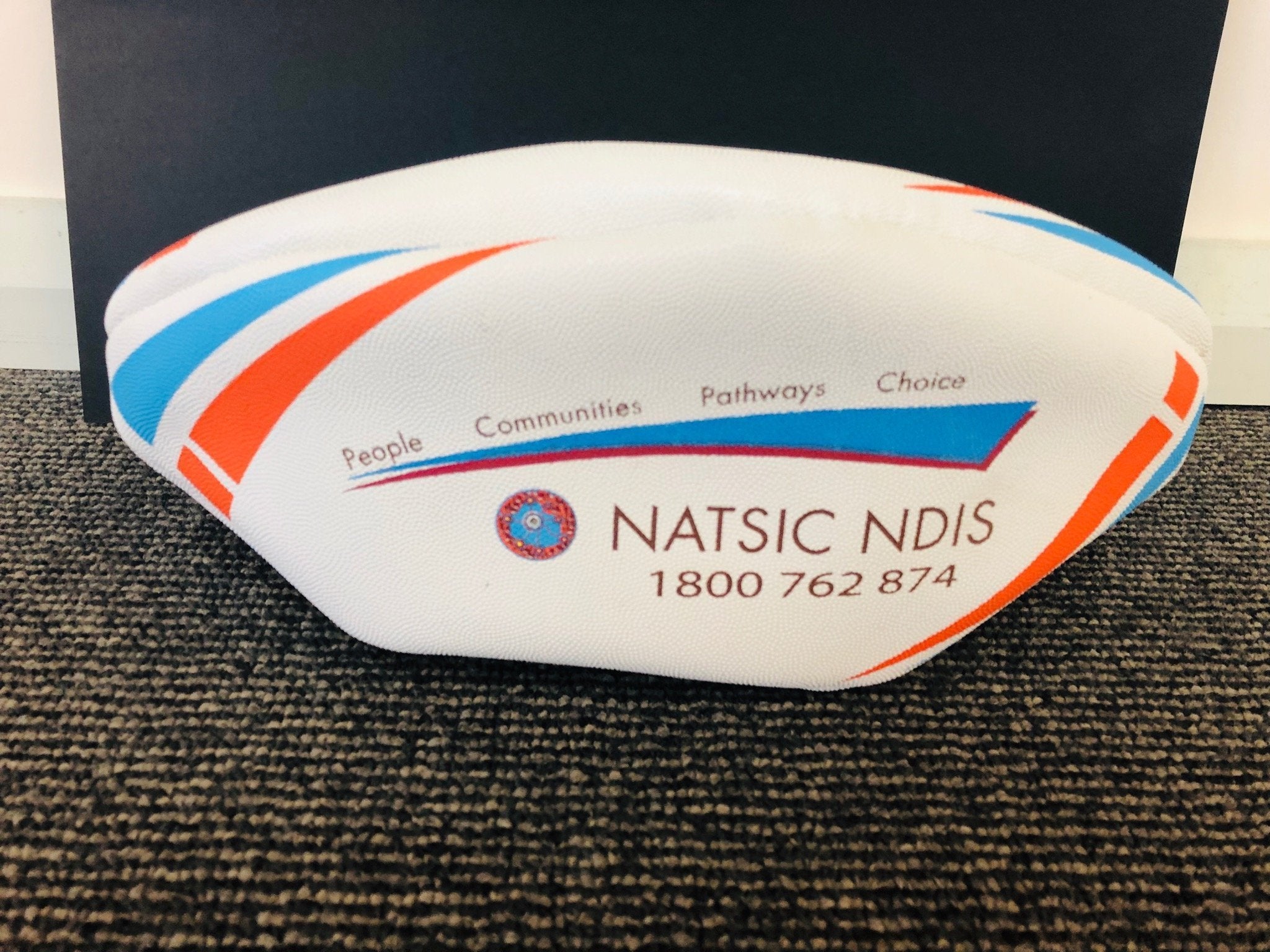 NATSIC - (National Aboriginal Torres Straight Islander Communities) Where aware of Fully Promoted Bathurst's Support of local NAIDOC Football tournament they wanted to be apart of it as well.

They wanted to donate a prize for the winning team, they wanted it to promote health, Team work and also the NDIS for the Indigenous people.

What better than a branded Football
Promotional Products - Cathedral School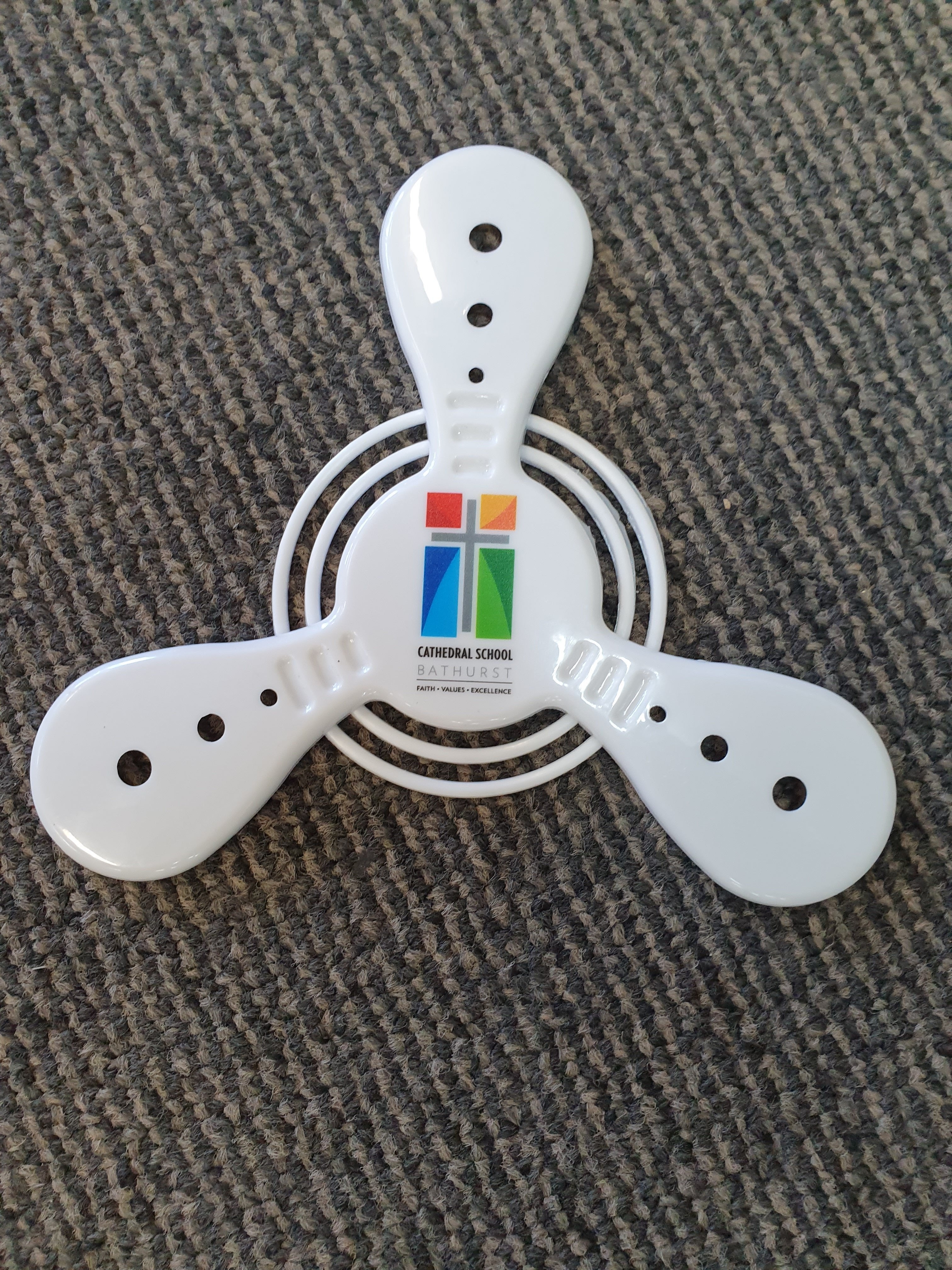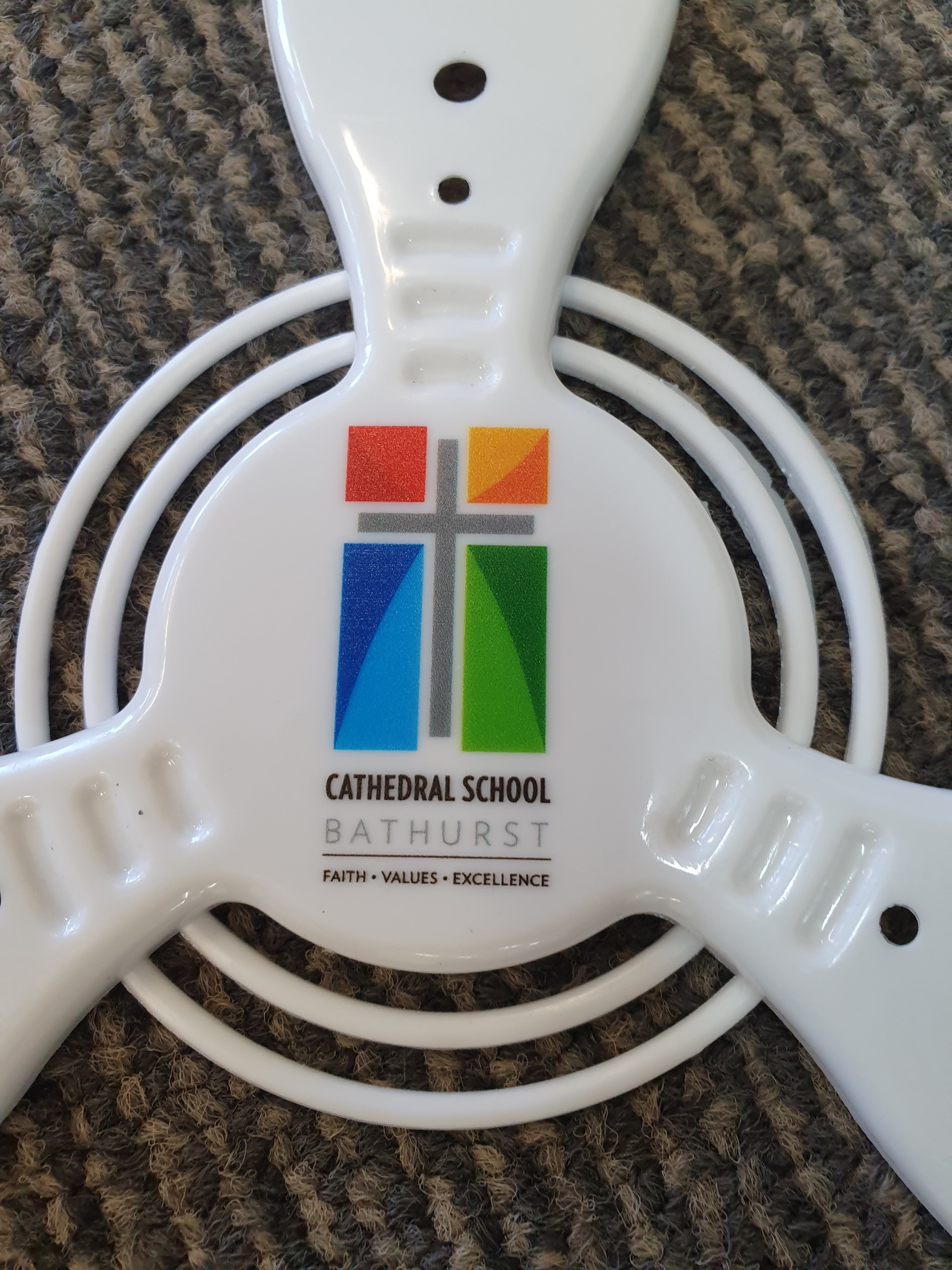 Along with a Heat pressed T Shirt this school wanted a product that was fun, that encouraged children to play but was also economically priced to give to the enrolling children for the next years kindergarten classes.

Being a white product and the logo just so colourful it was a pleasure to suggest this fantastic flyer for them.

It was a big hit with the kids!!
Promotional Products - NATSIC Lapel Pins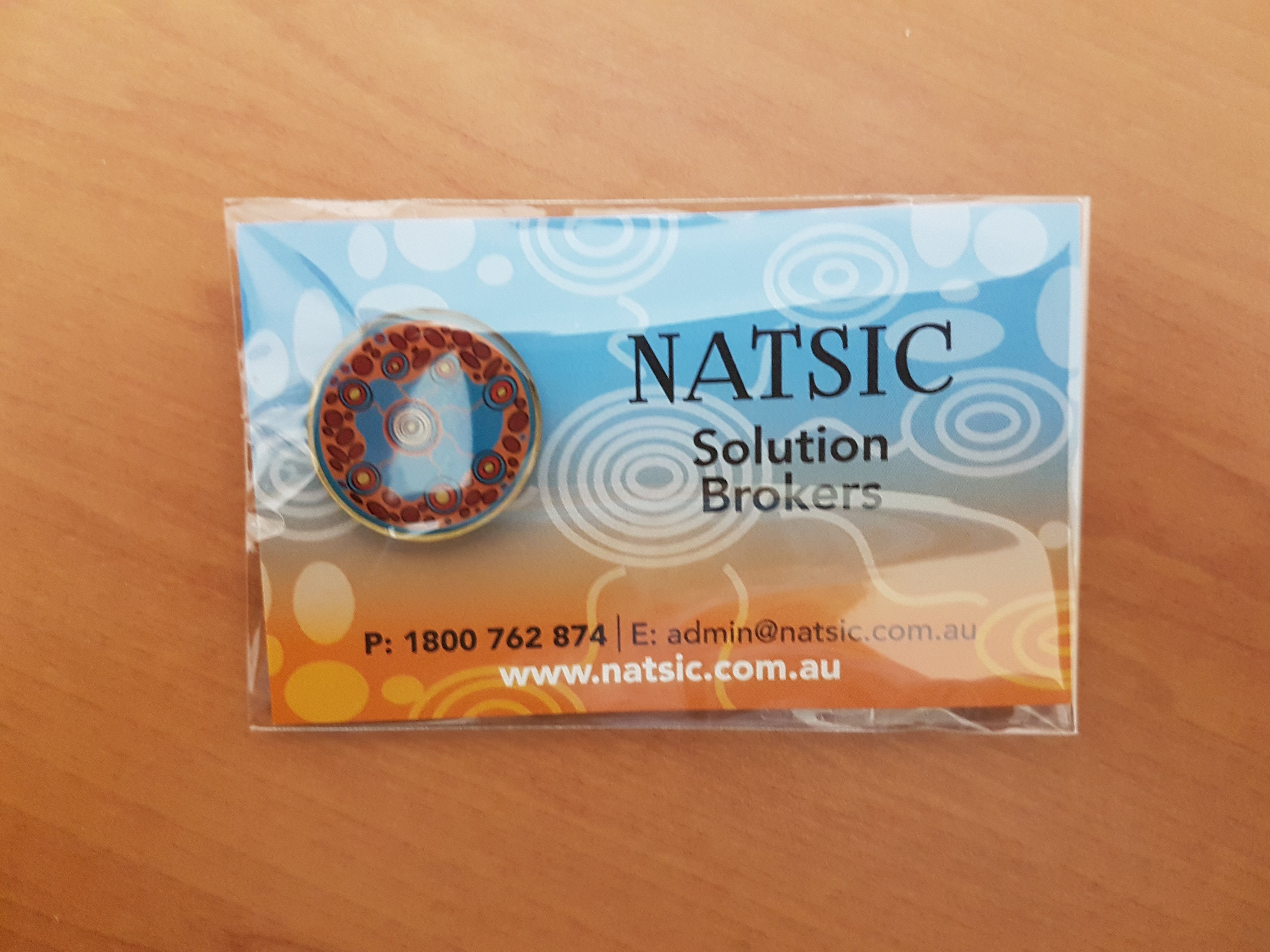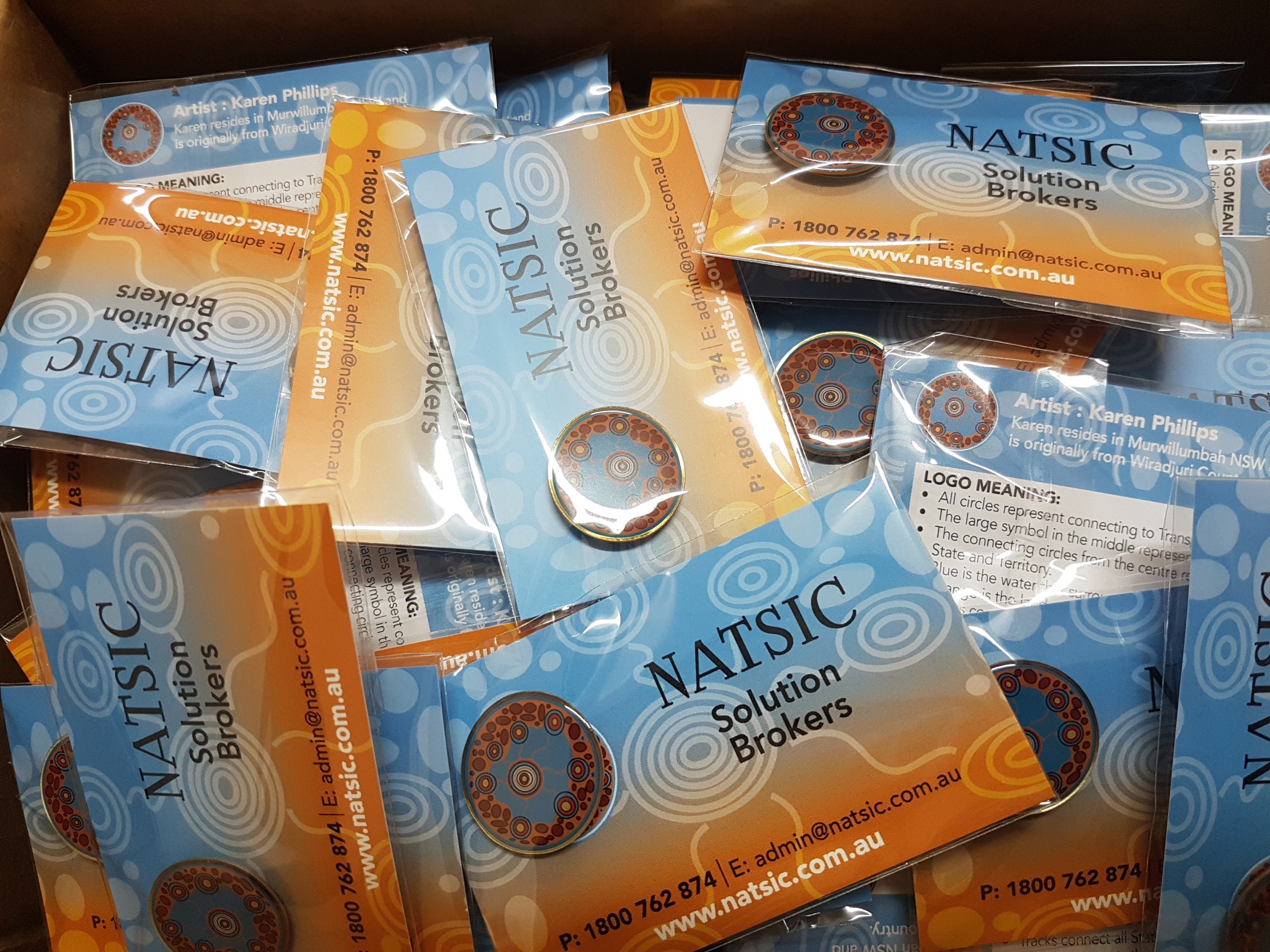 We simply love this NATSIC logo, the colour's in this logo has to be celebrated. The client wanted something that could be worn with Pride and also kept.

Between our sales manager Liz and the creative team at NATSIC we came up with these Lapel Pins, individually packaged with a printed business card printed both sides to tell the story of the design and the artist.
Promotional Products - PYBAR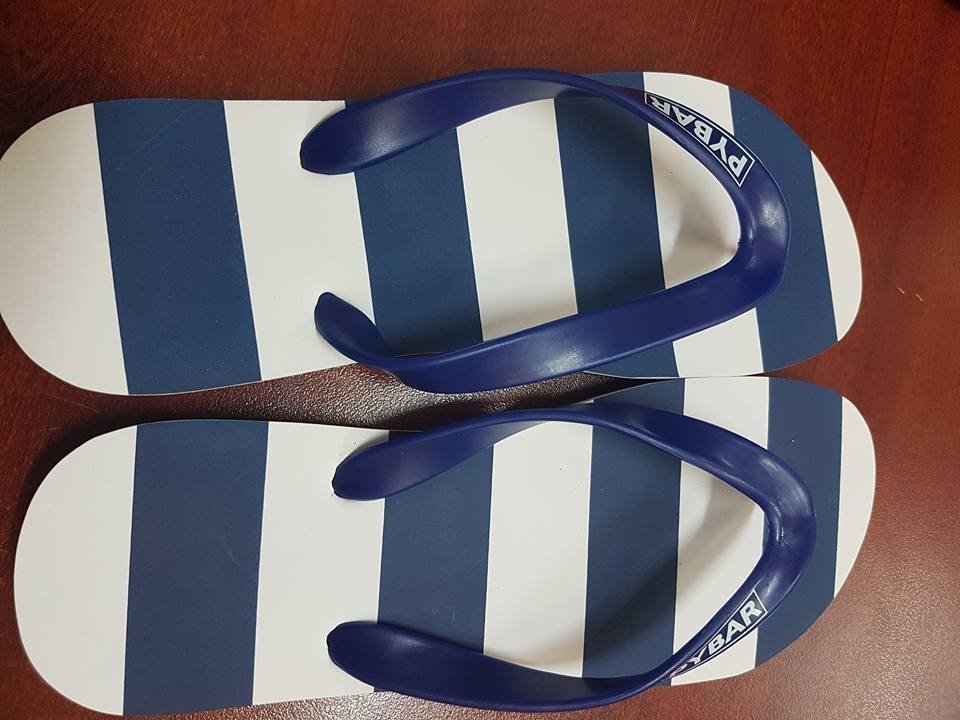 Branded Thongs were the choice!! These were matched to the clients PMS colour's and were a great hit" class="sharethis-inline-share-buttons">


Our Client needed a gift for staff to go along with "Years service" polo shirt. The brief was something that could be worn but something unique.

Branded Thongs were the choice!! These were matched to the clients PMS colour's and were a great hit



Promotional Products - NATSIC Golf Balls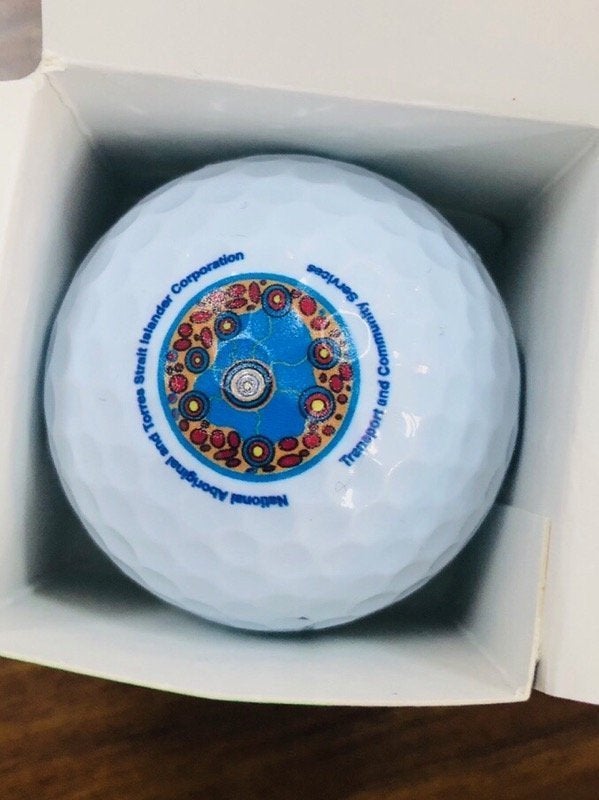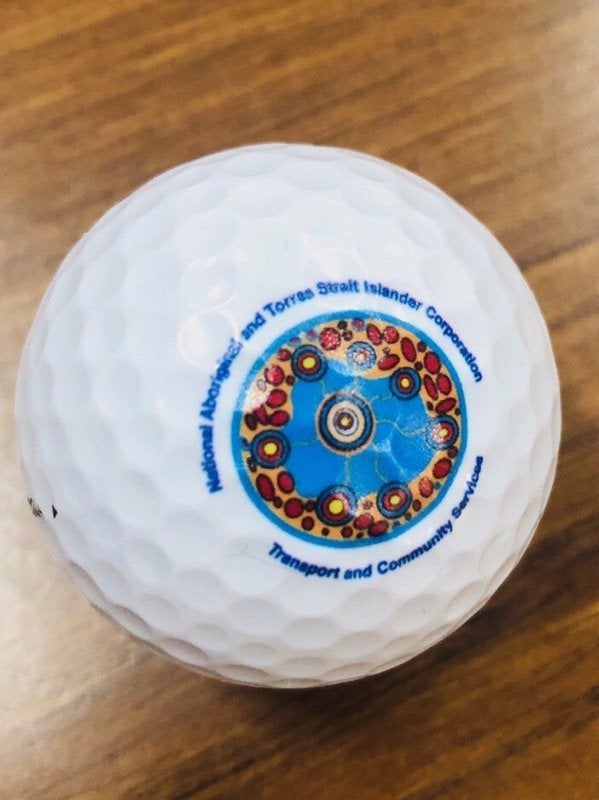 A golf day was planned for the team and associates of NATSIC so along with Sublimated Polo shirts and Caps we needed Promotional Products. What better than something that you can keep as not only a promo product but a useful/ reusable reminder of the day. Our Clients also went with white wooden golf tee's with their web address printed on them.

When you have a logo this good you have to put it everywhere!
Vinyle Transfer / Garment Printing - Proposal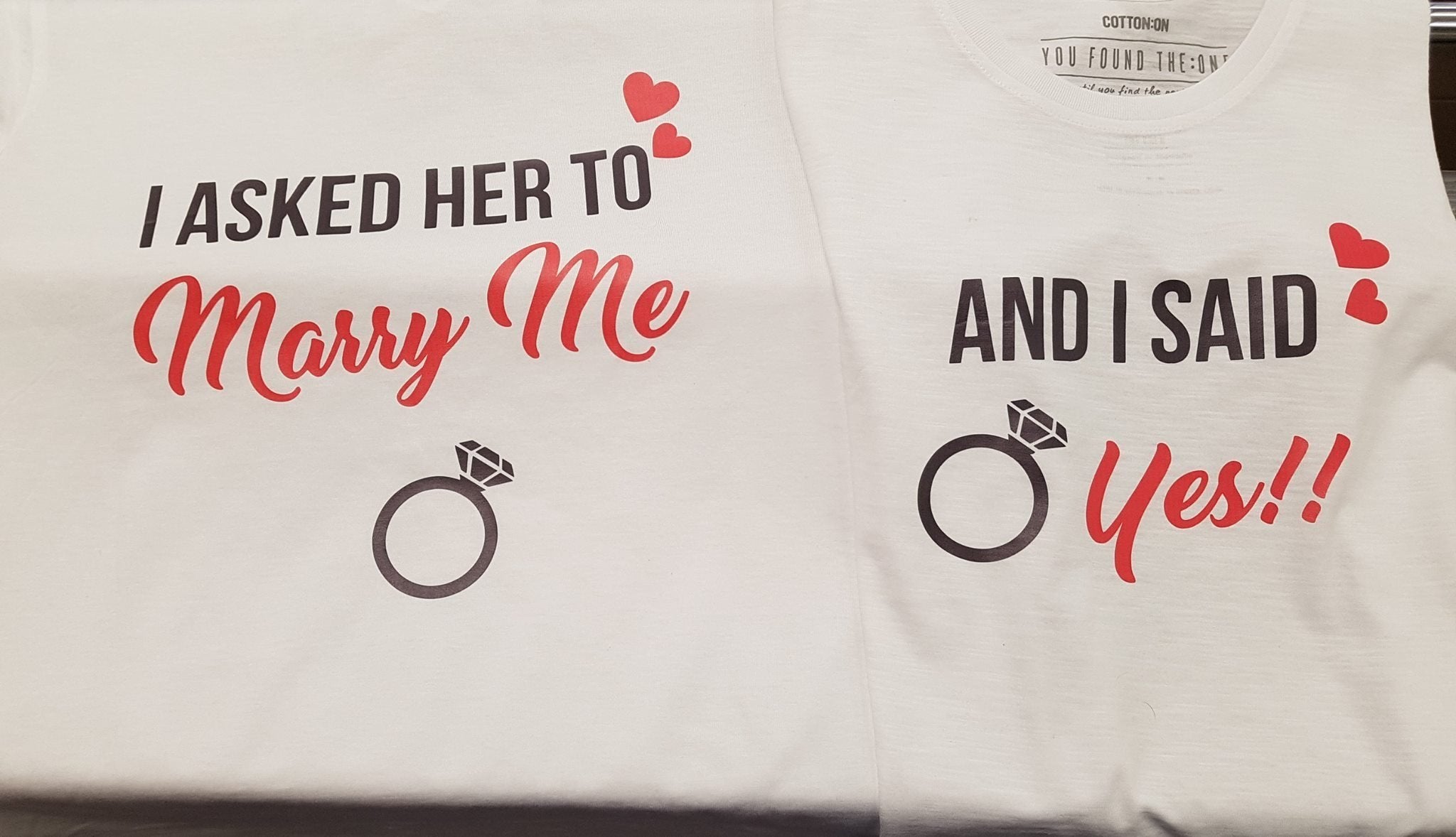 When a very excited young man came into the store to request something special to be printed onto a shirt to remember a special occasion we sprung into action.

Again design and art credit goes to Stan in our graphics team.

She said YES !!!!!!
Vinyl Transfer / Garment Printing - MANA NETBALL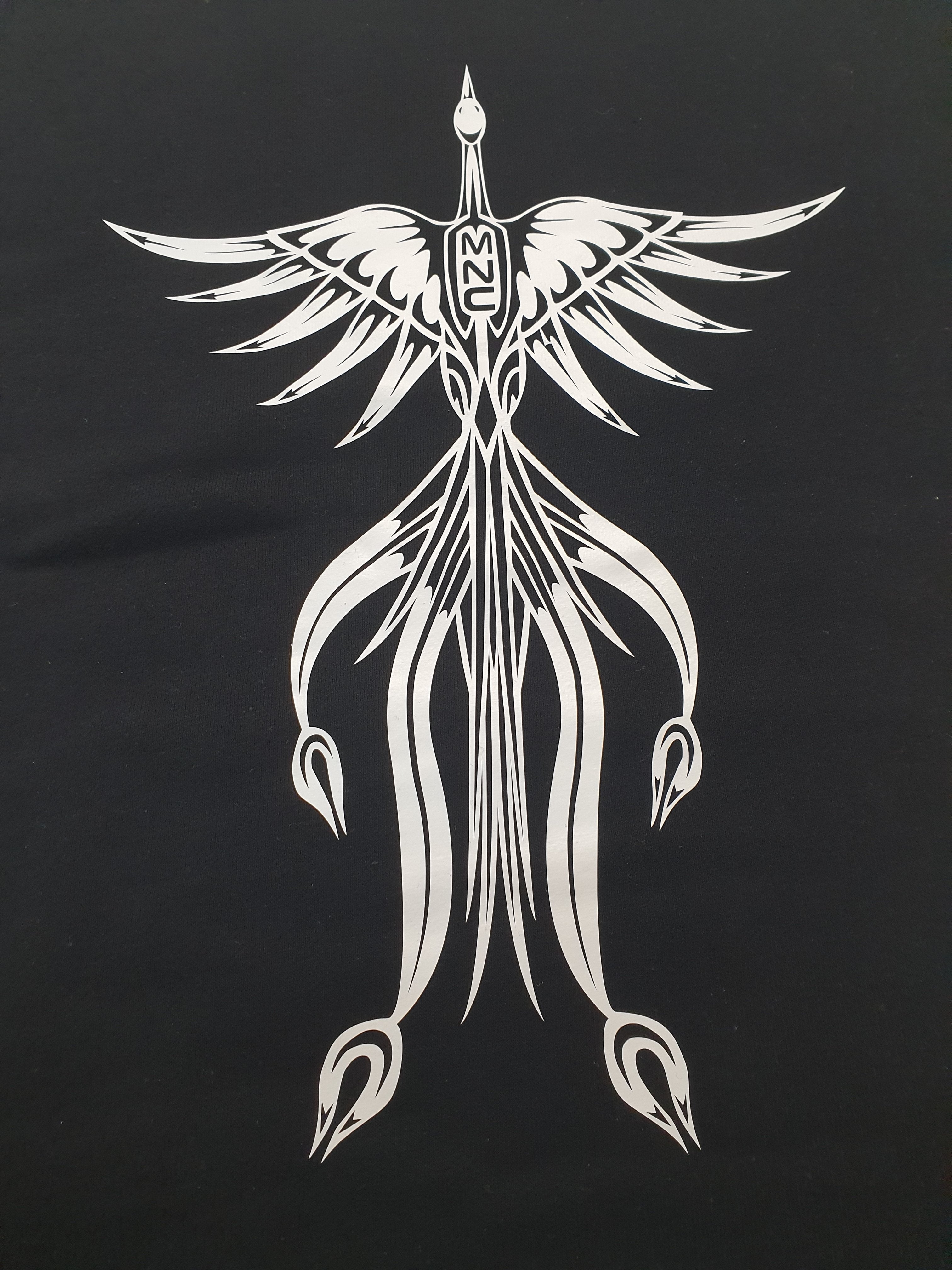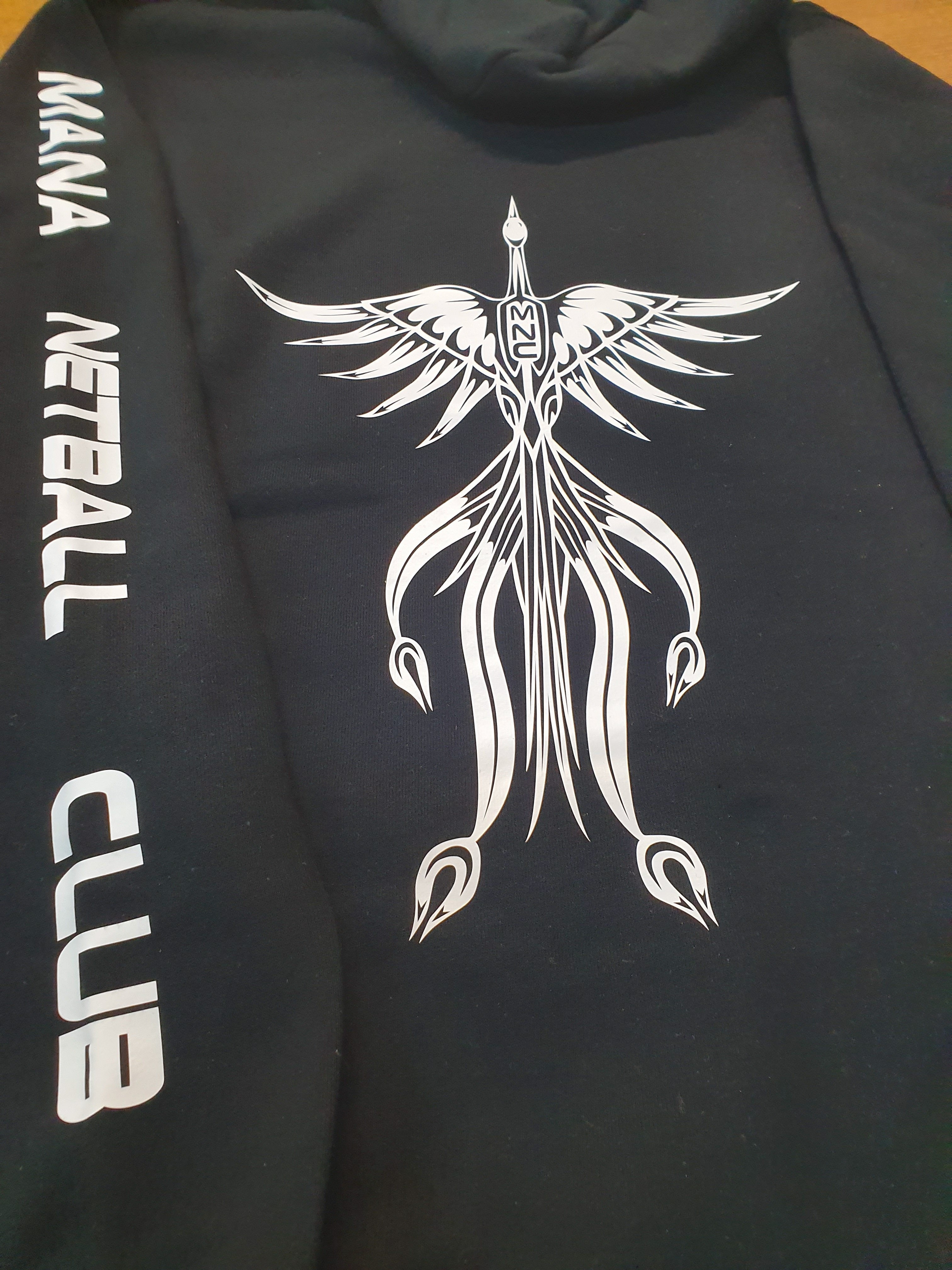 Our Client wanted to have her Club logo but also a mascot. The description was something elegant for the ladies sport but also warrior like as the club has a large following in both Australian Indigenous and New Zealand Indigenous cultures.

Once again our very creative Graphics designer went to work creating this beautiful Phoenix, Staying true to the clubs colour's of black silver and white and encasing MNC (Mana Netball Club) on the birds chest where we all hold our heart and pride - this was the end result.

Another Fantastic creation from Stan and another happy customer.
Vinyl Transfer / Garment Printing - Stibbard Wedding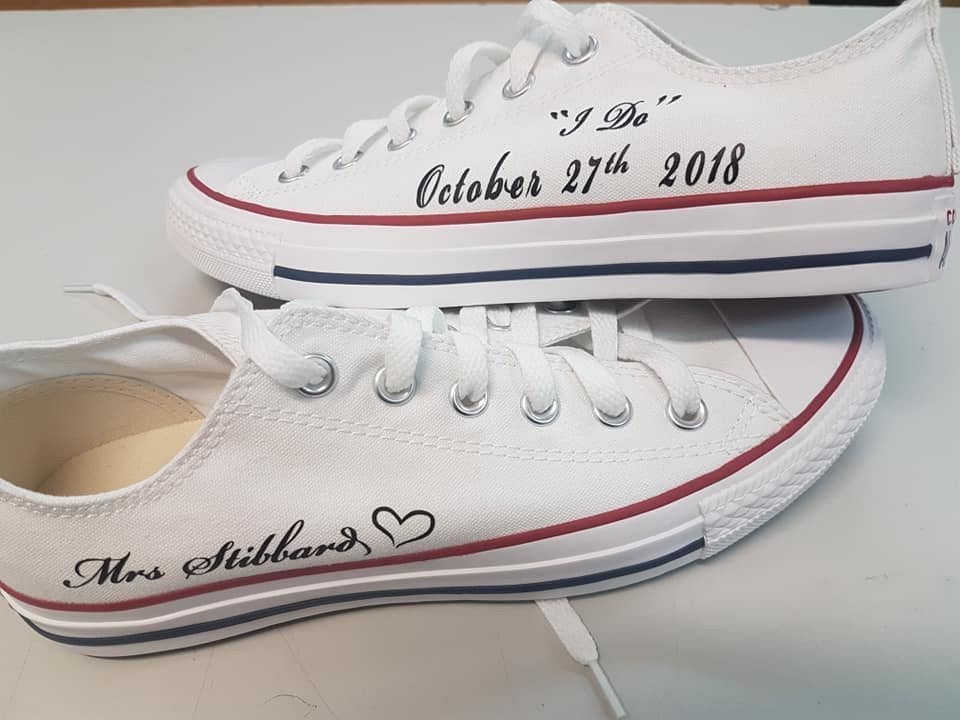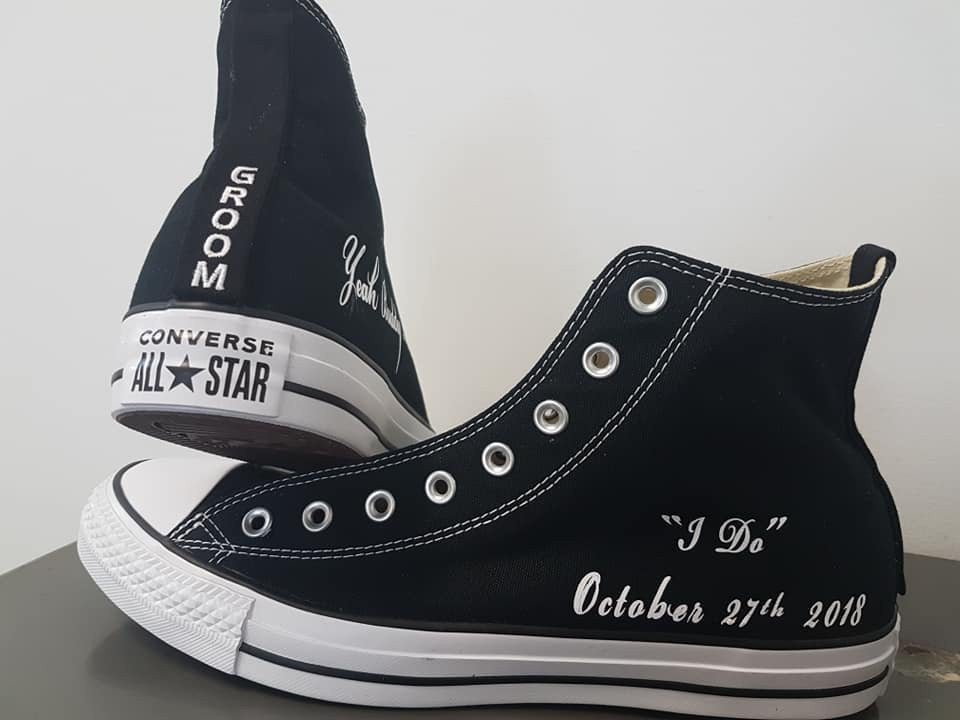 When a Bride has an idea for a unique and comfortable wedding shoe your design needs to be on point and executed with precision. However this particular bride wasn't talking diamonds and pearls, she was talking Converse and heatpress.

This looks like a simply application but after many burns and blisters on his hands the job was completed and the bride and groom were over joyed. Once again fully credit for the art and creation it was all done by our wonderful graphics man - Stan.
Vinyl Transfer/ Garment Printing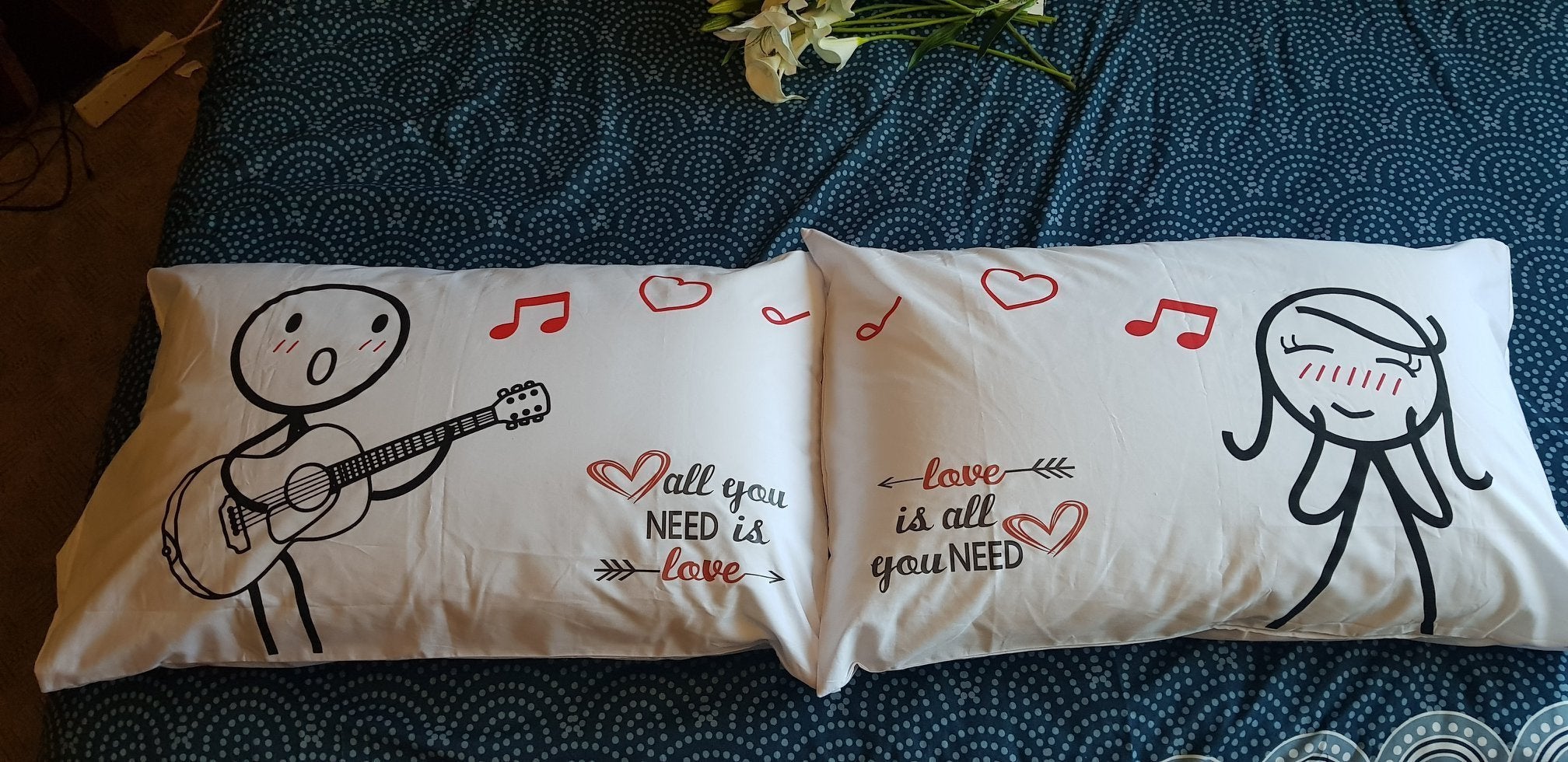 This client was looking for a unique wedding gift that represented and reflected a theme that was brought about by her friends tattoos, love of music, and wedding invitations. Our designer had to match the font on the wedding invitations and fit the wording in and around the already partly printed pillow cases (people singing and playing guitar)

Fully Credit to our in house designer Stan for working so well with a very particular client for a very special gift.
CONSUMER PROGRAMS - STRONG MOVES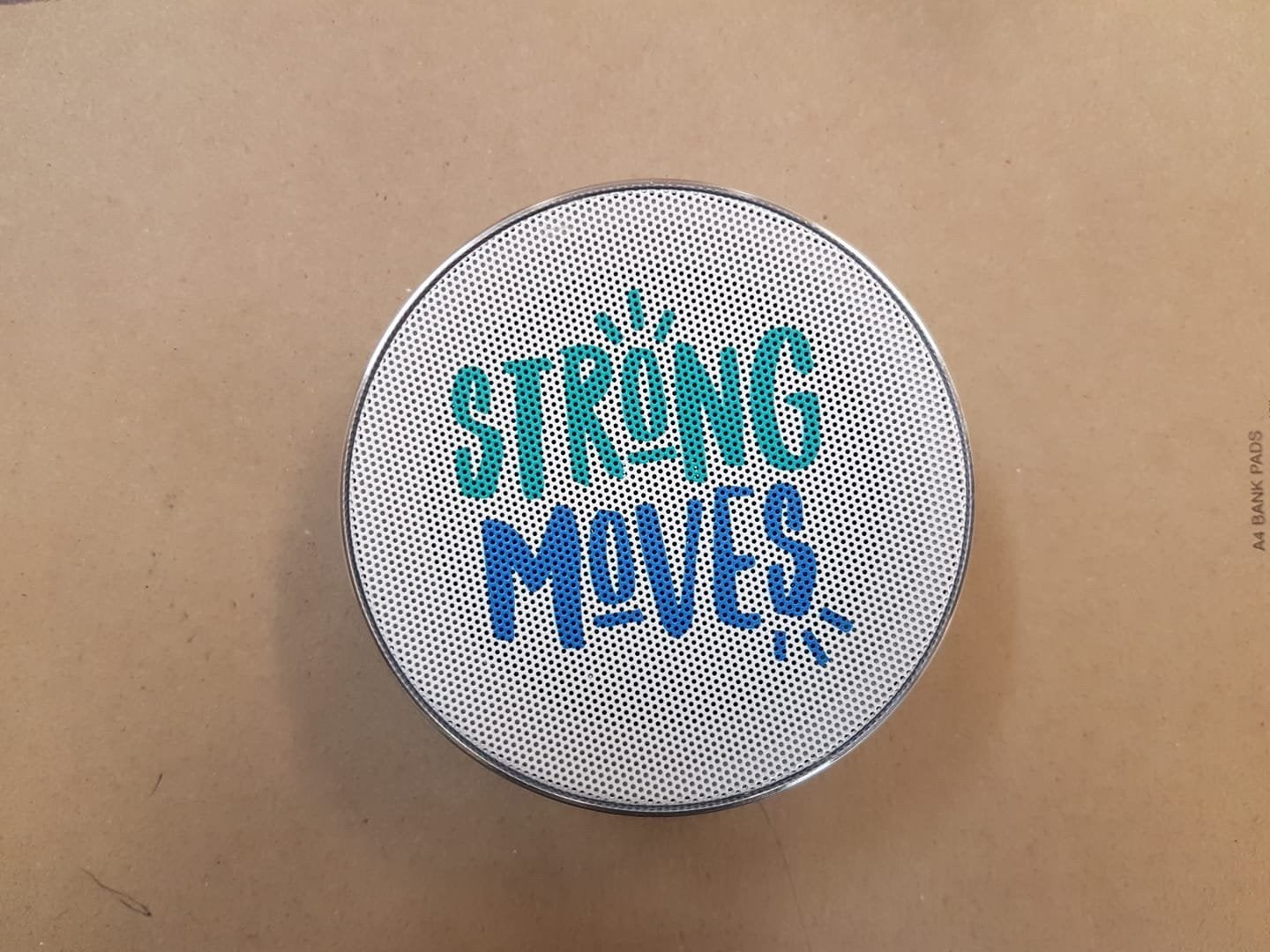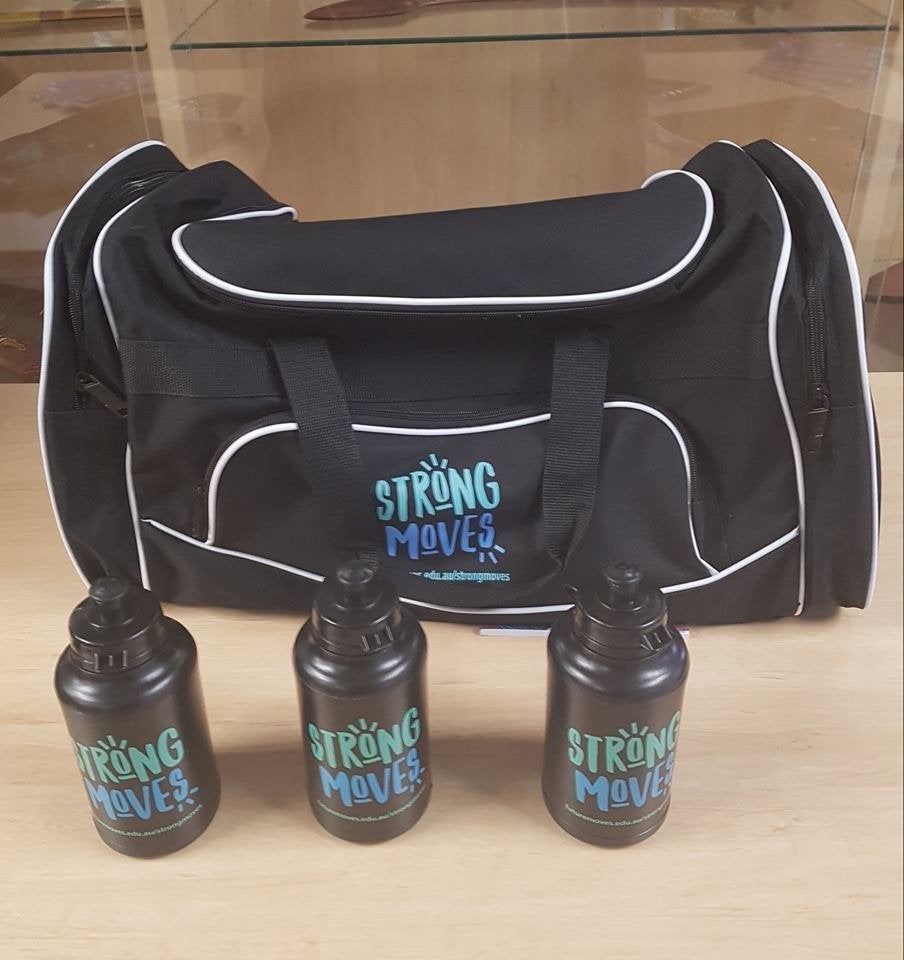 CSU STRONG MOVES - is a program that CSU (Charles Sturt University) runs to show the benefits of further education to primary and high school students. to get their logo to be recognized in this environment we have done a number of Promotional items for them. Including - Pens, sports bags, microfiber towels, snap back caps, and much more.
EMBROIDERY - JT OVINGTON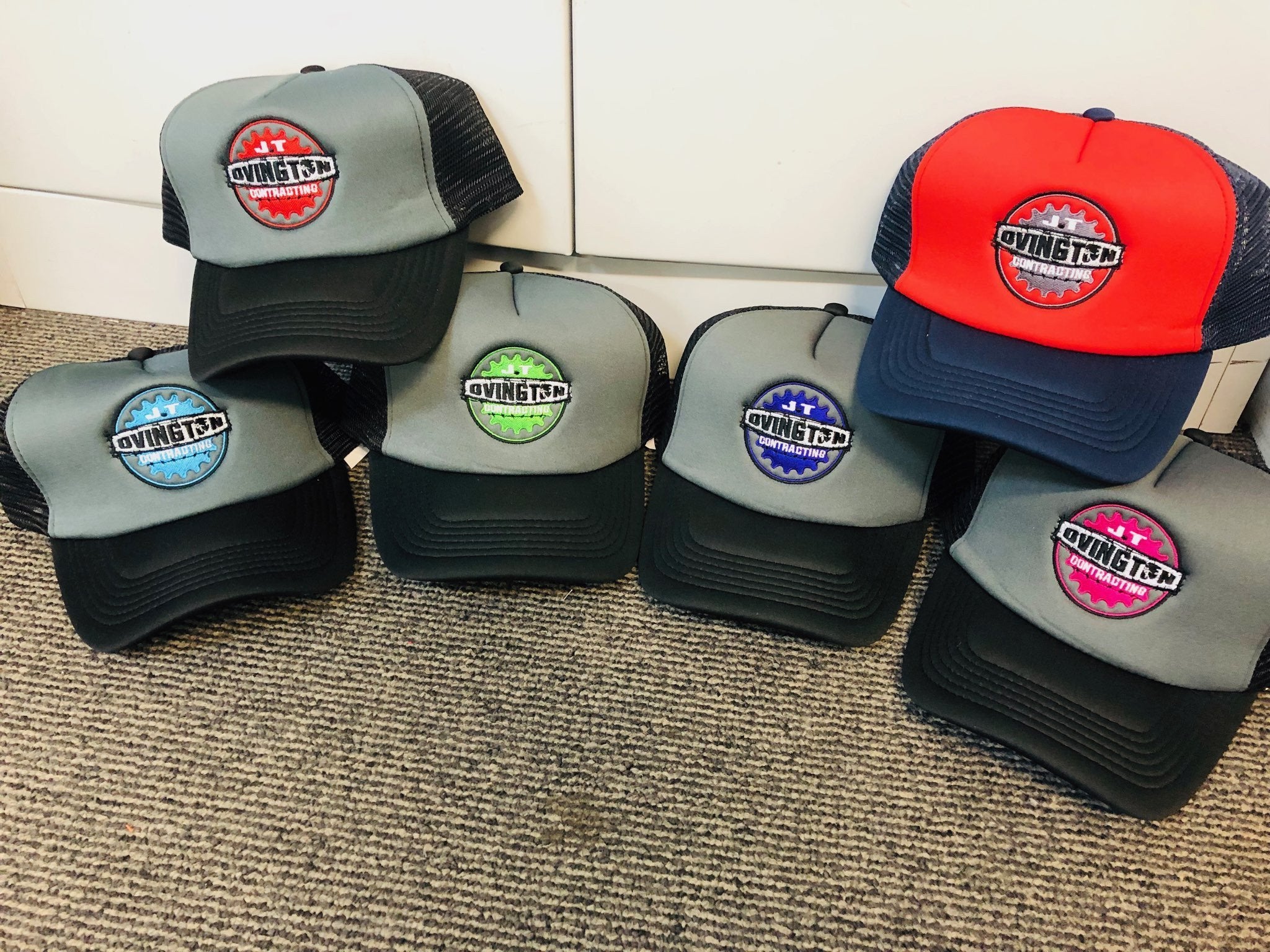 One Logo, Many colours - this goes to show when you have a great logo and a great embroidery operator anything is possible.
EMBROIDERY - Vietnam Veterans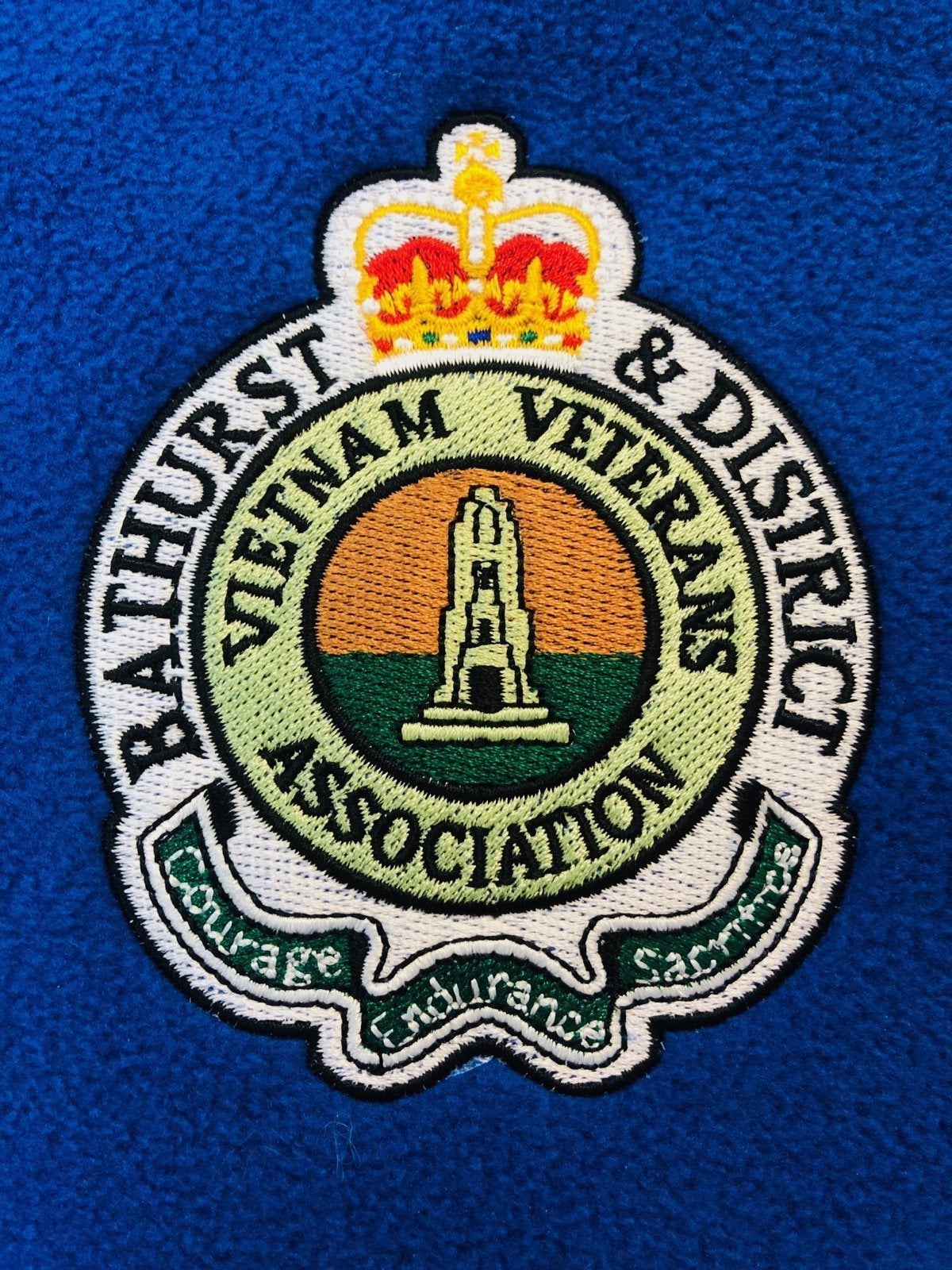 A truly fantastic embroidery for a fantastic group of people who served our country. This logo for the Bathurst arm of the Vietnam Veterans appears proudly on the chests of many men and women in our community.
EMBROIDERY - WEST BATHURST PRE SCHOOL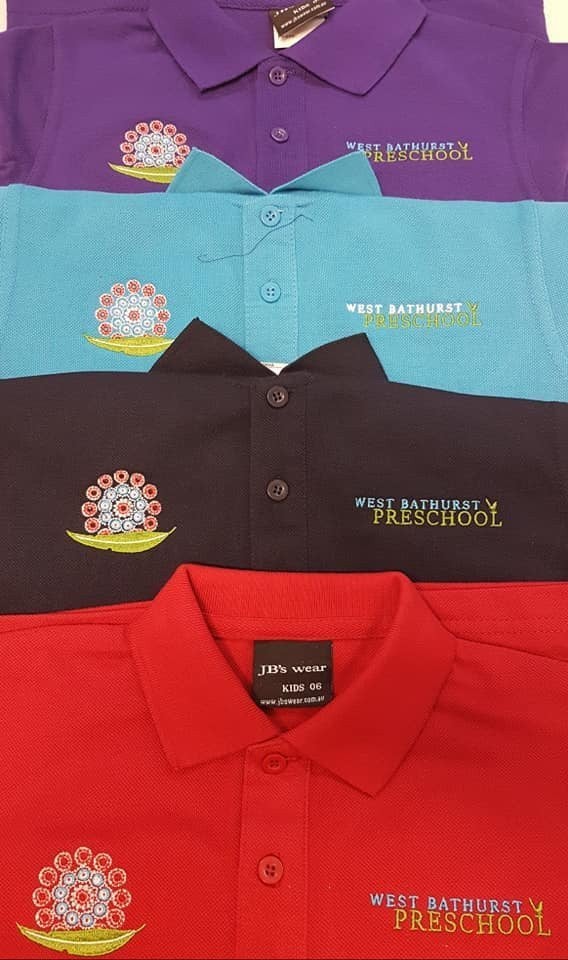 A very difficult one to stitch but a beautiful one to view, due to the intricacies of this logo. a logo representing the aboriginal culture here in the Bathurst area.
EMBROIDERY - PROFESSOR LUCAS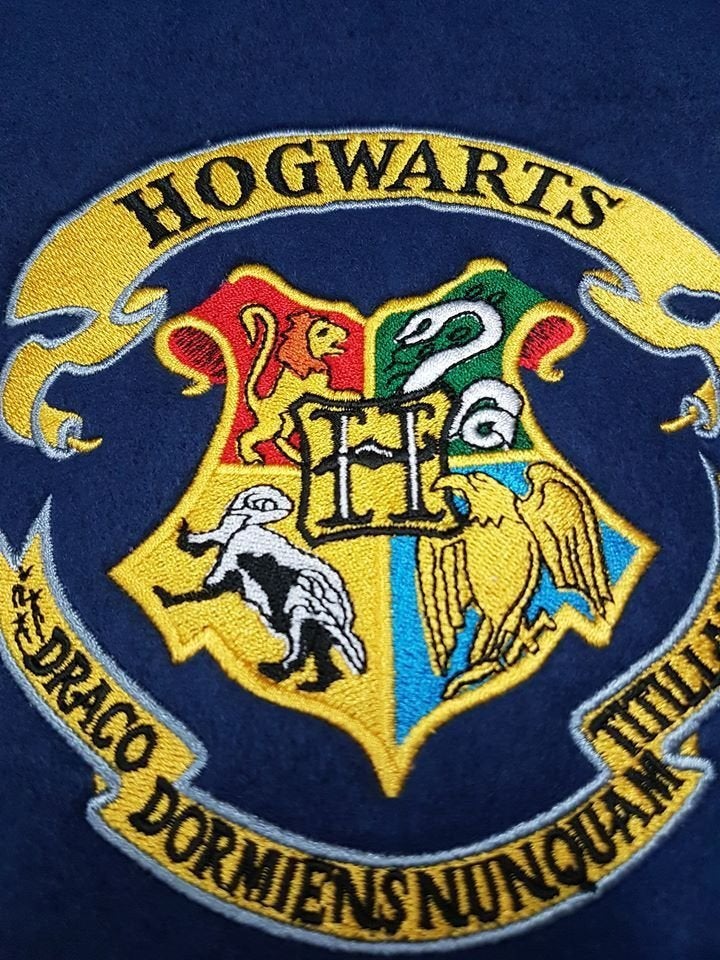 A unique gift for a very special Harry Potter fan. This was a gift for a very special little boy, taking over an hour to stitch and using all 12 colour reels with a massive stitch count of 54,217 stitches.

PRICELESS!
DYE SUBLIMATION - MANA NETBALL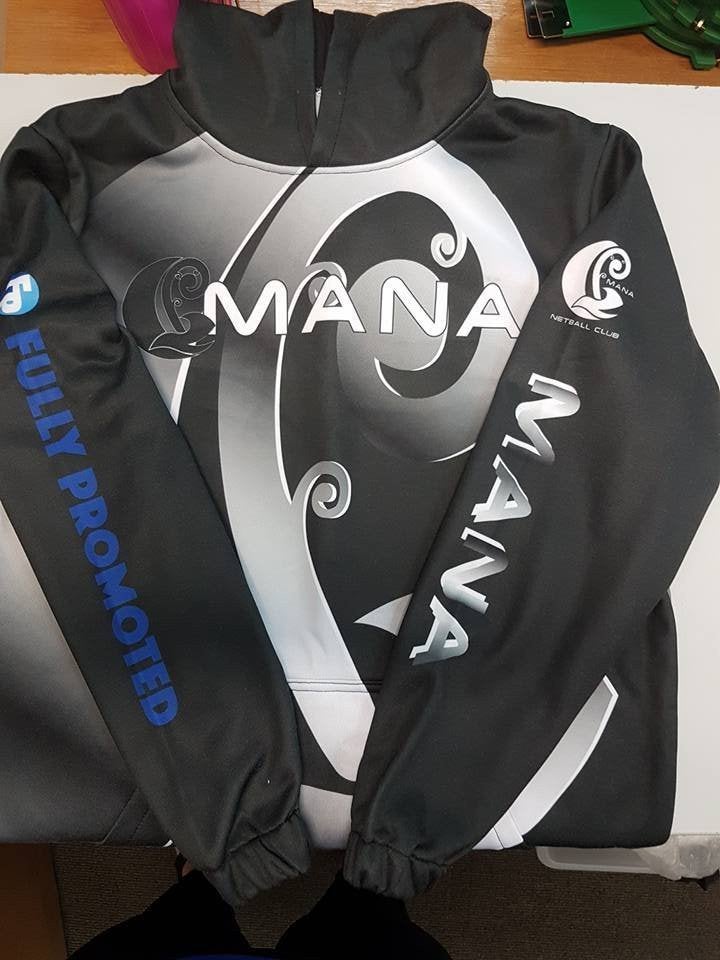 Fully Promoted Bathurst proudly sponsors Mana Netball club and has done for the past two seasons. This design was created by the president of the club and brought to life by the team at fully promoted.

An interesting snippet of information is that this uniform was voted the best in Bathurst recently out of 40 plus different clubs.

The image featured is a dye sublimated hoodie
Asbury's/Pepper's Cruise Family Holiday - Dye Sublimation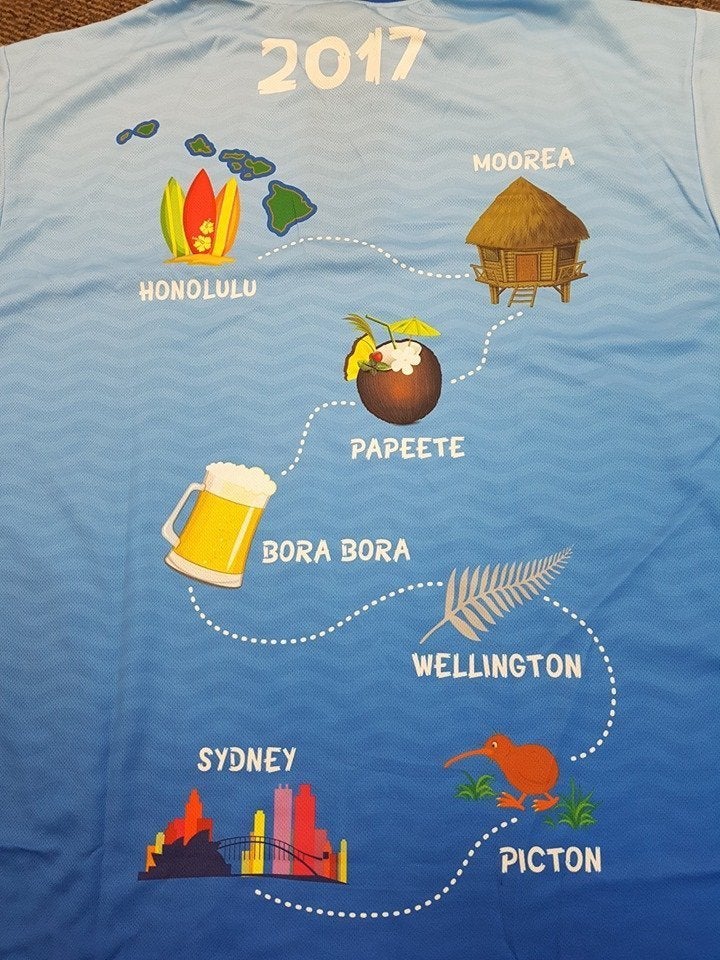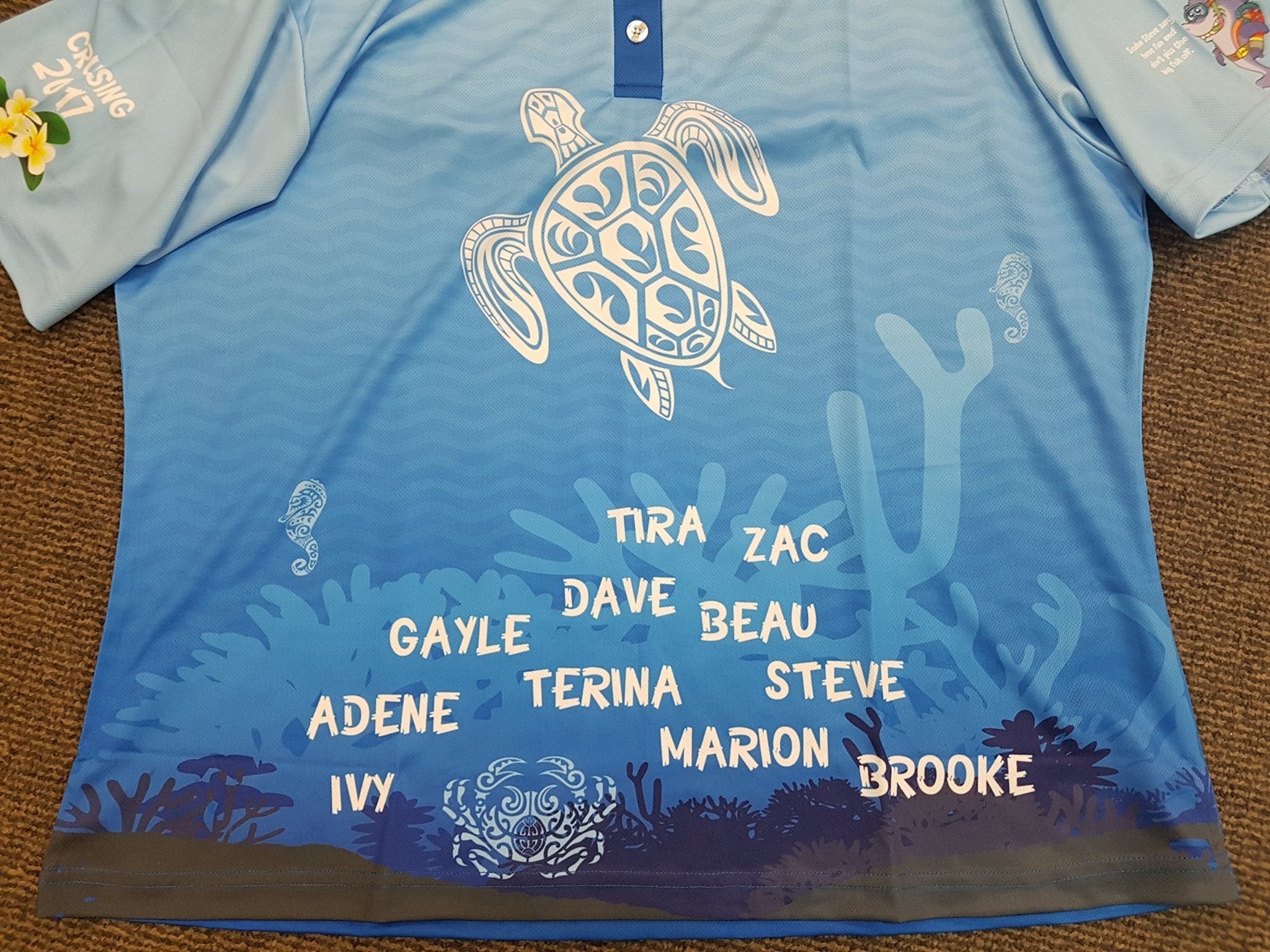 A garment to make our family make an impression on our overseas holiday was the brief form our clients for this dye sublimation job.

Here our team created a holiday themed shirt that included all names and locations that they traveled.

This shirt served a purpose to keep the family together on their holiday, made an impression and also served as a great keepsake.
Bathurst Centennials Cricket Club - Dye Sublimation
When Choosing Dye Sublimation as your decoration technique your imagination is your only boundary.
This uniform was designed and created with our clients brief of "STANDING OUT" in mind.I am sure nobody will miss the Bathurst Cenntenials Cricket club in this uniform
Sports Trophies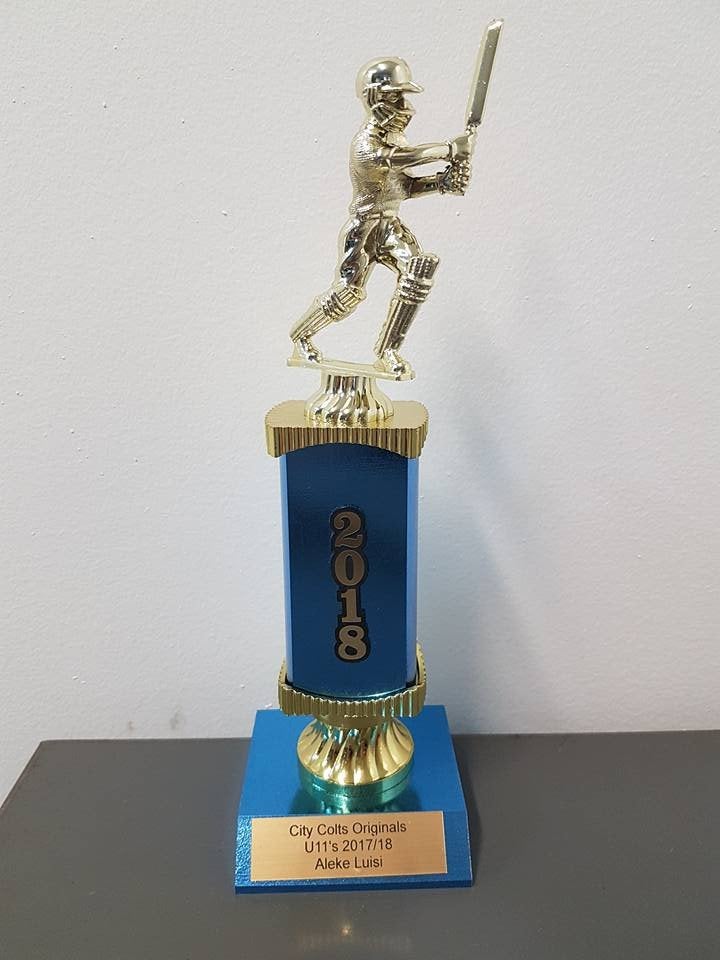 It doesn't matter what your sport is we have all types of sports covered.

We also have Sales awards, Cups and Perpetual awards, Ribbons, Medals - basically every award or trophy you may need.

Pop into our store to pick up the latest catalogues available.

3 week lead time is required
Stubby Coolers - custom printed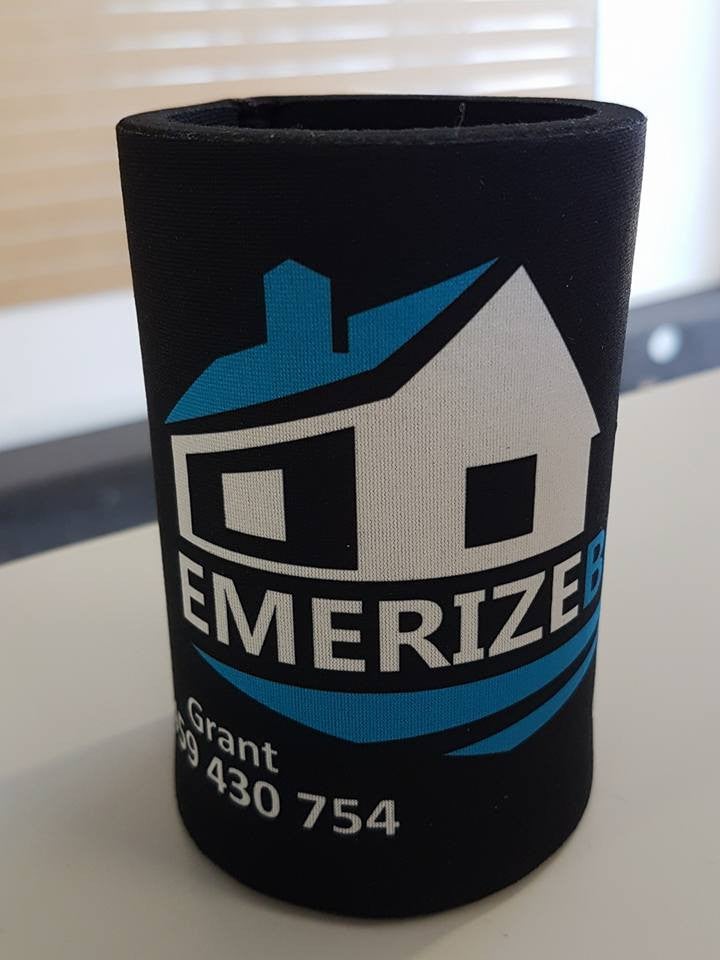 Stubby coolers are a great priced promotional product for every industry. Your name could be in your customers hand every time they sit down to enjoy a BBQ or a Beer.
This product is Australian made and full sublimated and customized to your specifications.

Get yours ready for this summer!
PRINTED STICKY NOTES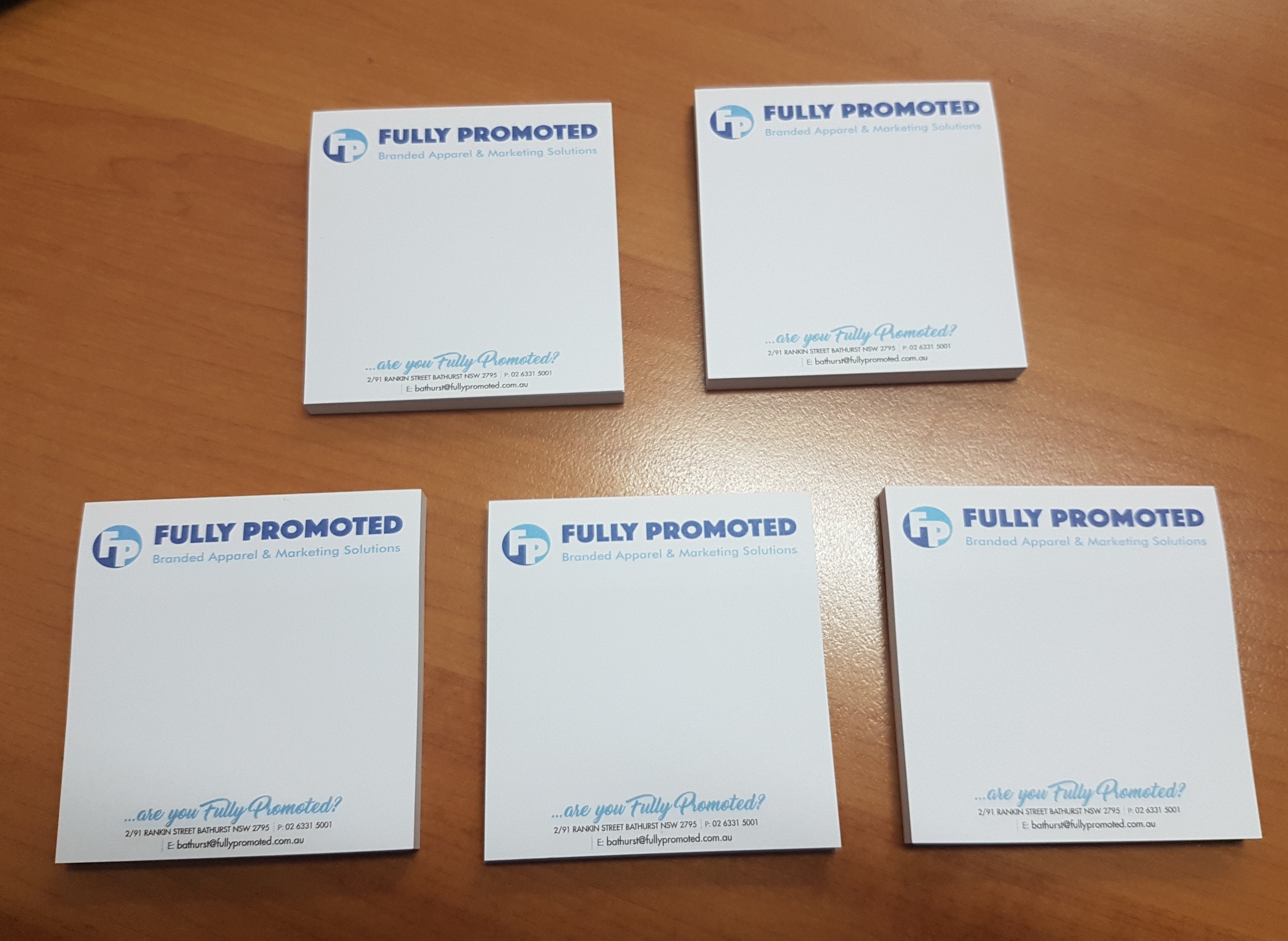 A fantastic opportunity to always be in the forefront of your clients mind." class="sharethis-inline-share-buttons">


These 75 x 75 Sticky note pads are a great promotional item to have on your clients desk. You could even turn them into a "To Do List"
A fantastic opportunity to always be in the forefront of your clients mind.



The Fully Promoted Bathurst Team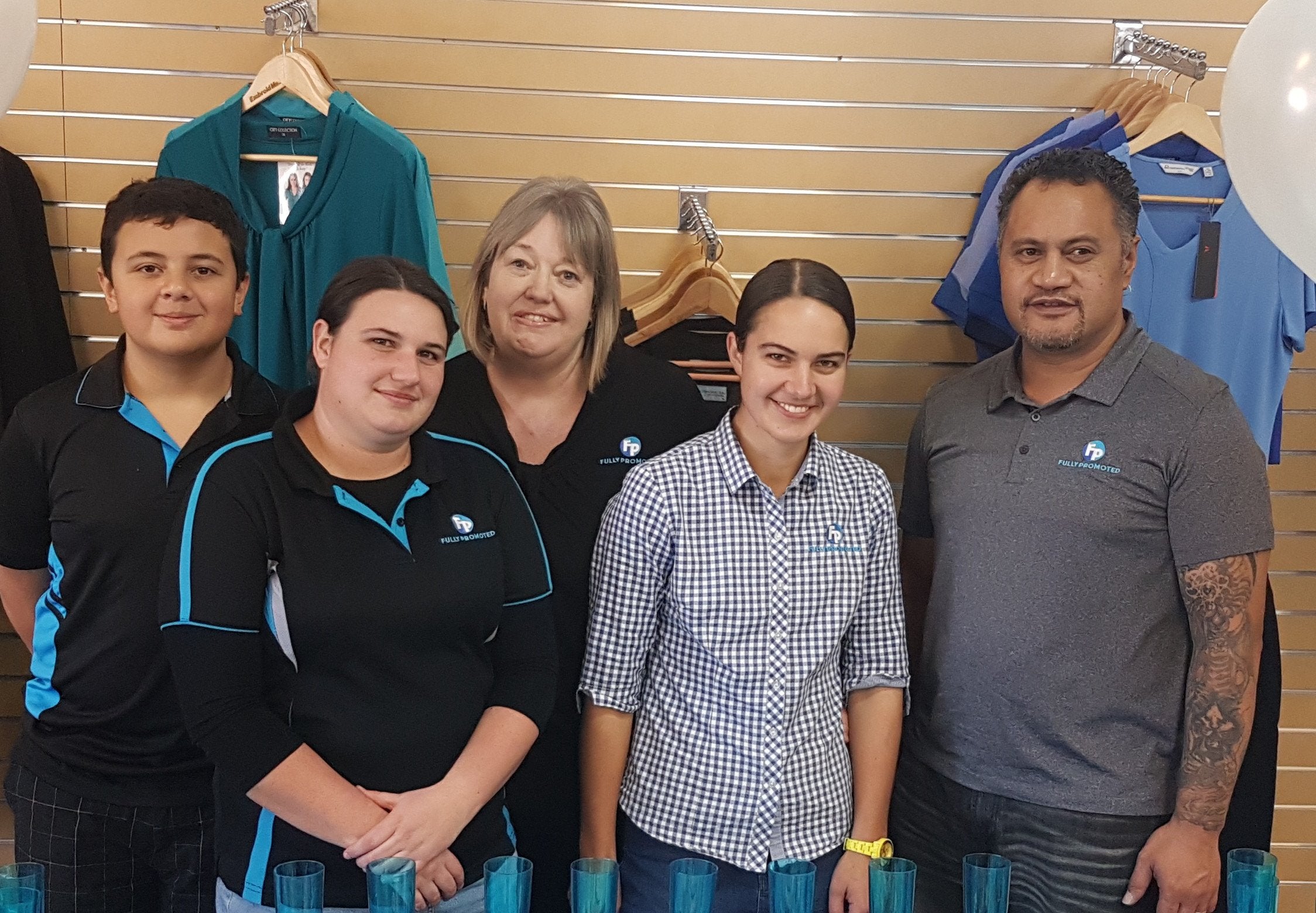 Hoodies & Hats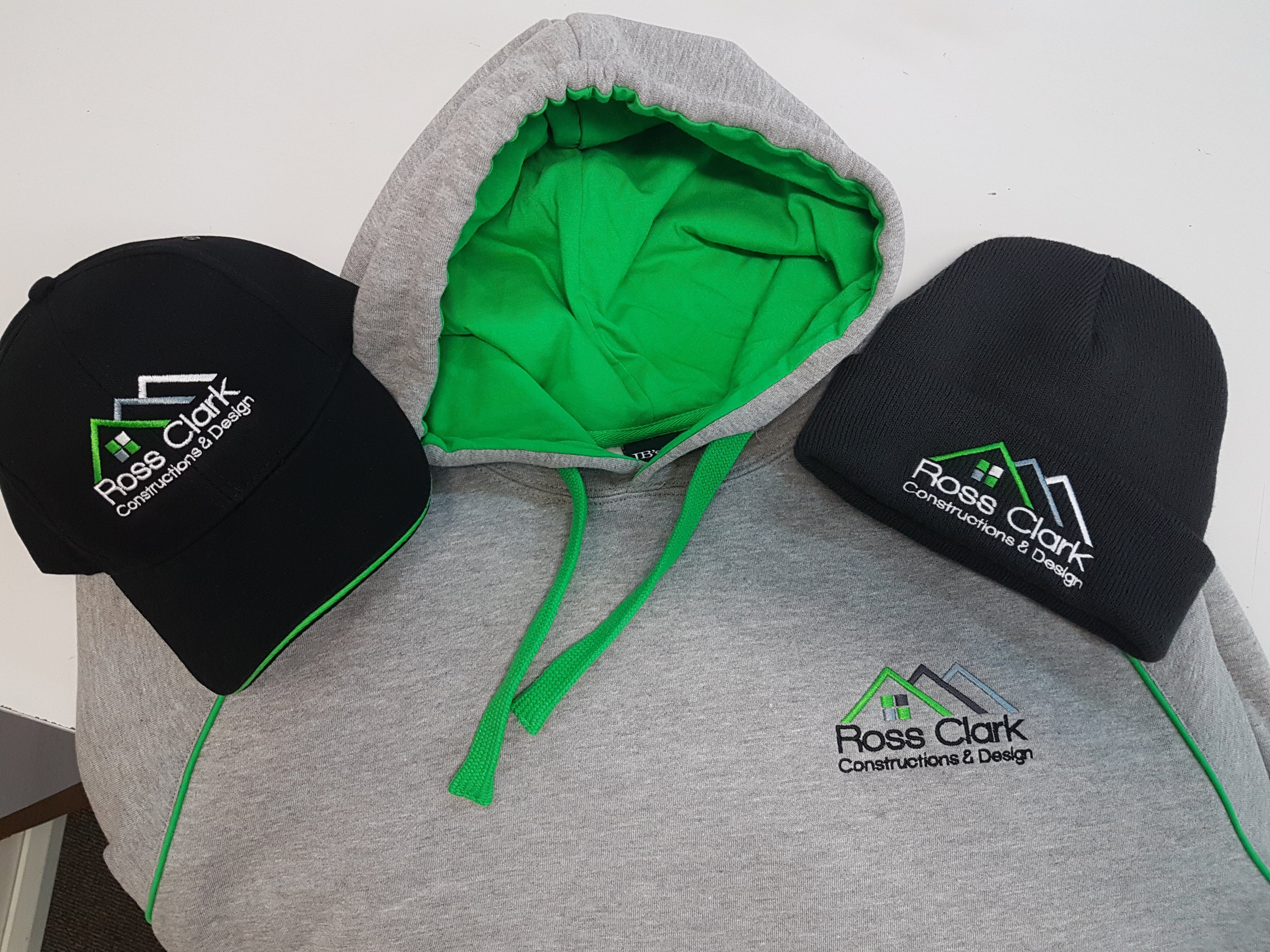 Having the right Logo and matching it with the best garment possible will make your team shine.

It is very important to have your team to stand out in a crowd. This is just some of the uniform we have produced for the team at Ross Clark Building.
HI VIZ Wear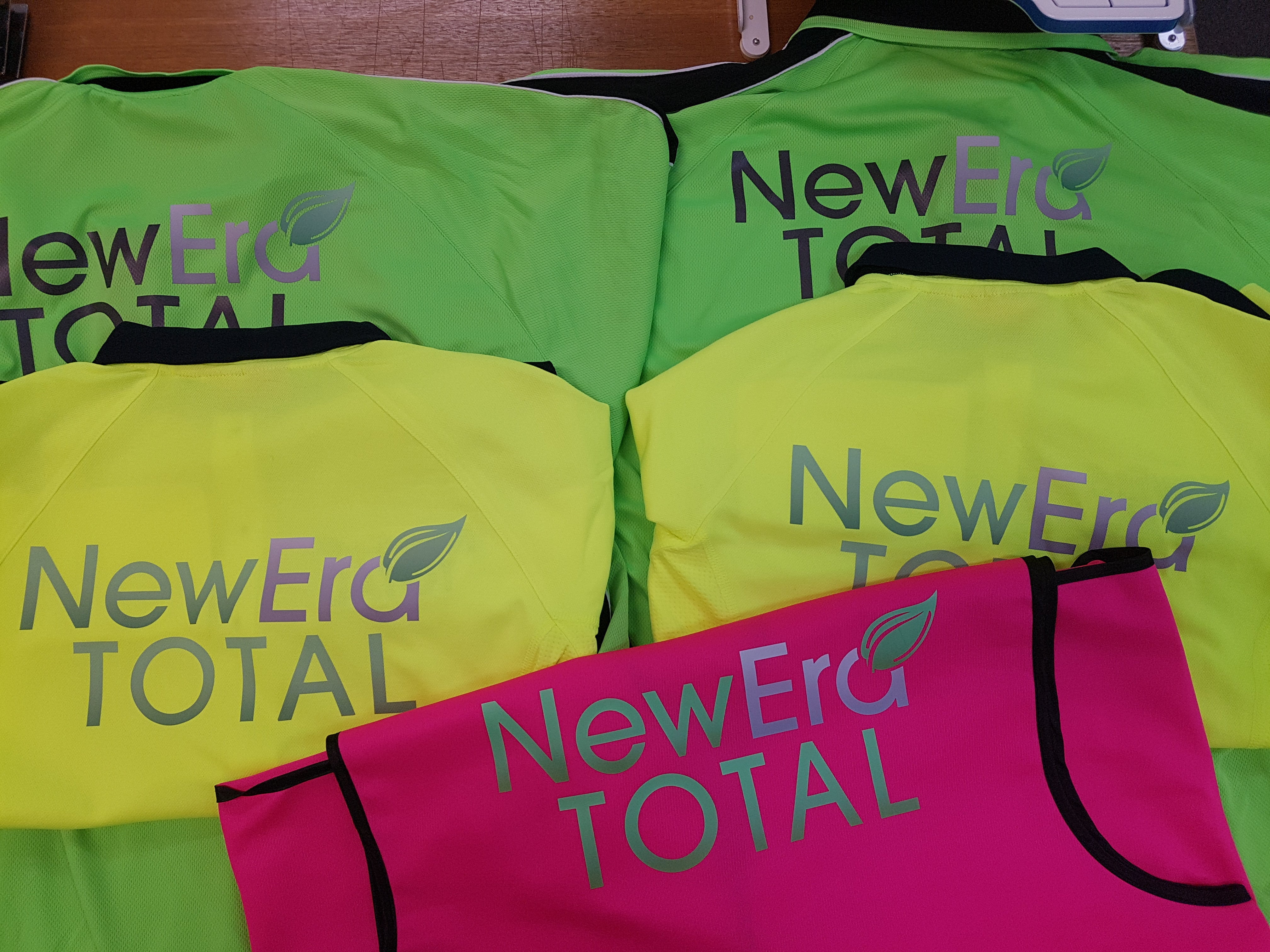 Pretty and Practical.

Hi Viz wear can look cool and help promote your business at the same time as being safety conscious. Your Logo can jump of your garments and get your business name recognised in your local area.
Lapel Pins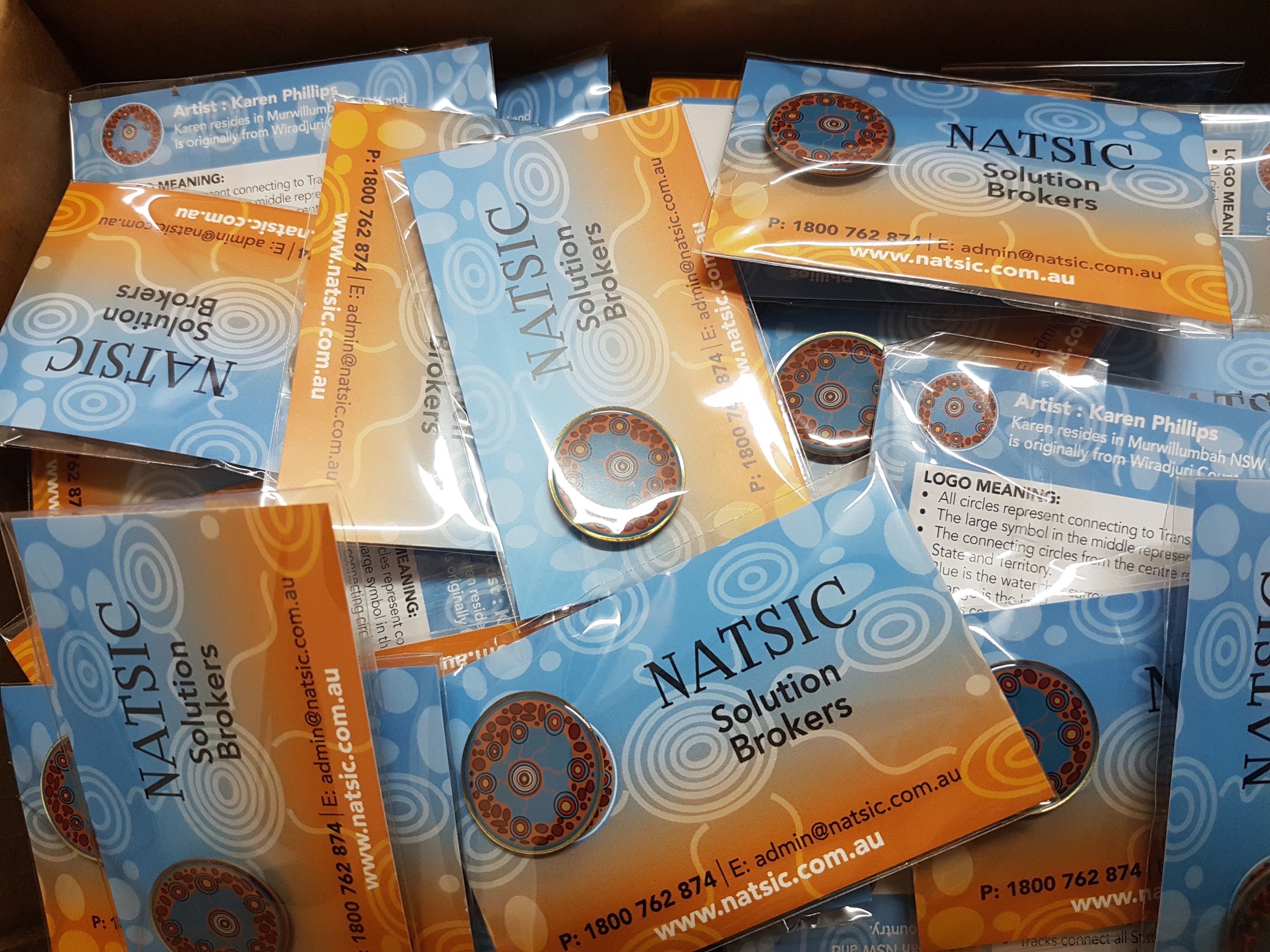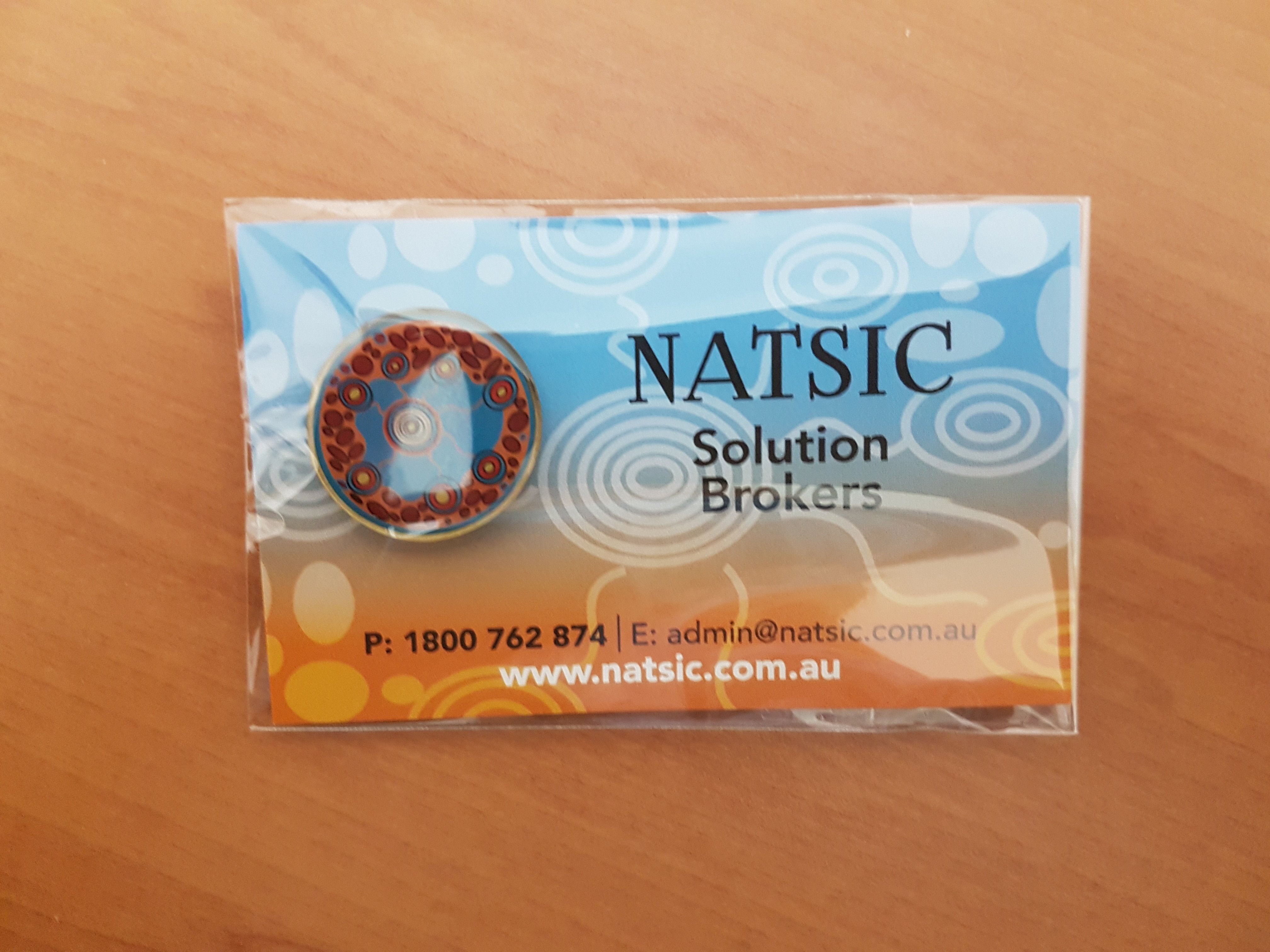 Aboriginal Torres Straight Islander Community - Transport and Community Services lapel pins being used for Conferences and trade shows. Applied onto a printed business card and bagged individually.

Fantastic for Schools, Sporting Clubs and business functions.
Custom team wear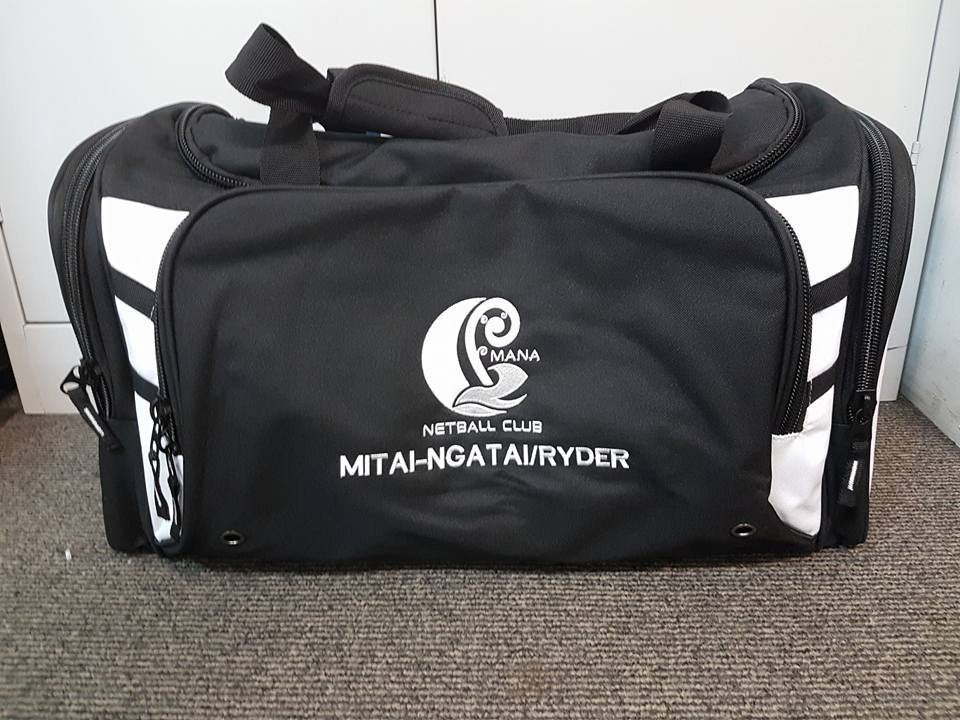 We are Proud to be Platinum sponsors of Mana Netball Club Bathurst. They have allowed us to create their custom printed on field playing gear and all merchandise.
How we customise
From Embroidery to Print we have the right solution for your brand.
Create exactly the look you want with a variety of branding options. Our experts can help you discover which techniques will best represent your brand and your budget. Contact Fully Promoted (powered by EmbroidMe) today.