Fully Promoted Mount Waverley
Our Work
Cause Marketing: How to Align Your Brand with Causes Customers Care About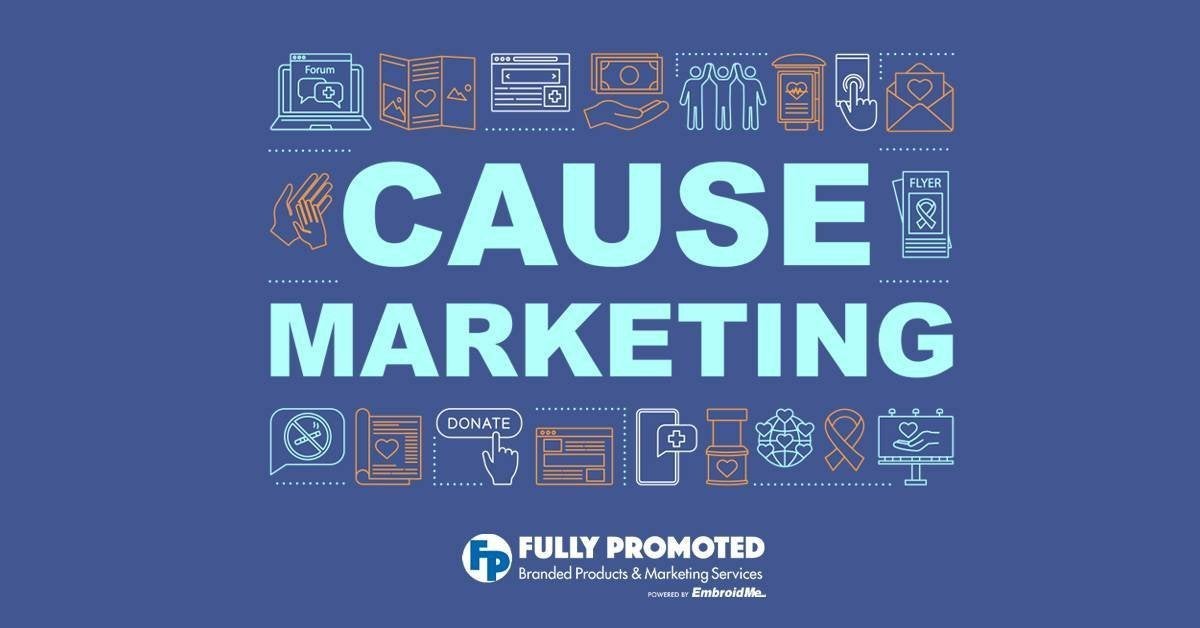 Many companies, large and small, have found that cause marketing is a highly effective tactic used to boost sales while at the same time increasing customer and employee engagement, brand awareness, and loyalty. That may seem like a lot for one marketing strategy to accomplish, but the benefits of cause marketing are real and we see their positive results daily online via social media, at events, on TV, and in other media. Cause marketing is a partnership created by a for-profit business and a non-profit organization for their mutual benefit. The strategy provides employees, audiences, donors, and customers with the opportunity and knowledge to help those in need of support.

The idea behind the strategy is for the "for-profit brand" to align themselves with a respected charitable effort important to their customers and potential customers by linking the promotion of its products or services to providing support for the charity. The charity usually receives both brand awareness and monetary support, while the for-profit company receives brand awareness, public goodwill, and – from the best campaigns – increased product and service sales.

Outstanding Cause Marketing Alliances

Over the years, there have been numerous high-profile and successful cause marketing campaigns conducted by global brands. One example is American Express aligning itself with the Statue of Liberty Restoration campaign which involved the company earmarking three months during which it would contribute 1 cent for each card transaction and $1 for each new card issued. Backed by a substantial media campaign, this cause marketing initiative raised $1.7 million to restore the statue and Ellis Island while proving profitable for American Express in both increased purchases and new members.

Another is Yoplait's longstanding campaign "Save Lids to Save Lives" in which consumers mailed in millions of the company's yogurt container lids to raise 10 cents each to support Susan G. Komen for the Cure. Combining this cause marketing initiative with its sponsorship of the organization's Race for the Cure, Yoplait has raised $26 million for the organization over time while it significantly raised its brand awareness, associating it with health and concern for women.

How to Bring Attention to Your Cause Marketing Campaign

Because the promotional aspect of any cause marketing campaign is critical to its success, many companies provide promotional item giveaways associated with it to raise awareness and generate support for the effort. These items are typically branded with both the for-profit and non-profit companies' logos, a united message of support, and the cause marketing campaign title.

Some of the most cost-effective and attention-grabbing branded promotional items for cause marketing campaigns have proven to be:

T-Shirts – Available in all sizes, many materials and styles, and with various sleeve lengths, these enduring favorites are often selected as an integral part of promoting a cause marketing campaign.

Wristbands – Often colorful and manufactured with durable silicon, wristbands are popular cause marketing promotional items. People who receive them tend to wear them proudly and for a long time.

Lanyards – Useful and colorful, lanyards are also cost-effective and well-received.

Drink Tumblers – Saved and used often, drink tumblers are constant reminders of your brand and its cause marketing efforts.

Reusable Water Bottles – Synonymous with healthy living and environmentally conscious choices, reusable water bottles are a coveted promotional giveaway.

Bottles of Hand Sanitizer – Available in a few styles, these are undoubtedly popular items that associate your brand with safety and concern for public health.

Pens – Cost-effective and available in many creative configurations and with interesting and useful features, promotional pens are often kept for years by those who receive them.

Tote Bags – Wildly popular, totes make logos and messages highly visible to all who see them again and again.

Face Masks – Since these have become a necessity, hand out branded face masks wth your campaign logo or slogan.

Your Local Fully Promoted is Where You Will Find the Best Cause Marketing Promotional Products

Get personal attention from our local experts when you work with Fully Promoted for promotional products for cause marketing campaigns. Our team will provide recommendations based on your campaign's goals, timetable, and budget. We have mastered the art of branding a wide array of promotional products with logos – if you can imagine it, we can make it happen. Contact your local Fully Promoted team to get your cause marketing campaign ready to launch.
Face Masks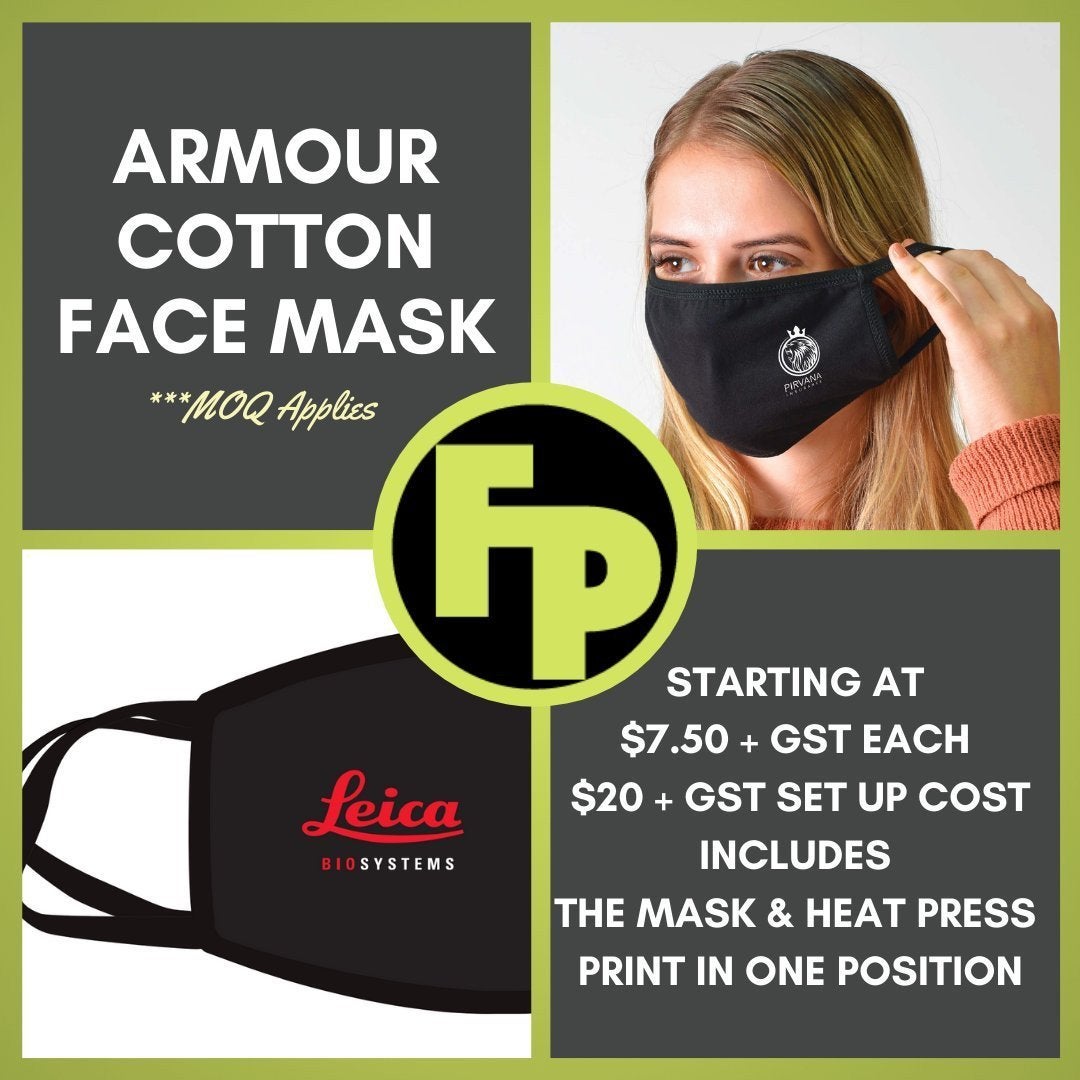 Comfortable, washable and reusable face mask with 3 layers of black 150 GSM protective cotton and spandex
Prices starting at $7.50 +GST each
$20 +GST set up
Cost includes the mask and heat press print in one position
***Minimum quantities apply.
4 great promotional product ideas for your business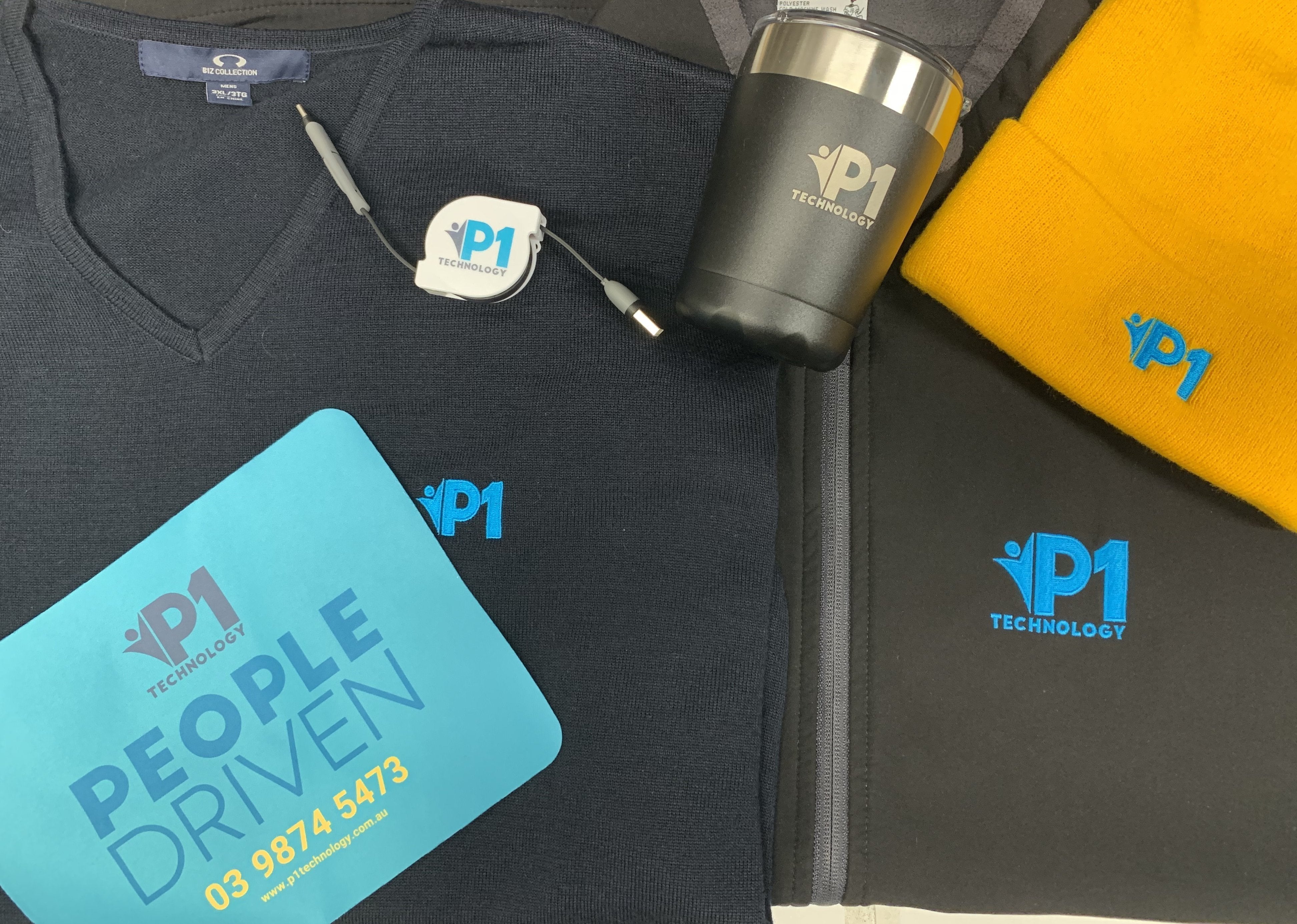 Promotional products are a great way to stay top of mind with your customers. But there are a lot of choices out there – so how do you know which promotional products to choose?

At Fully Promoted we work with each of our clients to discover how they interact with their customers on a daily basis, as this gives us insight to find the best combination of promotional products to suit their needs. We can create a bespoke product range for the business type and branding.

Our mission is to make the business memorable to their target audience. A client that we work with on a regular basis is IT support company, P1 Technology in Mitcham. We have created a range of promotional products and uniforms that represent their brand.
We work closely with the team to understand how they interact with their clients to find opportunities where the P1 team could give a little 'surprise and delight' to their clients that will also keep the P1 Technology name at front of mind.

Here are four great promotional product ideas that we've created for P1 Technology that could be great for your business too.

Uniforms

Because the P1 team have face to face contact with their clients, a uniform is important in truly presenting them as a team. We chose an easy wear and care uniform that suits a range of people and will look good for a long time. And the polo shirt can be worn under a jacket or by itself during the warmer months.

Mousepads & Phone Chargers

We looked at what type of promotional products would represent the business both obviously and a little outside the box. We chose to design mousepads and universal phone chargers that suit the type of business P1 Technology is in. These are also practical items for their clients to use on a daily basis.

Mugs

The final item we branded for P1 Technology were mugs. Common yes, but they also represent universal beliefs for the brand including becoming ecologically friendly, stylish and practical. And because they are subtly branded and lovely to use, they won't get pushed to the back of the cupboard, but will be used every day, putting the brand in the customer's hands.

If you're thinking about creating some promotional products for your business, we'd love to work with you to find the right solution.

We take the time to understand your business and how you interact with your clients to ensure we can create a range of promotional items that represent your brand, keep your business at front of mind that can help with increase of return business.
Recognize & Retain - Top Ideas for Employee Appreciation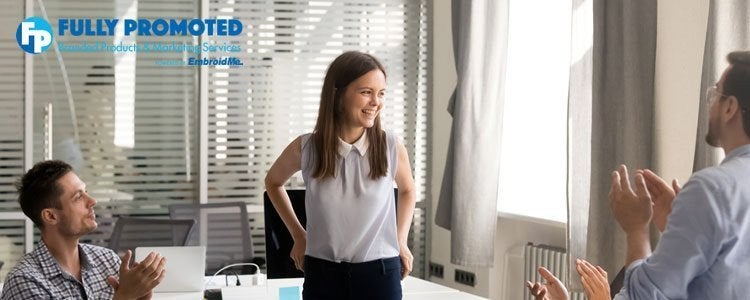 Recognizing top performing employees and providing a warm welcome for new staff is especially important during challenging times. There's no question that taking the time, effort, and resources to recognize your staff members is an investment in your business that delivers returns both in the short and long term. Research has found there are plenty of meaningful ways to do it.

"Companies that provide ample employee recognition have 31% lower voluntary turnover rates than companies that don't," according to a study conducted by Bersin & Associates. Less employee turnover means better customer service and cost savings.

Staff recognition, when done right, also increases employee engagement – which is essential to the success of any business. Businesses that deploy a thoughtful and strategic employee recognition program have found that they have a 71% higher staff engagement level than those companies without this type of program. They saw that increased employee engagement meant increased employee productivity and greater job satisfaction among staff in general.

Having a strategic employee recognition program also helps build stronger businesses because it lifts morale and staff will often repeat rewarded behaviors. Below are some strategies that work for many businesses that frequently honor their staff.

· Recognize Staff Publicly – This serves several purposes . . . Employees feel that they are being rewarded for their above and beyond efforts as a member of the team; other team members have the opportunity to also congratulate the high performer, and the team understands the benchmarks for performance that are recognized by the company.

· Recognize Staff Frequently and Consistently – If employees know that there are many opportunities for them to be recognized for performing at high levels, they will have ongoing goals to achieve the honor.

· Make the Recognition Specific – When you honor your top employees, make sure that they, and the rest of the team, know exactly what was done to merit the recognition.

· Give Genuine, Heartfelt Thanks – Chances are good that you are genuinely grateful to employees who deliver excellent performance and are examples to the rest of your staff. Make sure that comes through loud and clear in your authentic message of thanks.

Branded Promotional Items are Popular Employee Recognition Gifts

Many businesses have found that using branded promotional items works well as their employee recognition gifts. This is because employees are often the business's best brand ambassadors – they are likely to keep the items for a long time and all who see them associate the brand with something useful and of value.

According to the Advertising Specialty Institute (ASI), the promotional product industry's largest membership organization, several products are particularly appreciated by employees and others who receive branded gifts.

USB drives top the list of prized, branded promotional items as they are widely used and saved. Branded outerwear and performance wear, such as jackets, are a close second as favorites. Creative drinkware is also popular. Research has shown that 50% of everyone who is given a branded cup uses them two to three times per week. Pens, pencils, and other writing instruments are budget-friendly branded favorites that are kept by most who receive them.

Your Local Fully Promoted is Where to Find Creative Employee Recognition Gifts

At your local Fully Promoted, you will get expert recommendations for employee recognition gifts based on your wants, needs, timetable, and budget. Our local experts specialize in just this kind of task and will work with you to ensure you are completely satisfied. Regardless of how small or large your business is, your employees deserve to be recognized and our team will help you ensure a successful recognition program is in place.

Contact us today to create your creative and strategic employee recognition program!
Uniform Starter Packs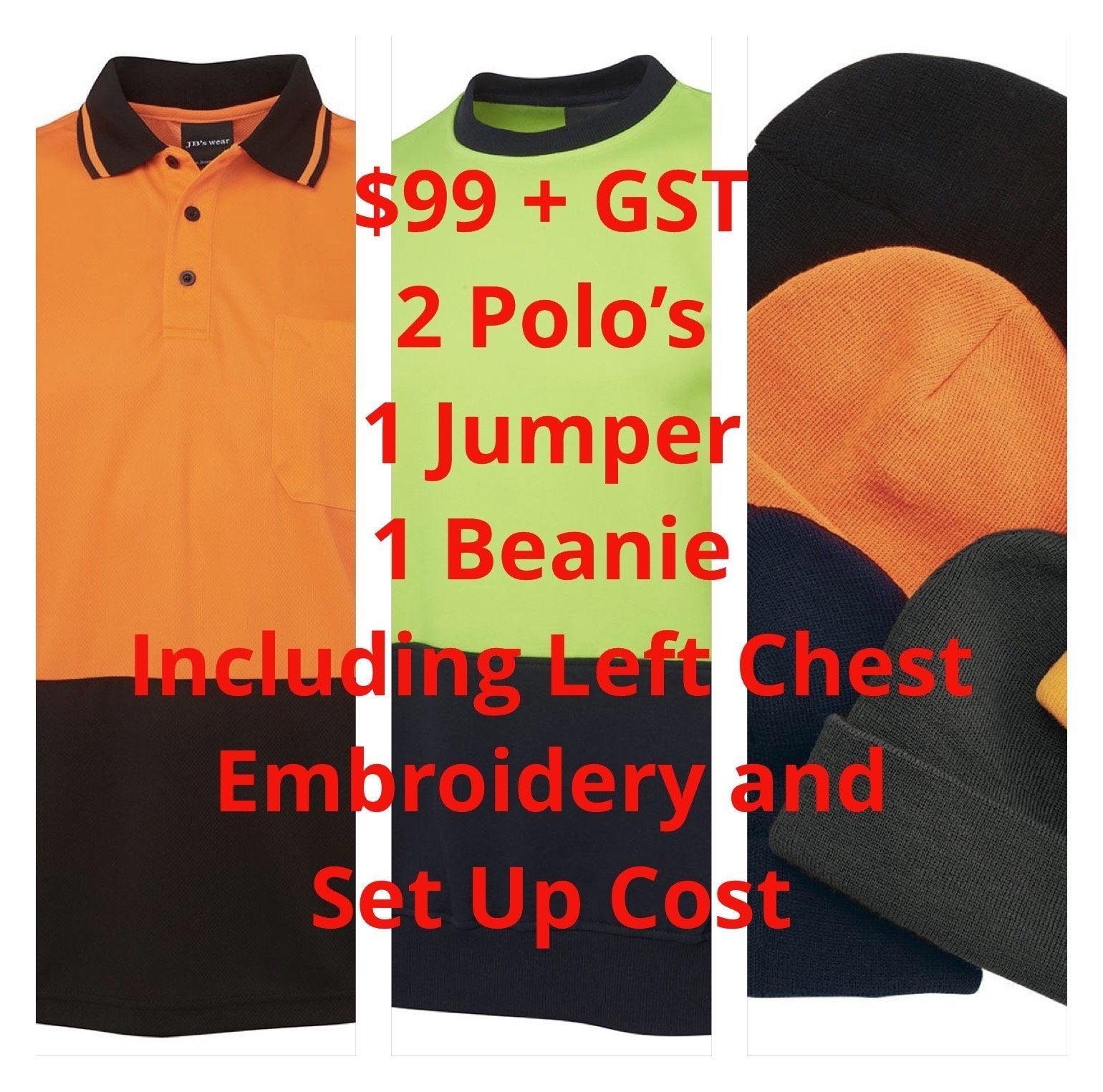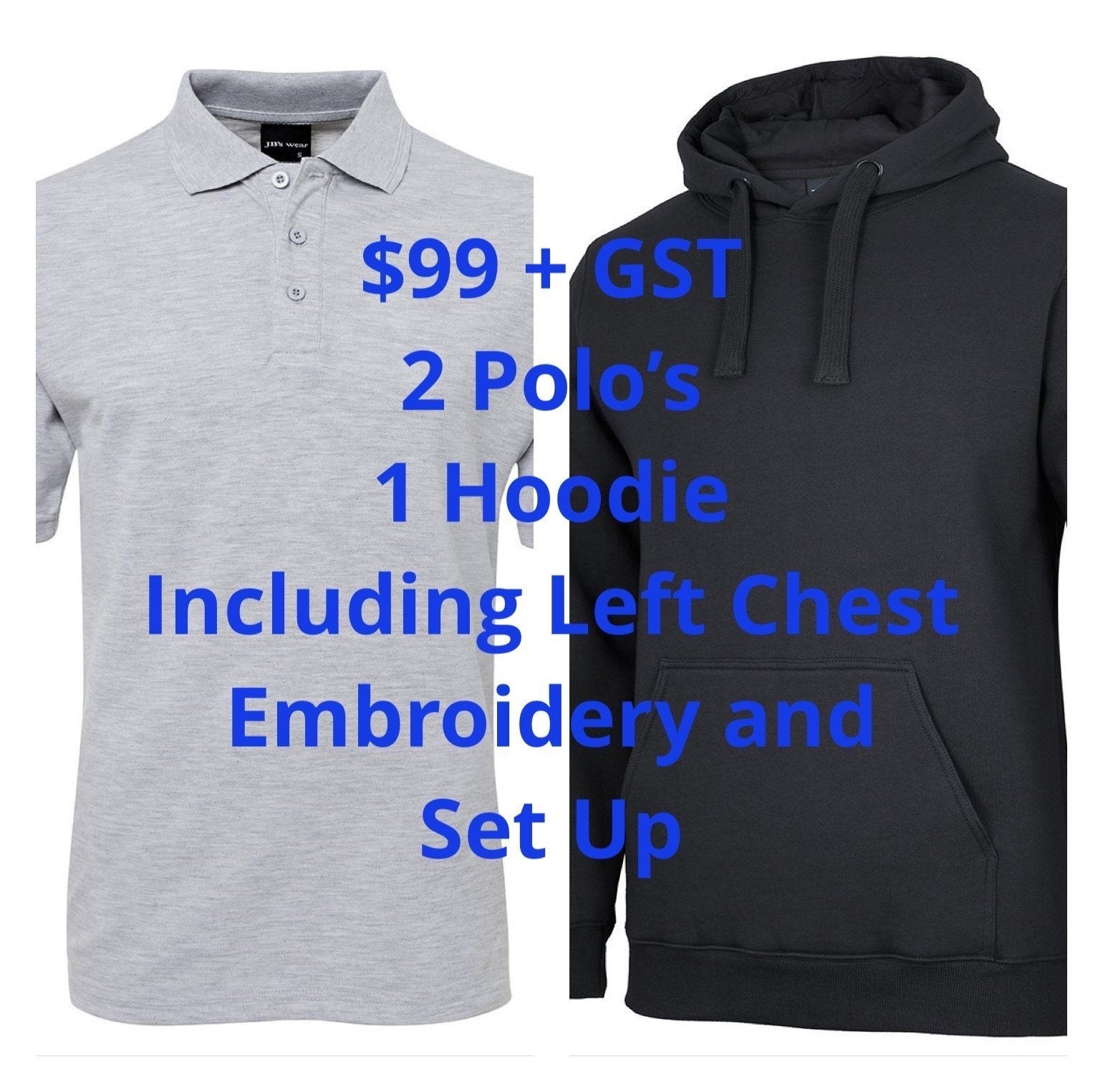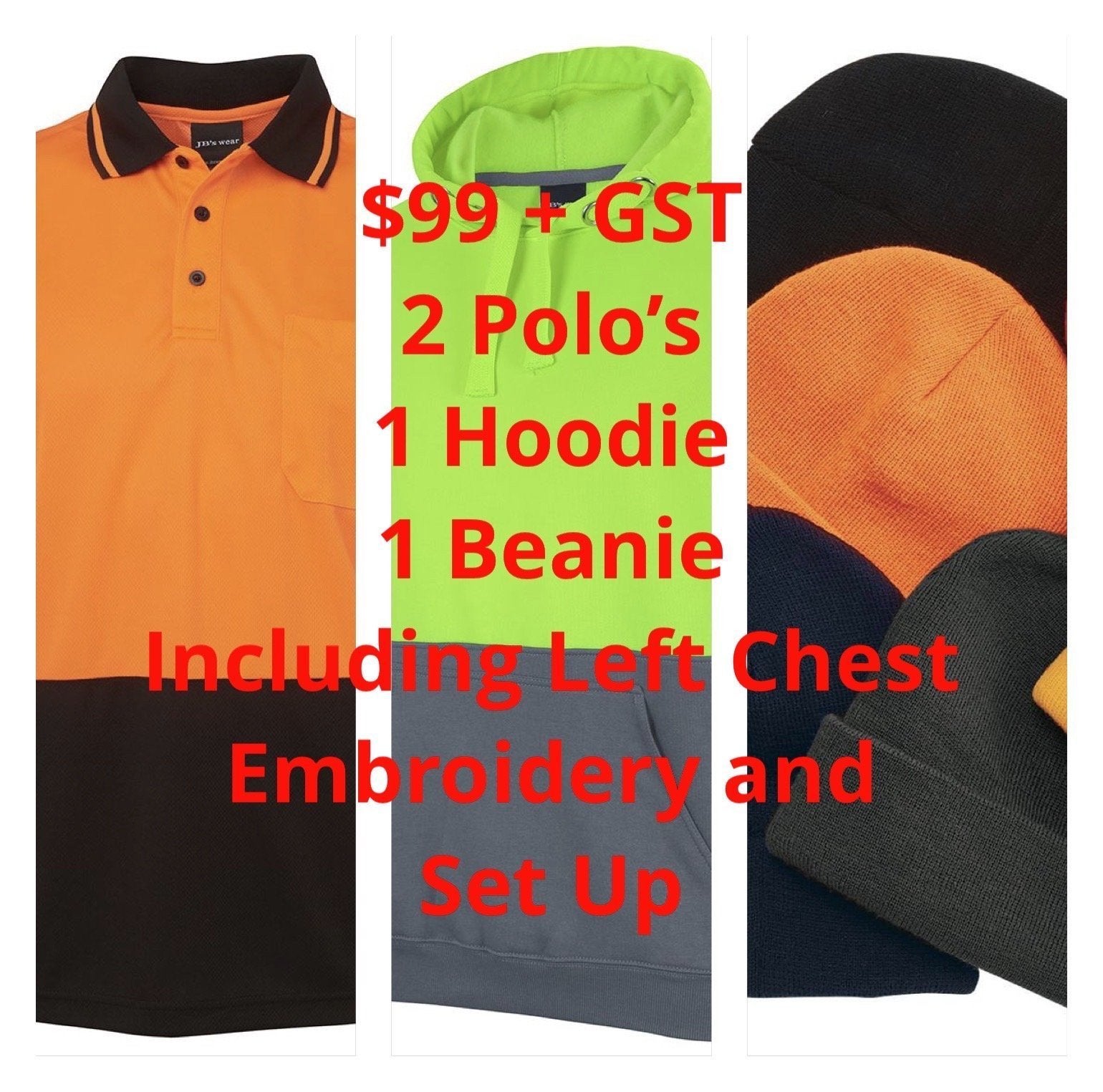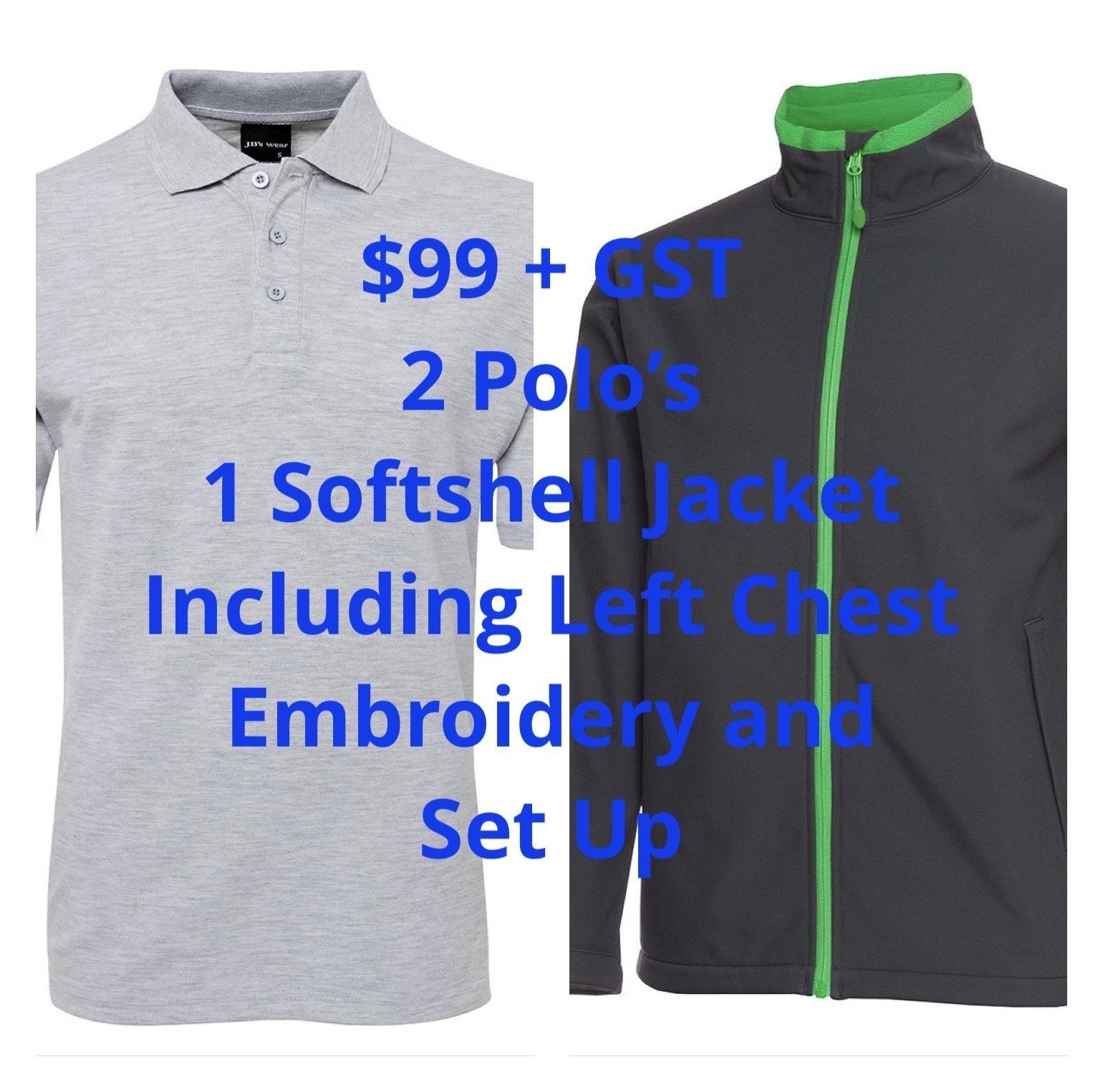 We have put together starter packs for small business, this will be ideally useful if someone wants to budget when they are starting up or employing a new person. This can be customised to your needs.
Promotional Products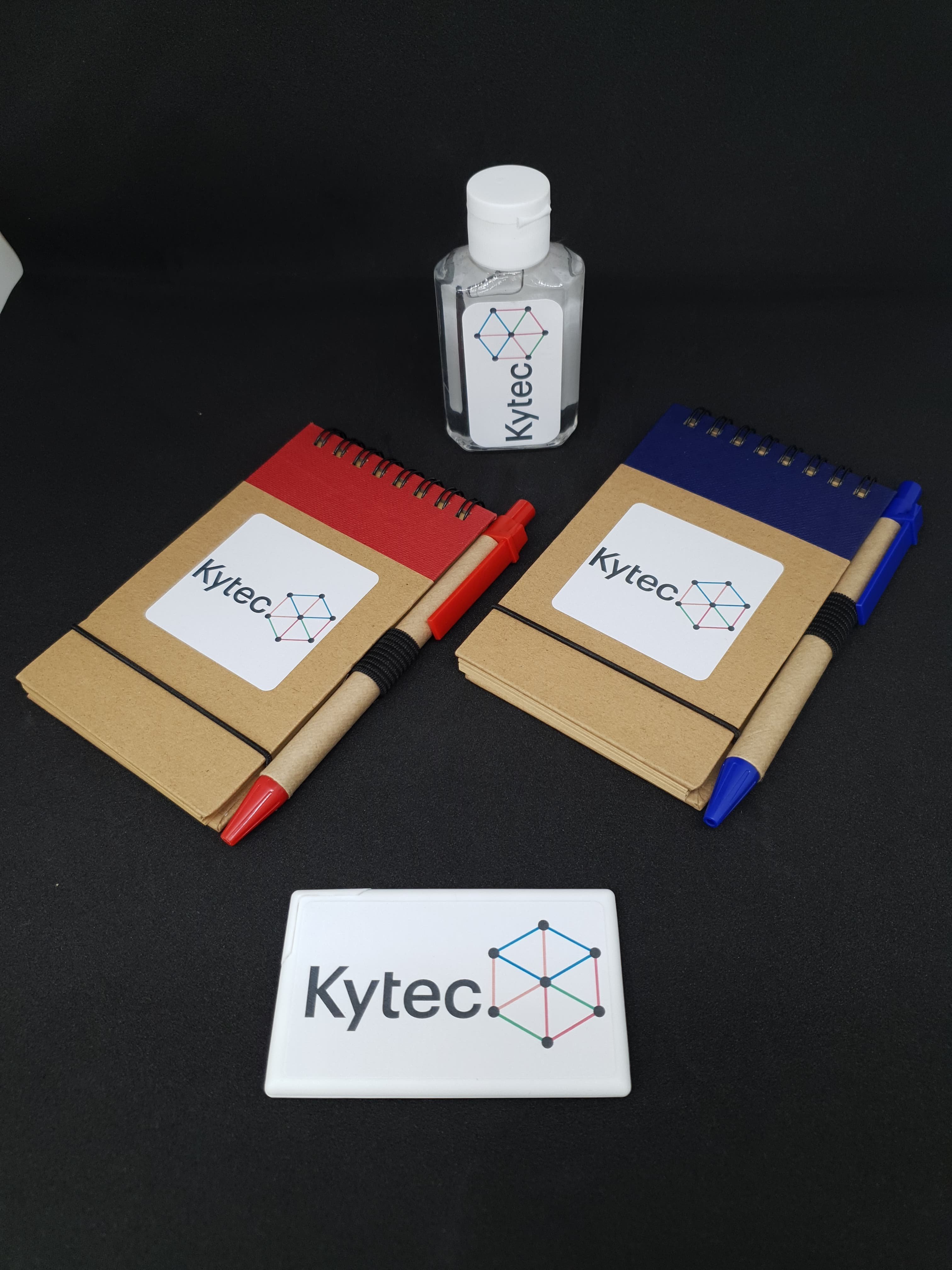 Here's a great example of some different promotional products all for the same business!
Rectangular Sugar Free Breath Mints: Credit Card size mint dispenser with snap lock opening. Contains approximately 50 sugar free mints.
Tradie Cardboard Notebook with Pen: Unbleached cardboard cover top spiral notebook. 60 leaves, 120 lined pages. Elastic pen loop with recycled paper pen. Recycled symbol printed on each page.
Eco Credentials: Material is renewable, recyclable and biodegradable.
Splash Gel Hand Sanitiser: 60ml alcohol based clear gel hand sanitiser with moisturiser and Vitamin E in clear plastic squeeze bottle. Kills most germs and leaves hands feeling refreshed and clean.
Whatever your promotional needs we have something for everyone! So, come down to our showroom Unit 1/105 Ricketts Rd or give us a call on 03 85484680.
Omega Notebook with the Touch Stylus Pen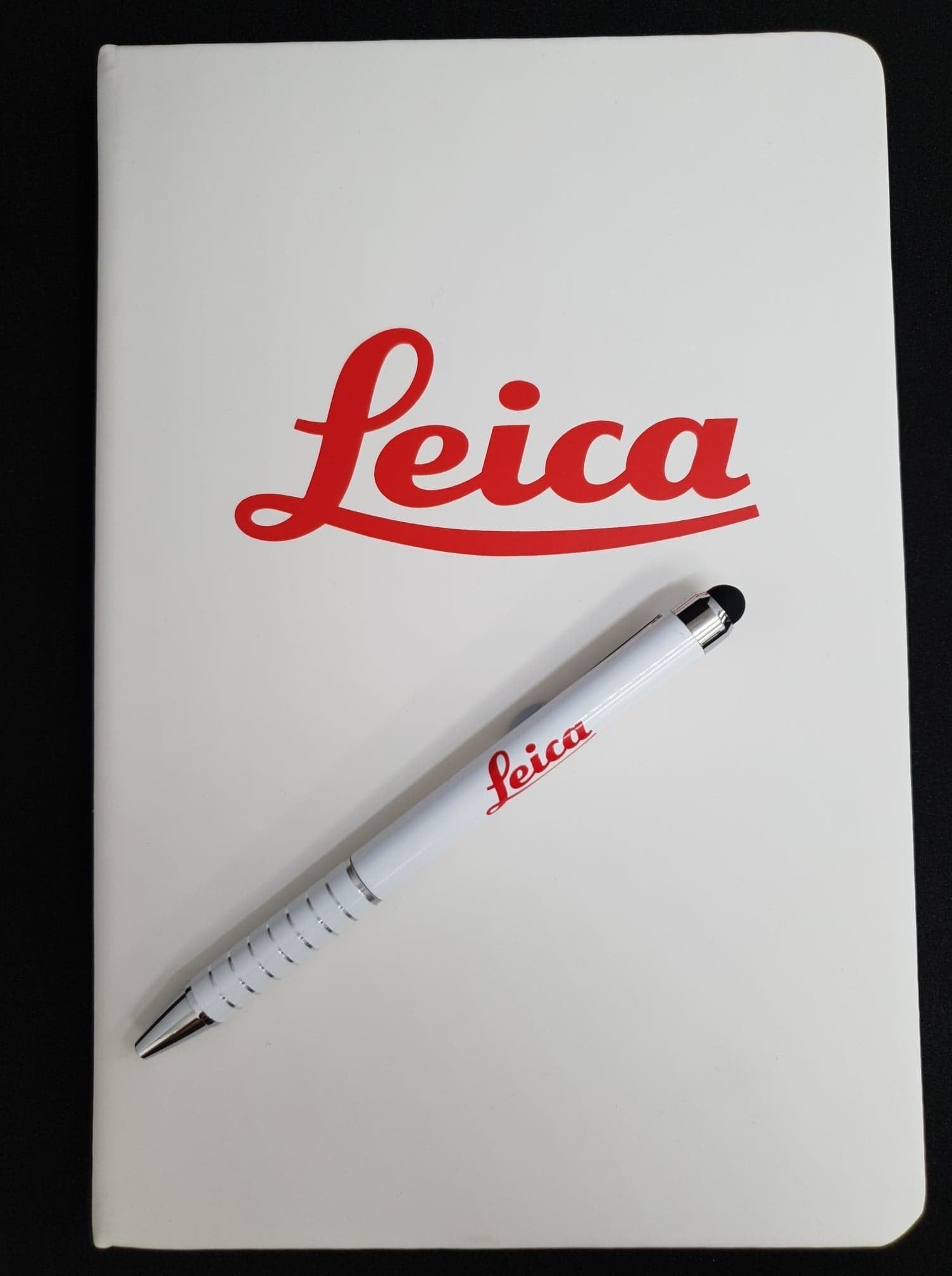 This is the Omega Notebook with the Touch Stylus Pen, a simple logo on a plain white book or pen looks amazing! If you've been thinking about getting some promotional products have a chat to us, you can come down to our showroom Unit 1/105 Ricketts Rd or give us a call on 03 85484680.
Neo Wireless Charger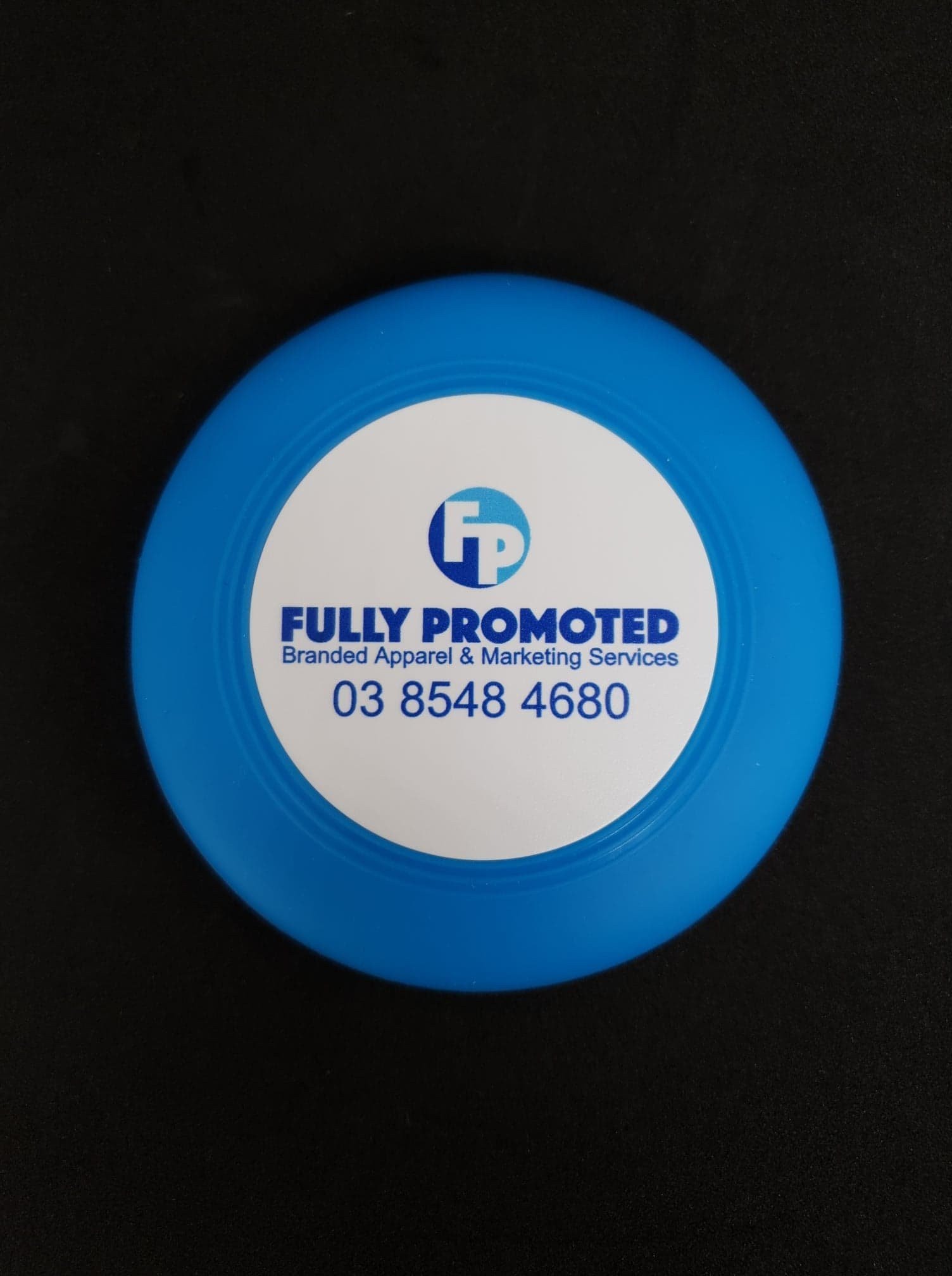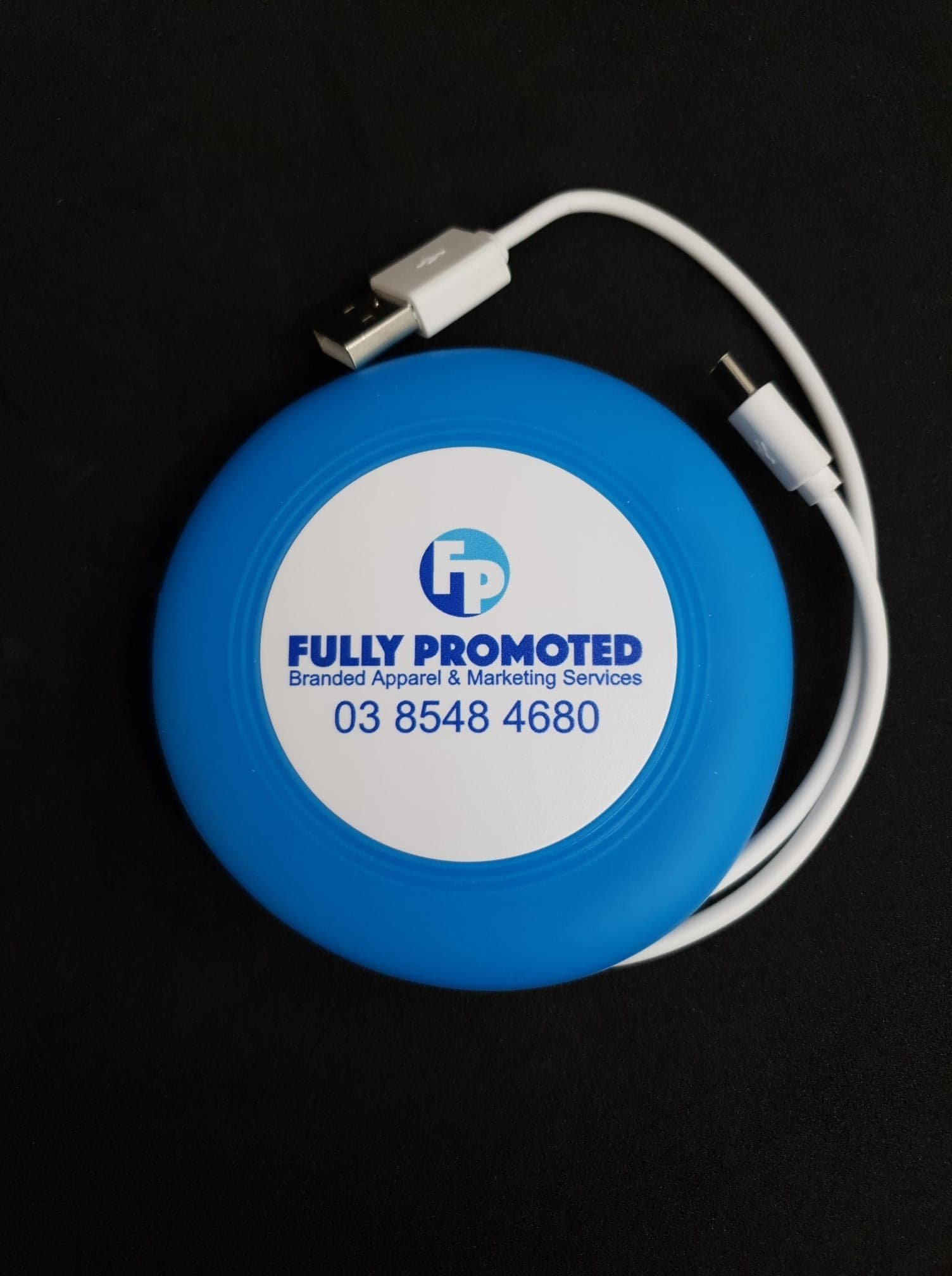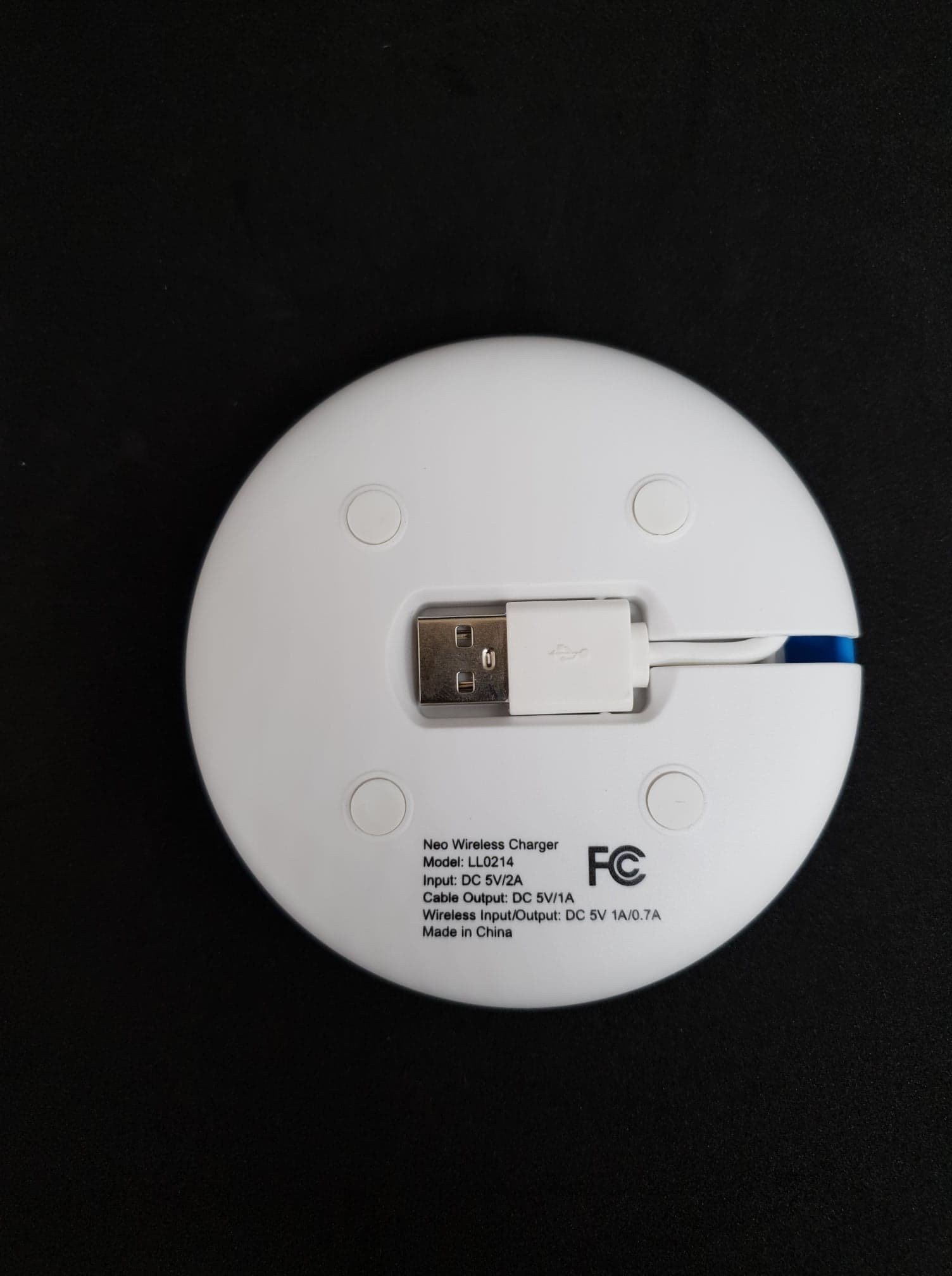 Looking for something to promote your business but not sure what to get? We have a massive range of promotional items, like wireless chargers. This is the Neo Wireless Charger which can charge one device wirelessly and another with the cable at the same time! It's always a good idea to find something useful to everyday life as well as work life when looking for promotional products. Come down to our show room, unit 1/105 Ricketts Rd, Mount Waverley or give us a call for more information 03 85484680.
Promotional Bags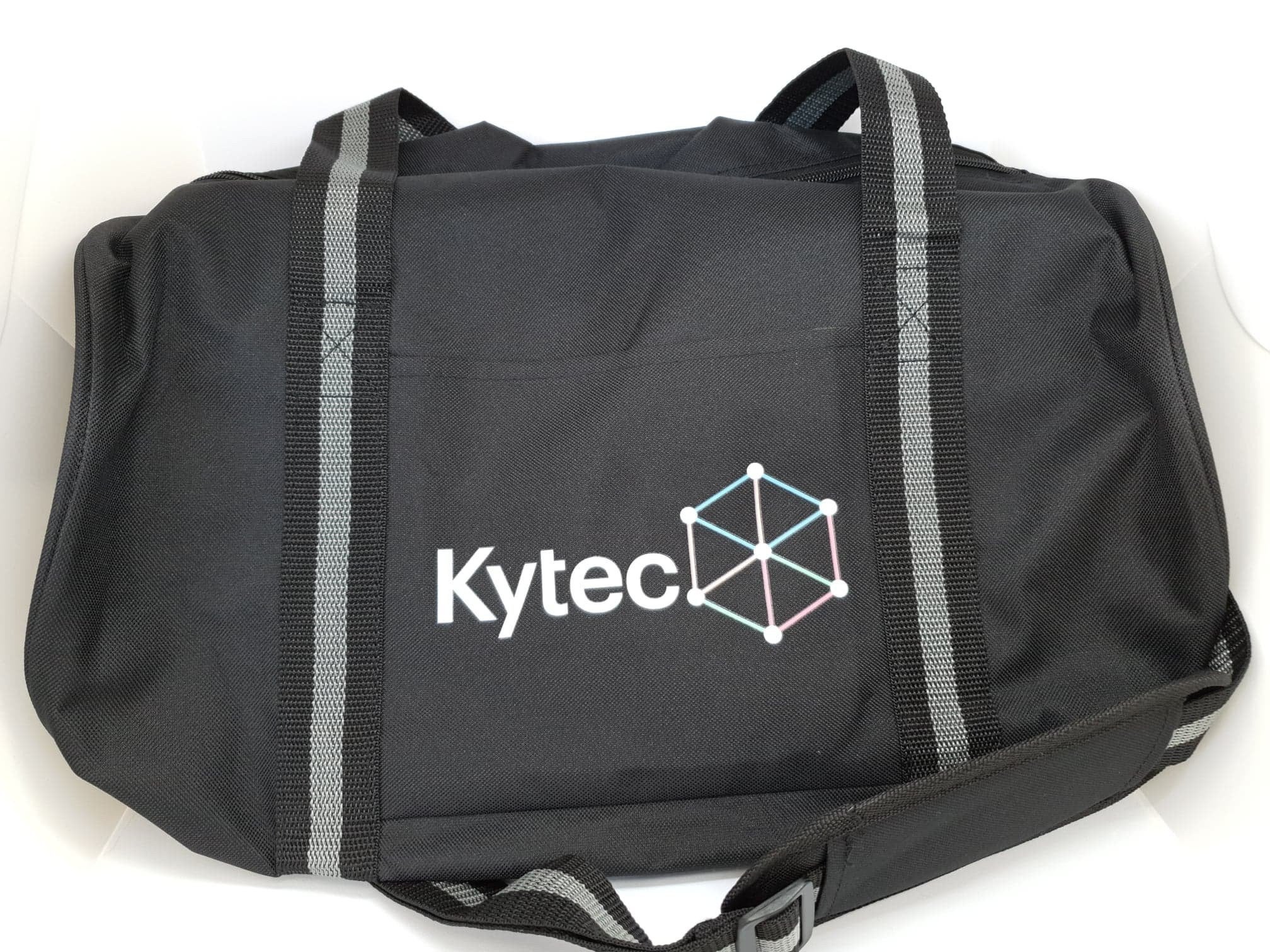 Bags are another great way to promote your business. They're a fantastic addition to any uniform, keep your employees looking like a team with matching promotional bags! This is the Voyager Duffle Bag with full colour digital transfer, we can do 25 of these bags including full colour digital transfer for $17.50 each. We have such a huge range of bags there's something for every business! So come down to our Mount Waverley show room for a chat, Unit 1/105 Ricketts Rd or give us a call on 03 85484680.
Promotional Sunglasses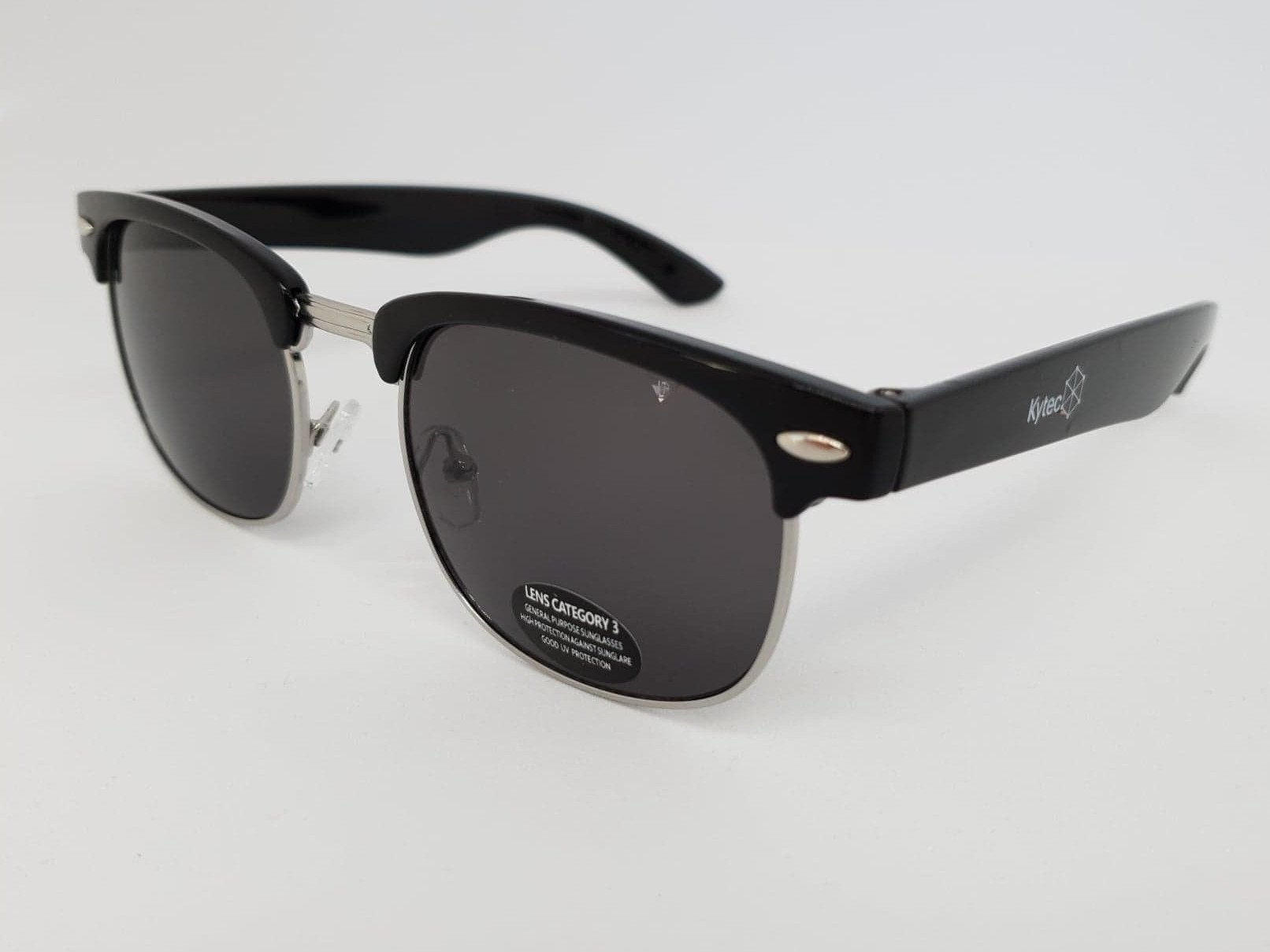 The suns out so get your staff, customers and clients wearing sunglasses with your business name or logo on them! They'll be saving their eyes from the sun while promoting your business! These Maverick Sunglasses have an impact-resistant metal and polycarbonate frame and tough polycarbonate arms. They are fitted with CE standard 100% UV 400 lenses that provide both UVA and UVB protection. 100 at $5.00 each including single colour print, you can't say no! So come down to our Mount Waverley show room, Unit 1/105 Ricketts Rd or give us a call on 03 85484680.
New Uniforms 2020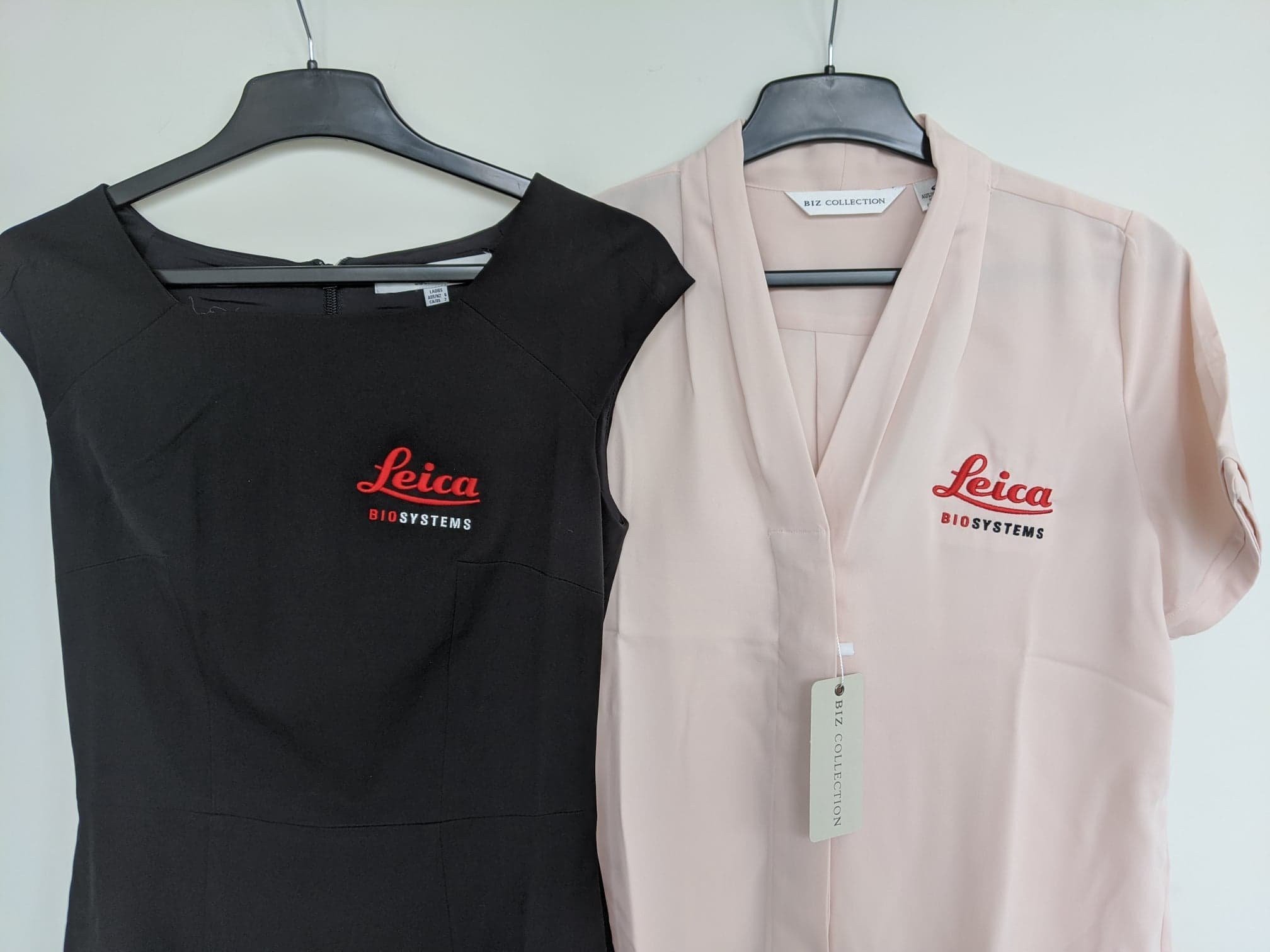 Wanting a fresh new look for your staff in 2020, but not sure where to start? We're here for you! With so many options, we have the right uniforms for any business! Promoting your business is our business, so come in store for a chat and we can help with fabrics, colours and sizes!
Promotional Products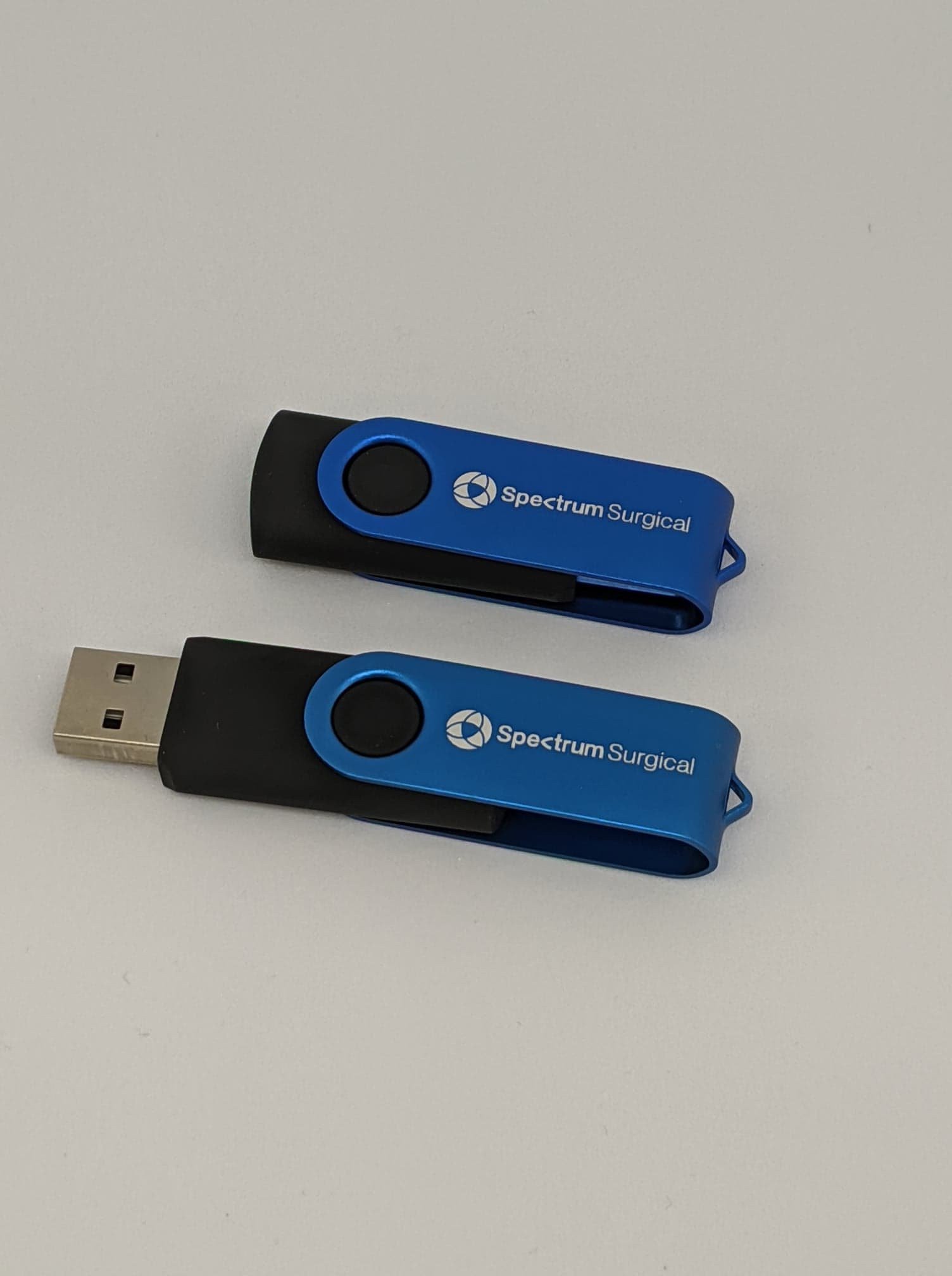 Been thinking about getting some promotional products for your business? Stop thinking and talk to us! With a huge range of promotional products, we have something for you! Come down to our show room and have a look at our samples and have a chat to our friendly staff.
Promotional Notebook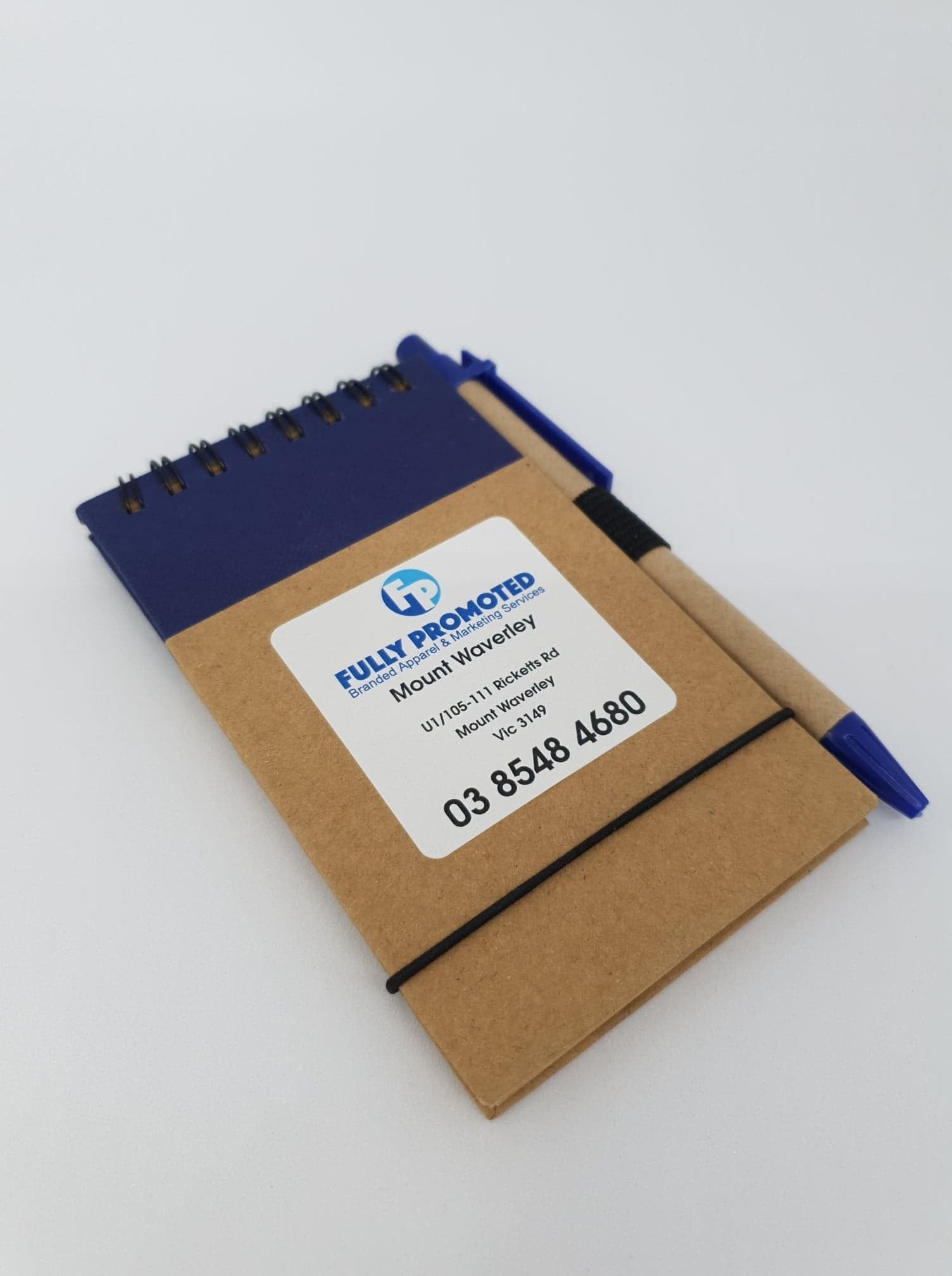 Notebooks are a great as promotional giveaways! Whether you have an event, tradeshow or just wanting to have some promotional gifts to hand out, notebooks are a great option. These ones come with a pen attached so your clients or customers can always be prepared! With a huge range of notebooks we have something to suit every business, so why not come down to our showroom and have a look at some samples and have a chat to our friendly staff.
Mouse Mats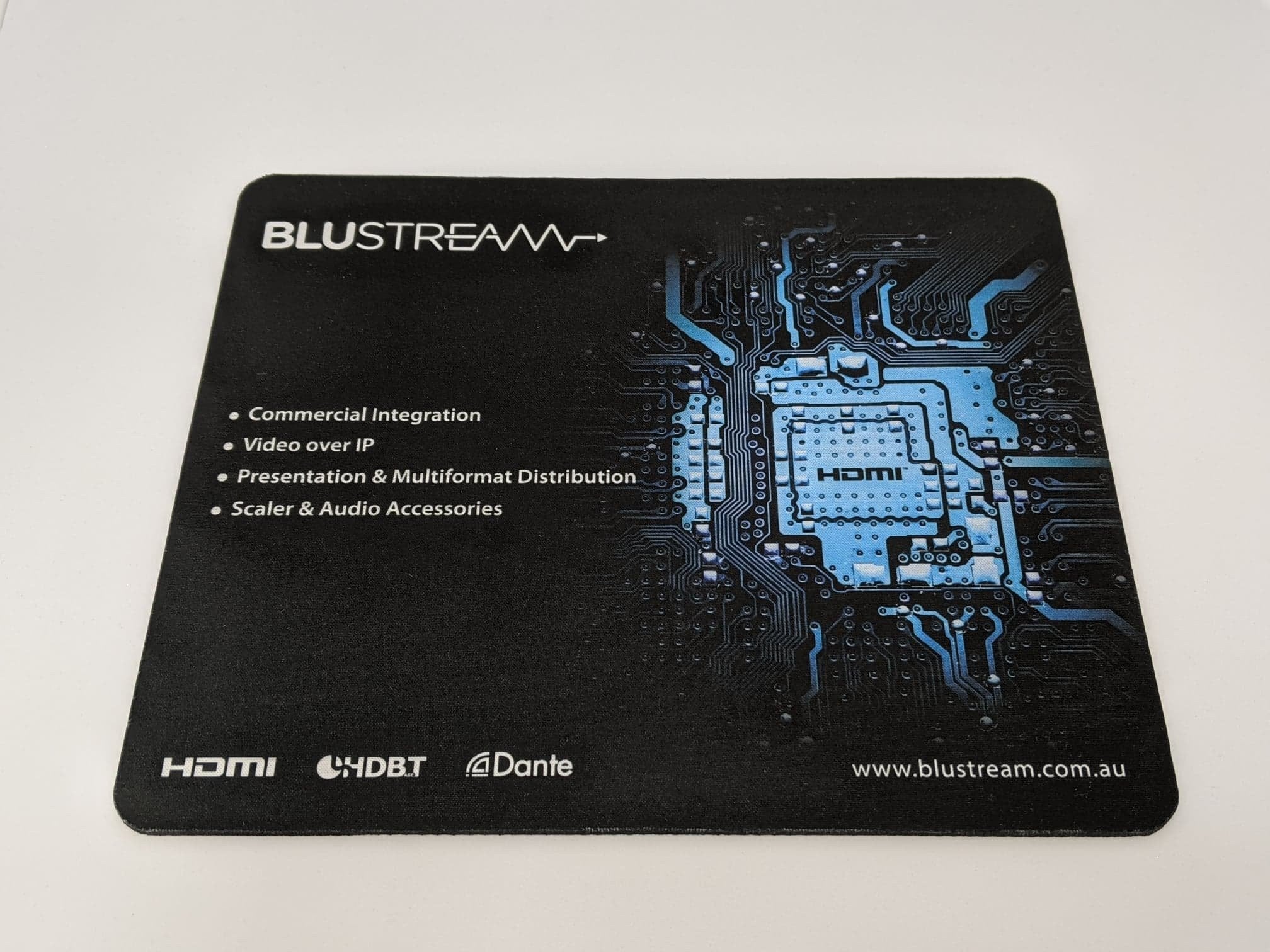 Looking for promotional products but not sure what to get? Mouse mats are always useful, look great and have space for more of your marketing information. Come down to our show room and have a look at some of our products and have a chat to our friendly staff to see how we can help you promote your business!
Dye Sublimation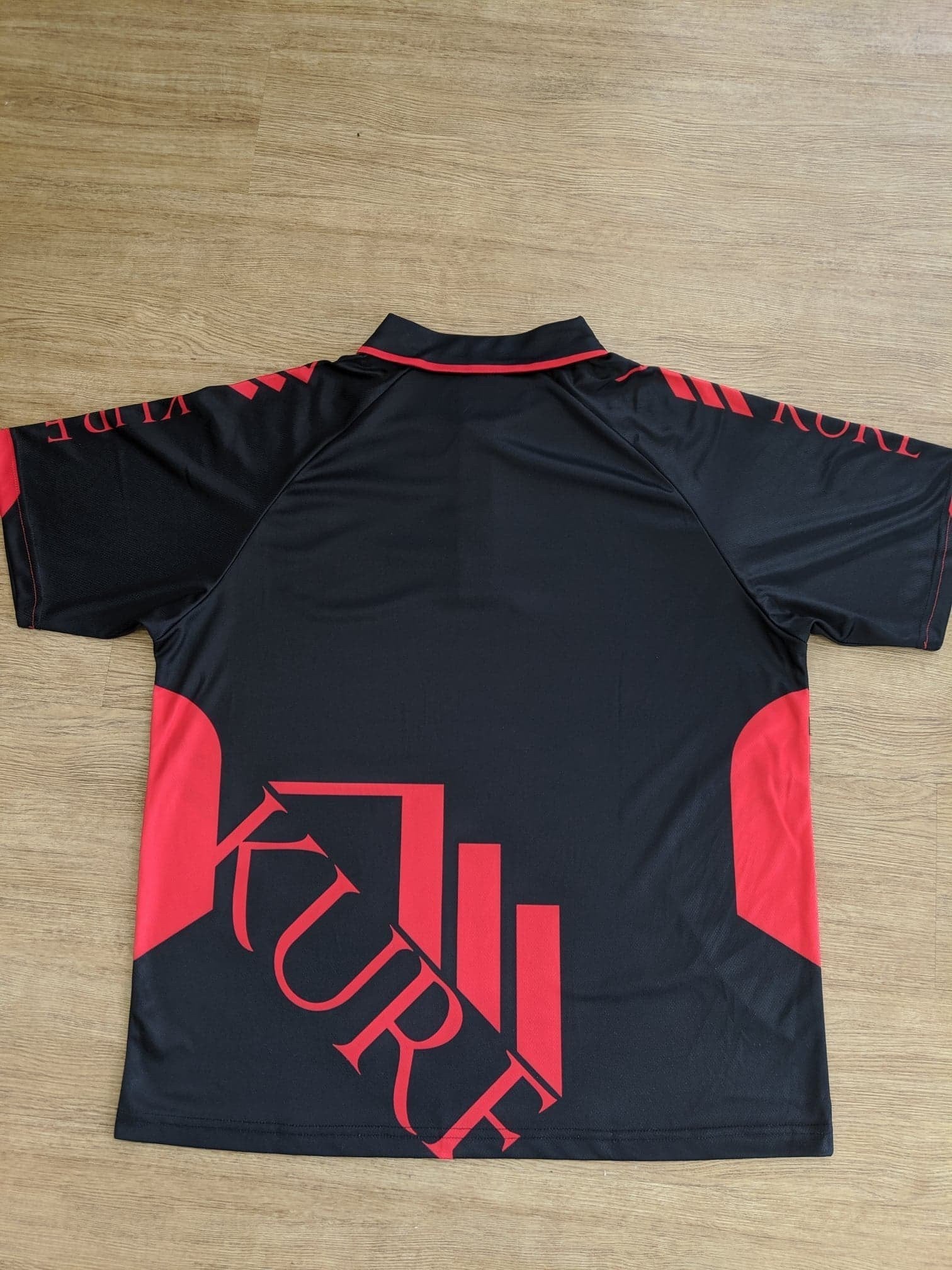 You can design your whole top with dye sublimation! The team at Kure designed these polos and we think they look fantastic! Why not come down to our show room and have a look at some of our products and have a chat to our friendly staff.
Screen Printing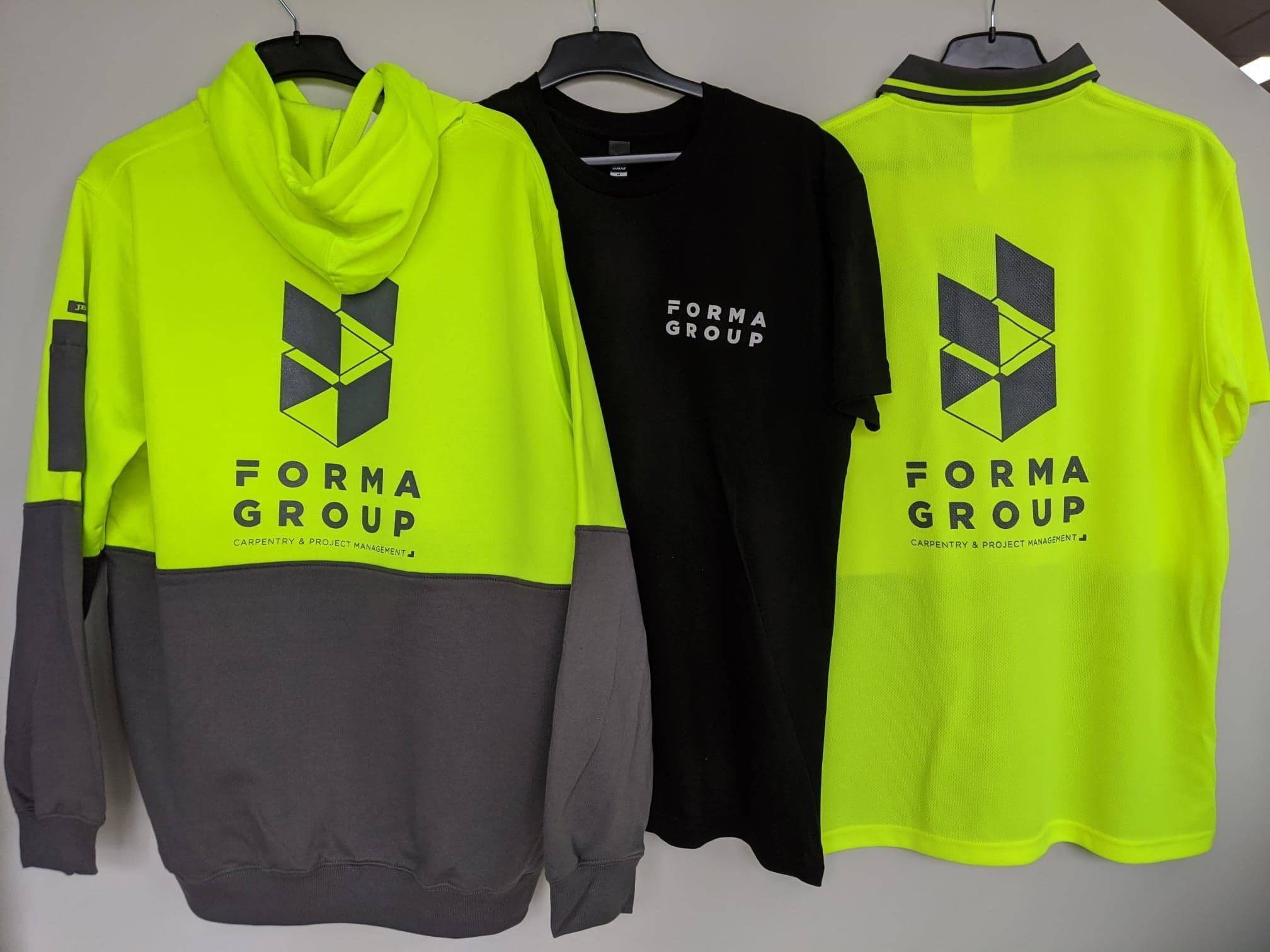 If you want a large print with one colour, the best option is screen printing. This is a method in which ink is applied directly to a garment, creating a picture or logo. Some benefits of screen printing are that it creates vivid colours, uses durable inks and looks great. For more information on screen printing head down to our show room and have a chat to our friendly staff.
Keep Cups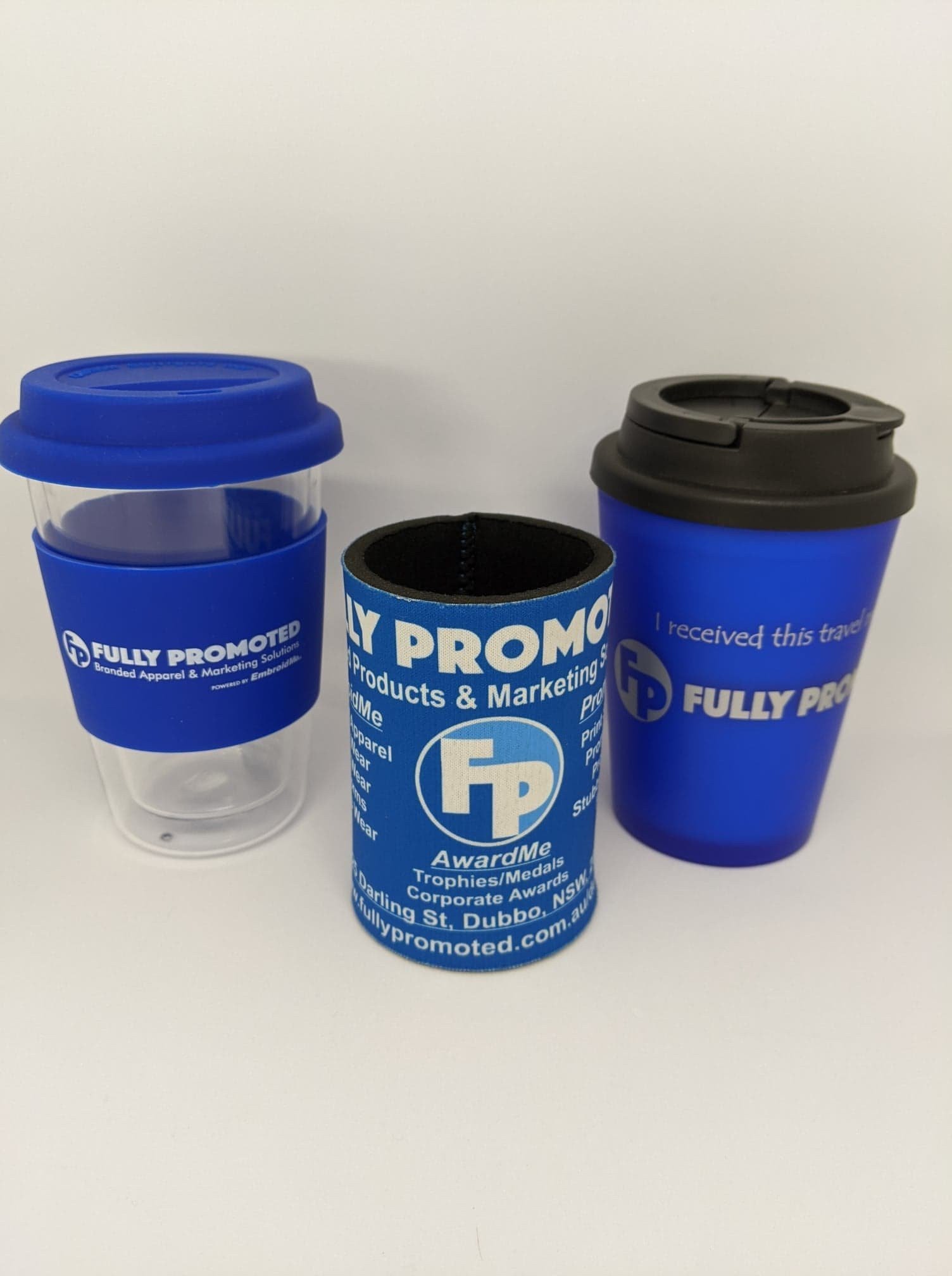 With everyone wanting to be more environmentally friendly it's a great time to get your business name and logo on some keep cups! People can carry them around with their preferred hot drink and promote your business for you. So, come down to our show room and have a look at some of our products and have a chat to our friendly staff to see how we can help you promote your business!
Promotional Drink Bottles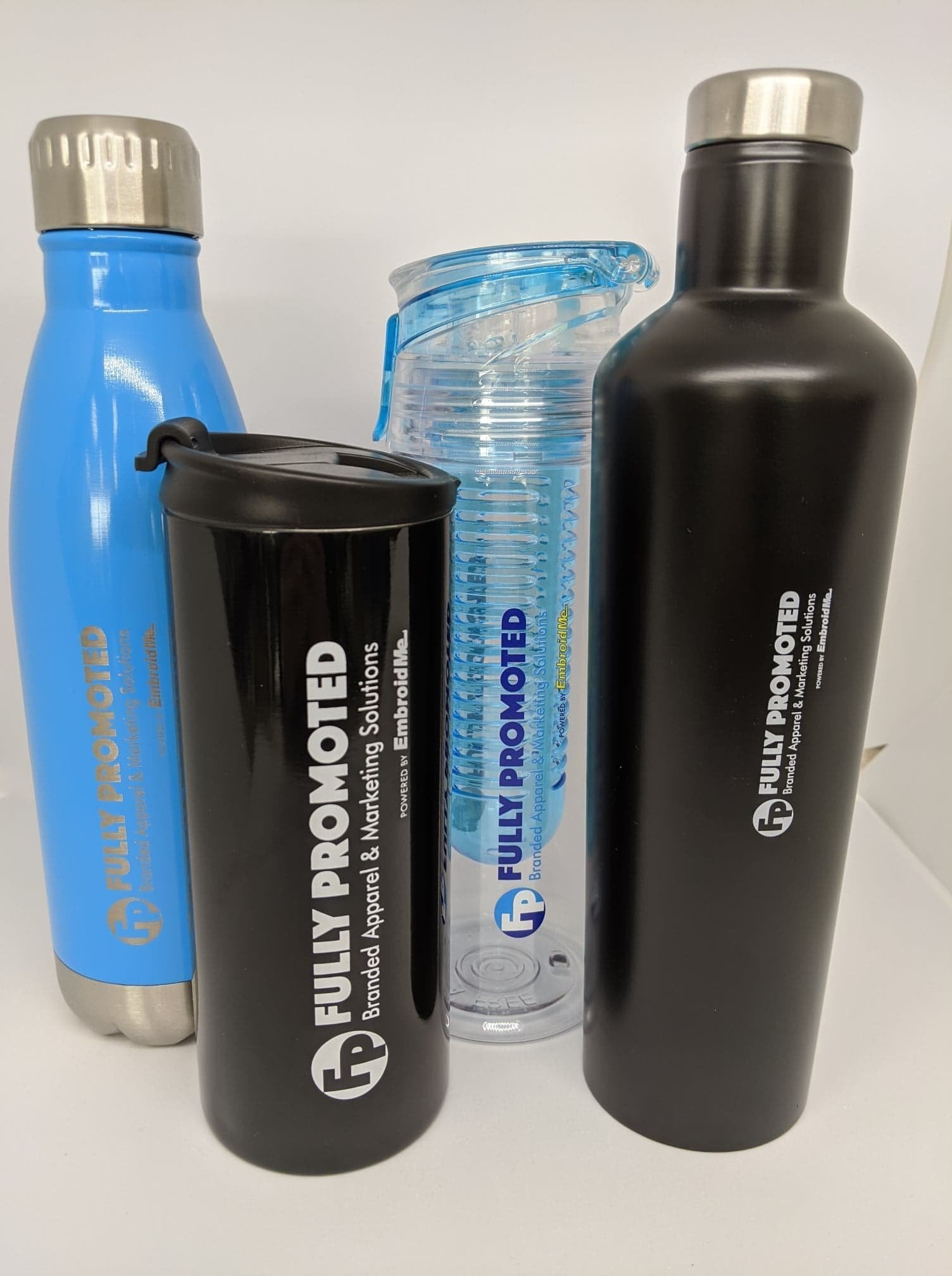 Here at Fully Promoted Mount Waverley we absolutely love helping people promote their business! Whether it's embroidery, vinyl heat press, screen printing for uniforms or something promotional like these drink bottles we've got you covered! So come down to our show room and have a look at some of our products and have a chat to our friendly staff to see how we can help you promote your business!
Embroidery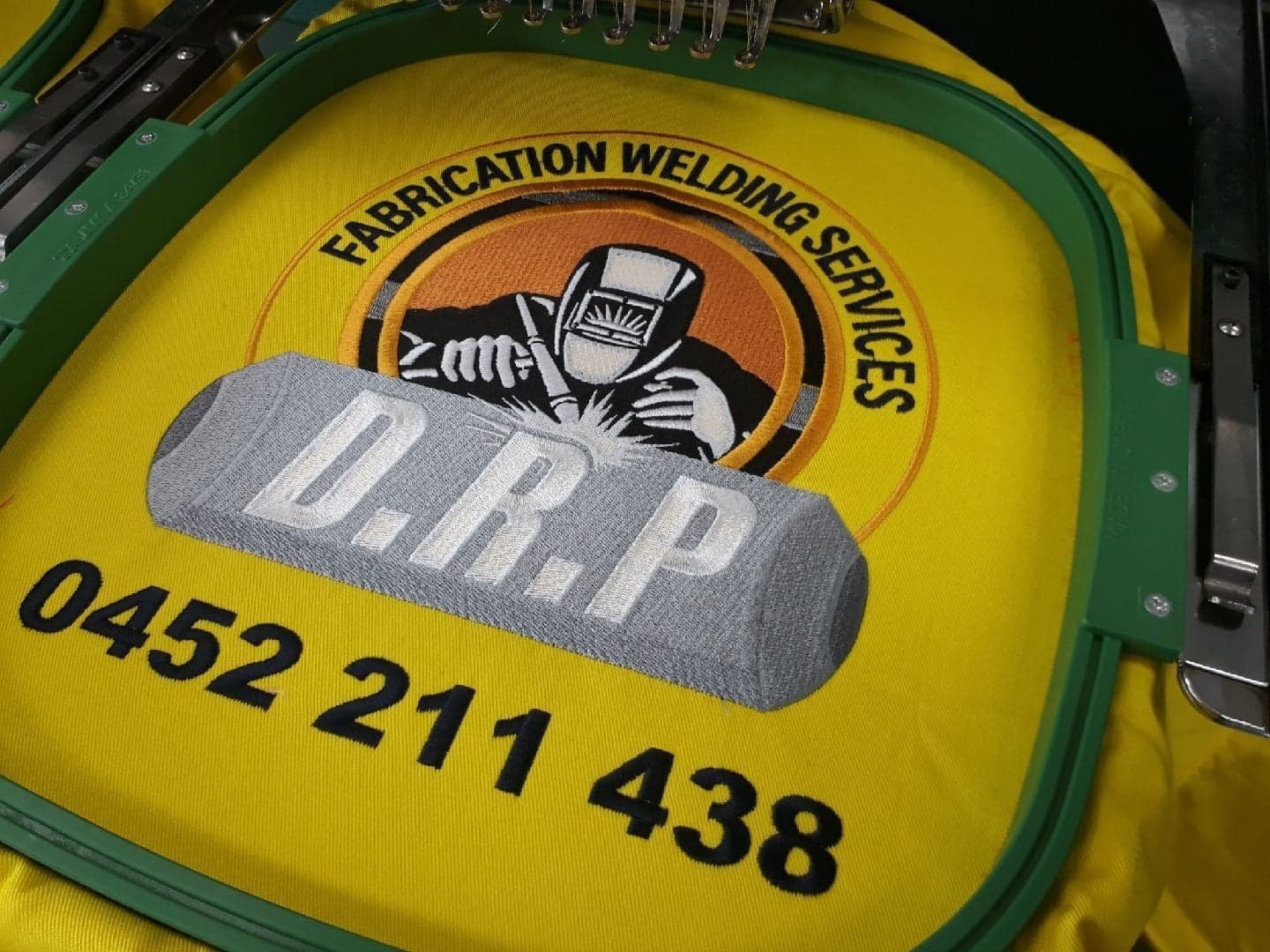 Embroidery doesn't have to be small, we did this large logo an the back of some work shirts and they look great! Embroidered uniforms are a fantastic way to promote your business as well as bringing all your staff together as a team. Why not come down to our show room and have a look at some of our products and have a chat to our friendly staff and see how we can help you promote your business.
Promotional Pens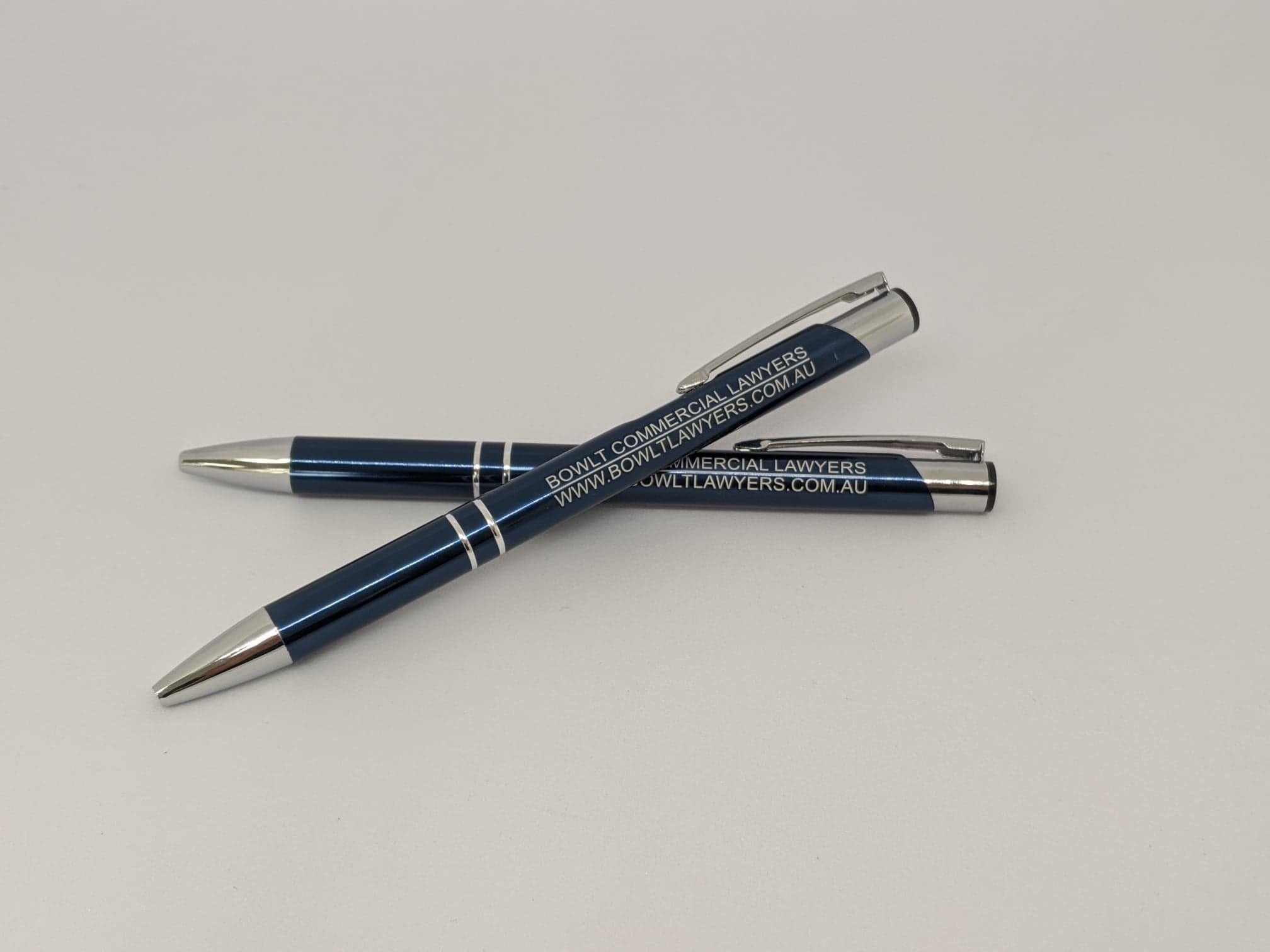 PENSPens are a fantastic promotional product! They're small, lightweight and everyone needs one! Why not get your company name or logo on a pen? Visit our store or have a look online to see how we can help you promote your business! https://fullypromoted.com.au/stores/mount-waverley

fullypromoted promote business areyyoufullypromoted clothes uniforms embroidery embroidme vinylheatpress screenprinting staff marketing success work fashion businessowner branding advertising fashion inspiration smallbuisiness
Vinyl Heat Press T-shirt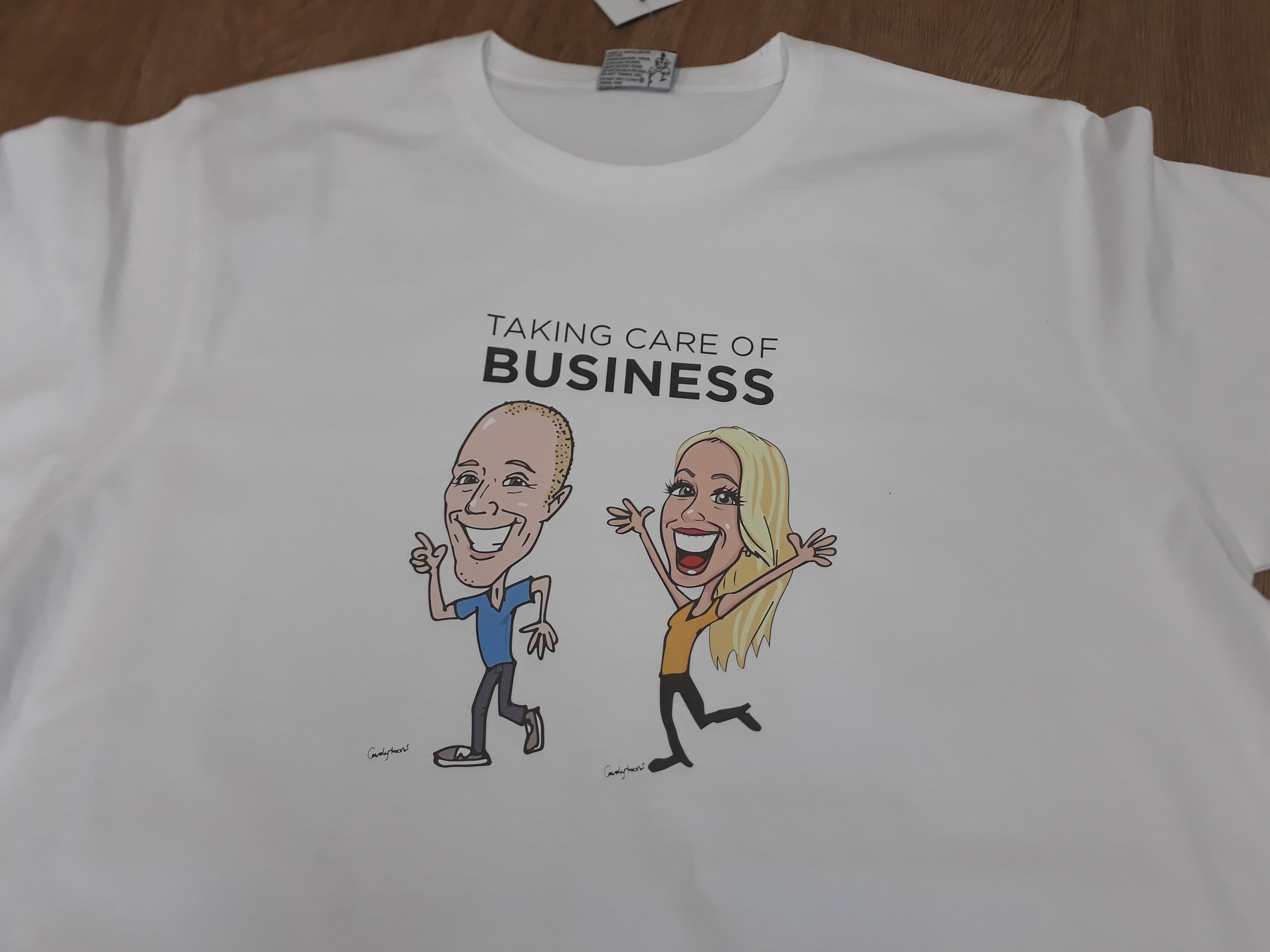 We love doing vinyl heat press! Have a look at how fantastic these t-shirts we did for Light FM look! Lucy and Kel from Light FM needed some t-shirts for their small business day and we were so excited to help! Vinyl heat press is a great option if you have lots of colours, colour gradient or a complex logo.
Come down to our showroom and have a chat to our friendly staff and let us help you promote your business.
Embroidered Hats!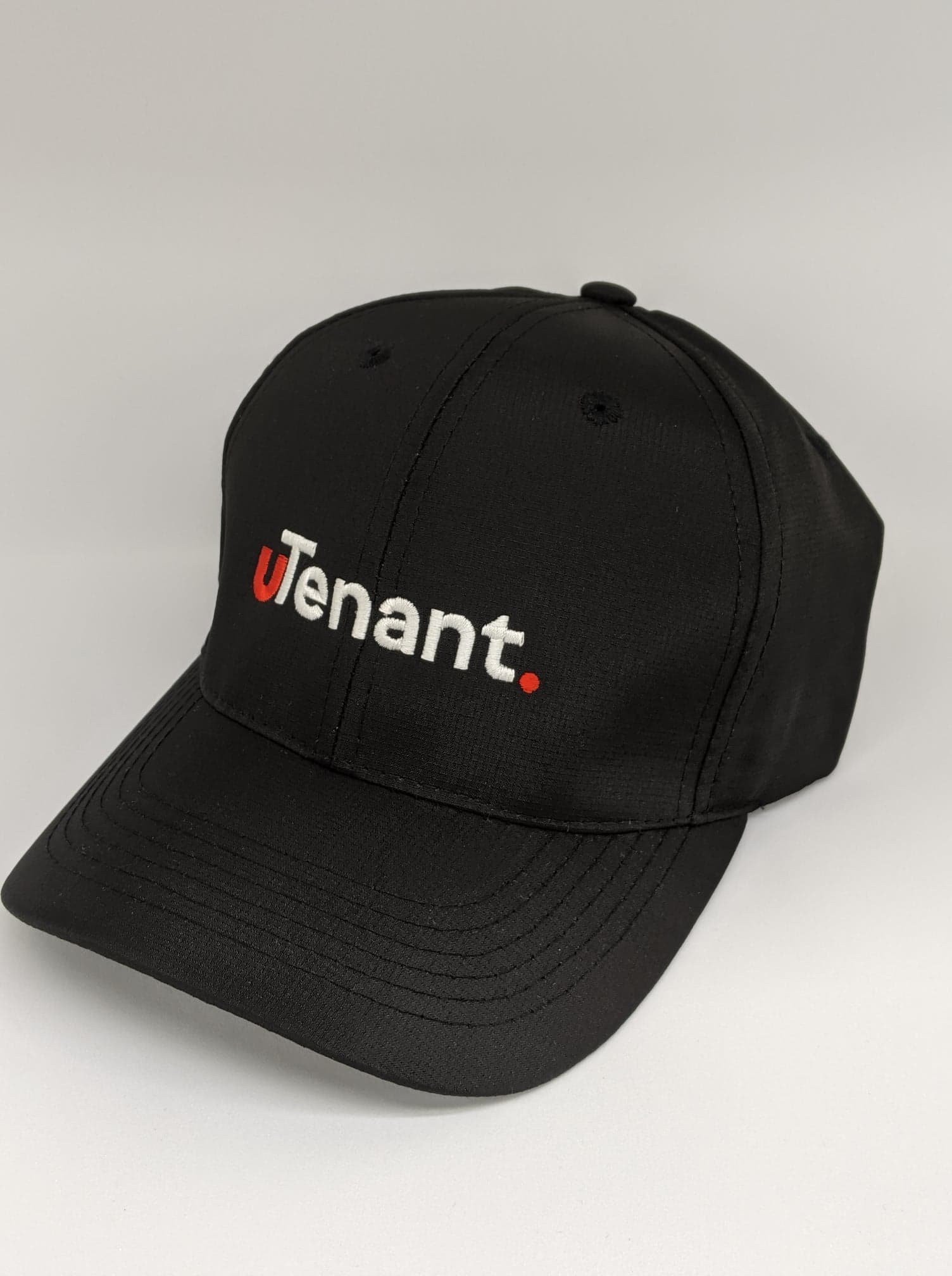 The weather is heating so we're going to start seeing hats everywhere! What a great opportunity to get your business name and logo out there. Here at Fully Promoted Mount Waverley we love promotional hats! They are a perfect promotional product; they keep people safe from the sun while looking great and promoting your business. With so many different styles and colours we have something to suit every industry. Come down to our show room look, touch and feel our samples and let us help you find the right hat for your business.
Another Happy Customer!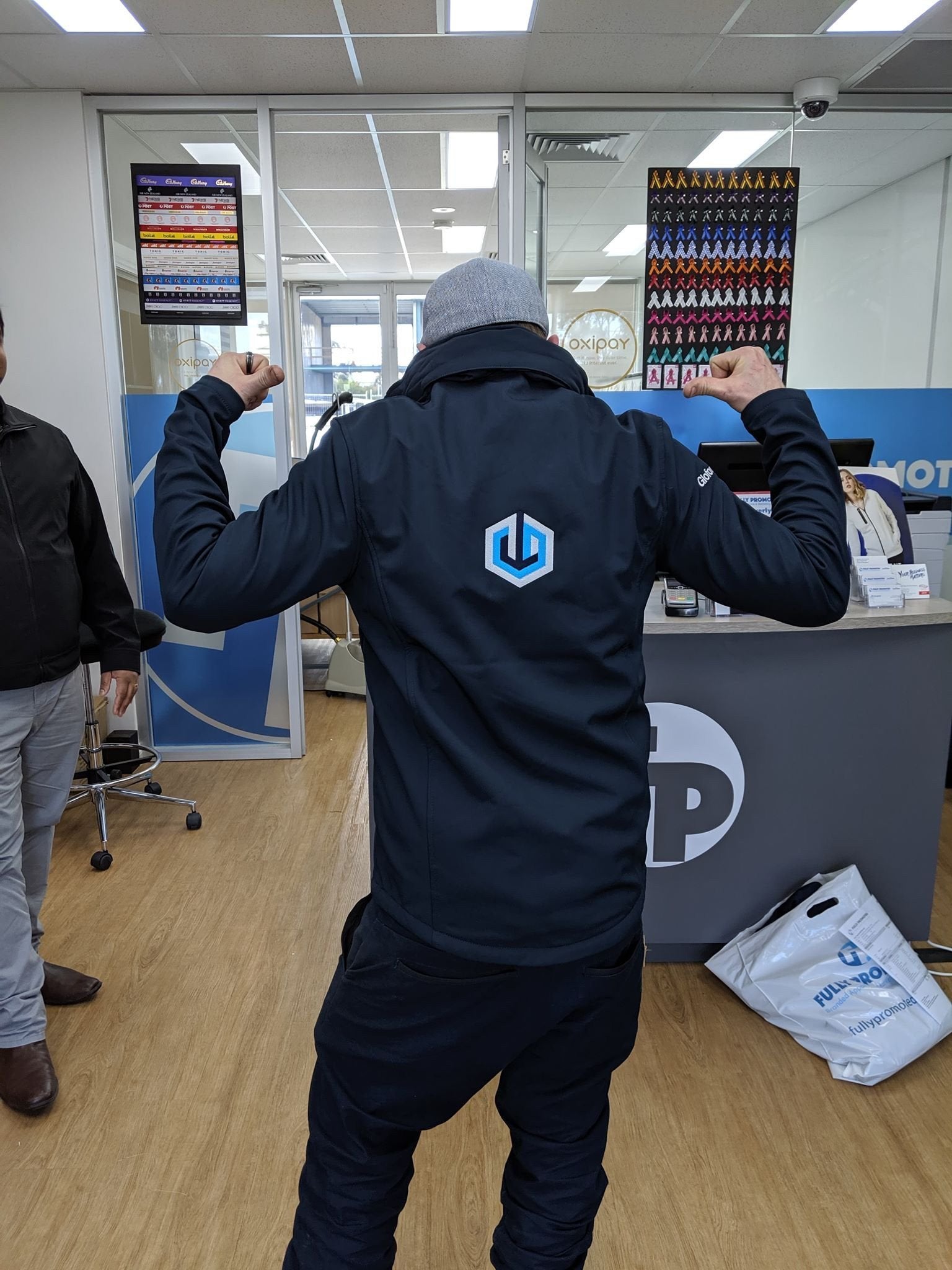 Here's a look at large embroidery of a logo on the back of a softshell jacket we did for Gloform Electrics. We love it!
Head in store and speak to one of our friendly staff to see how we can help you promote your business!
We love softshell jackets this winter!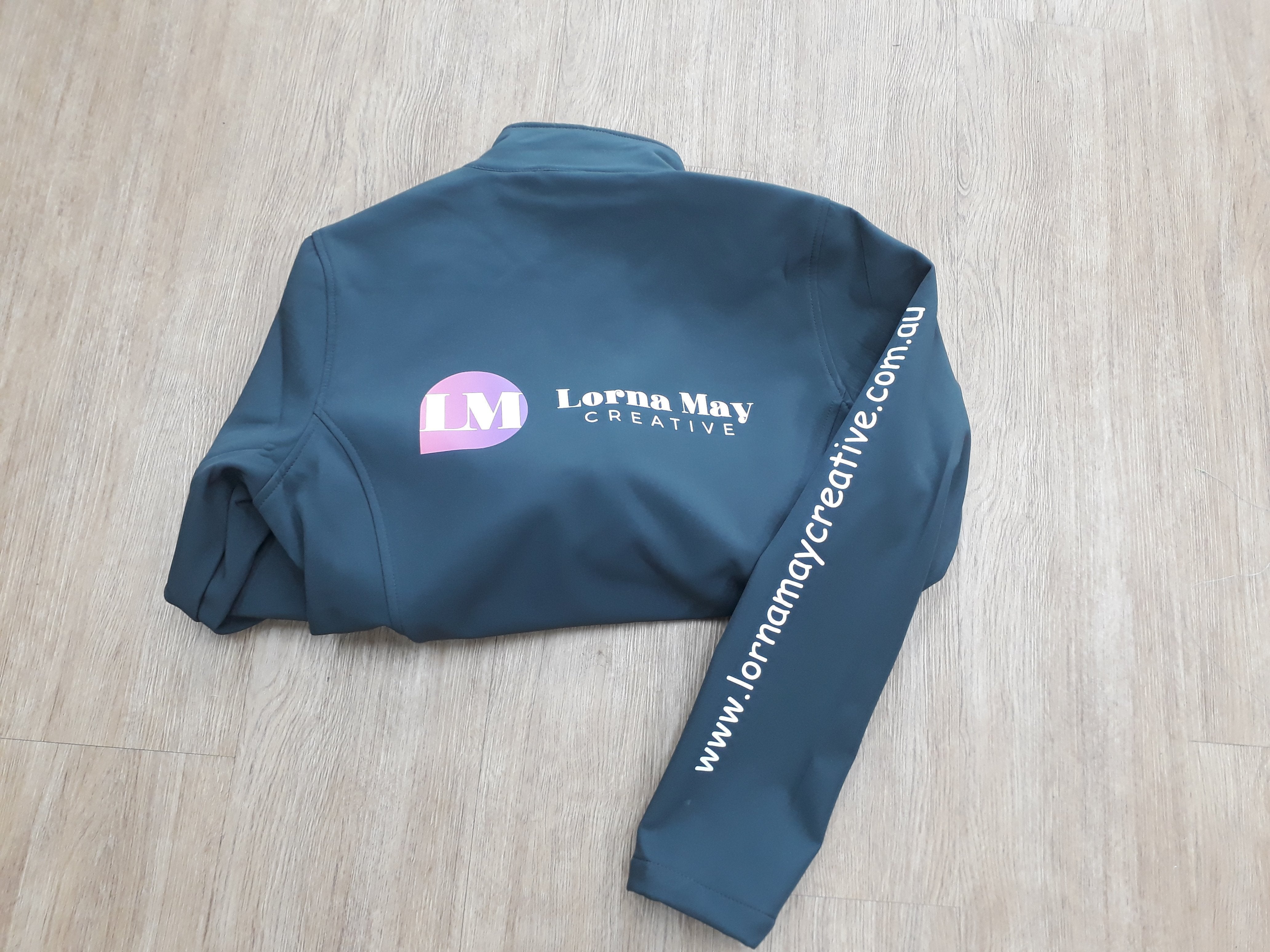 Softshell jackets have been one of our most popular items this winter, and when they look this good it's not hard to see why! Vinyl heat press is a great option if your logo is a bit complex or has colour fade like this one for Lorna May Creative. Ask us today how we can help you promote your business!
Simple yet professional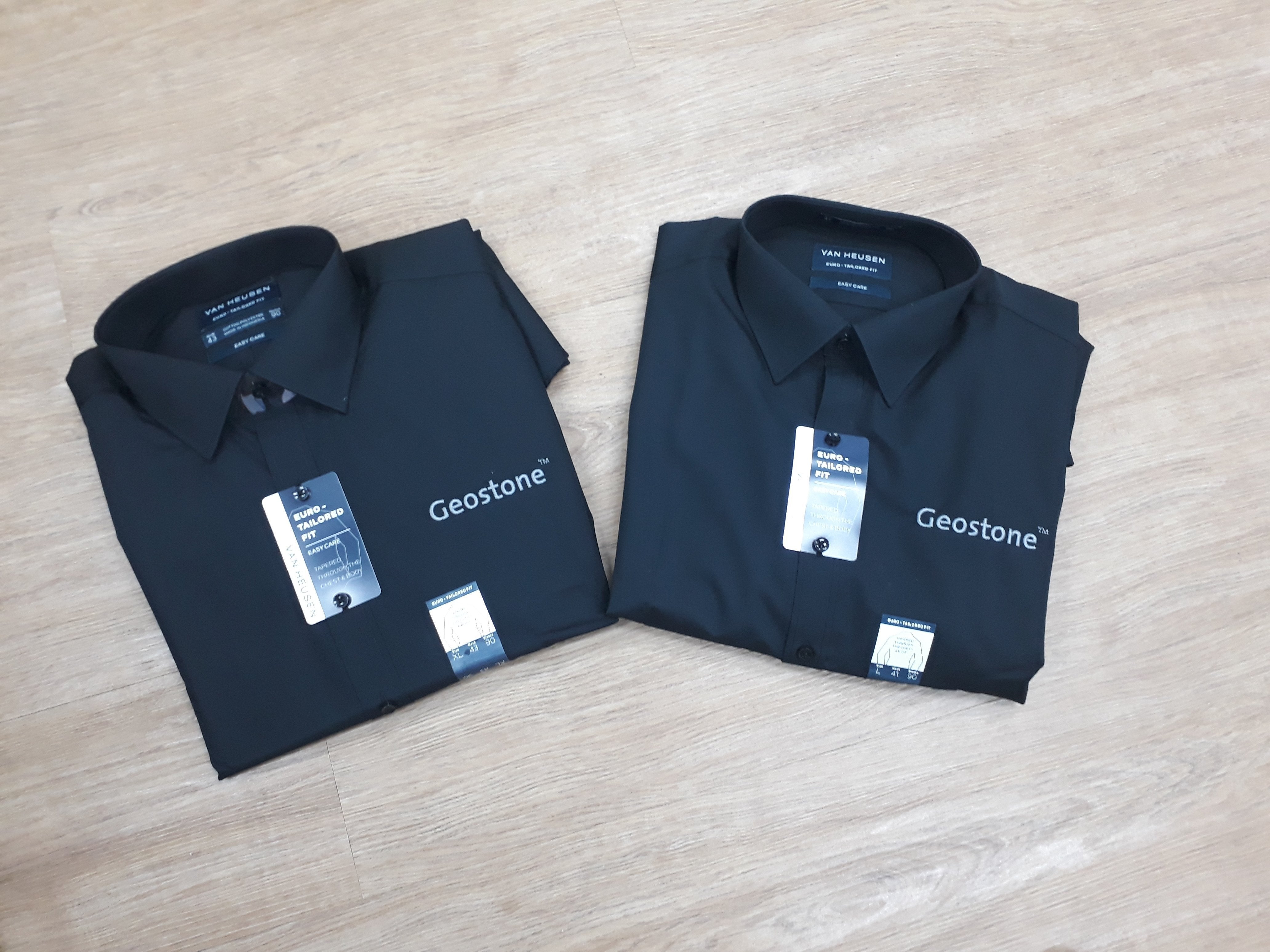 This simple single colour logo looks great on a plain black shirt, the contrasting colours really make it stand out!
Colours!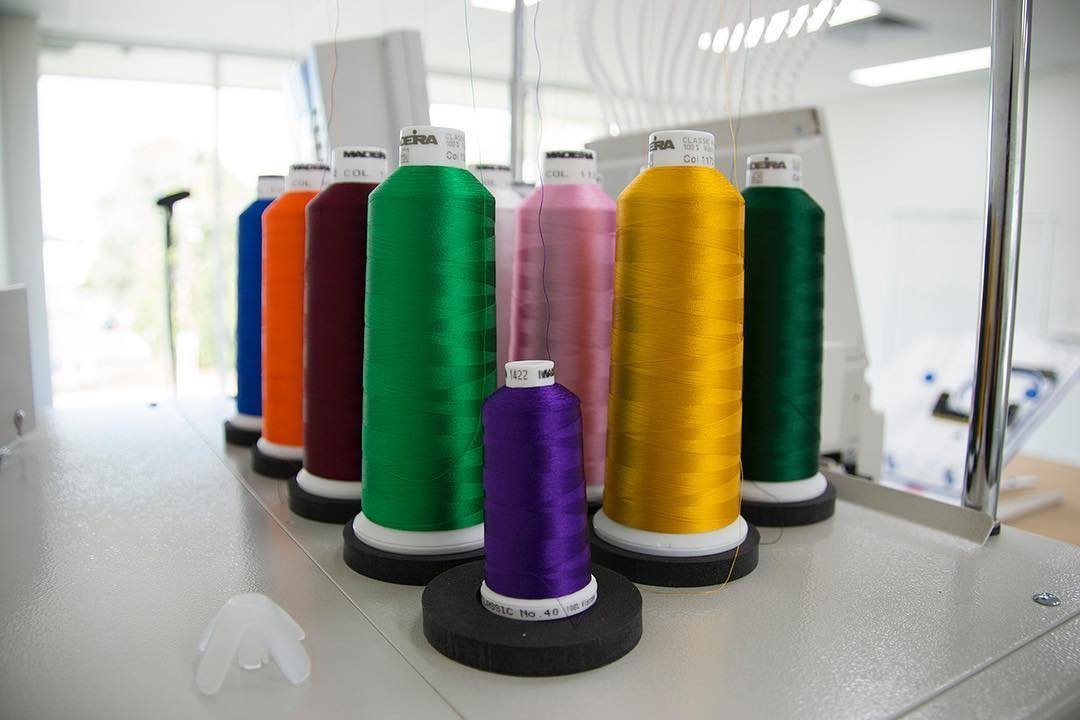 Not just black and white! We have a huge selection of coloured thread here at Fully Promoted Mount Waverley. Come down to our show room and see we have the perfect colours for any business logo! If you do find our colours aren't quite right for your design don't worry, we can easily order in the perfect match!
Not just for businesses!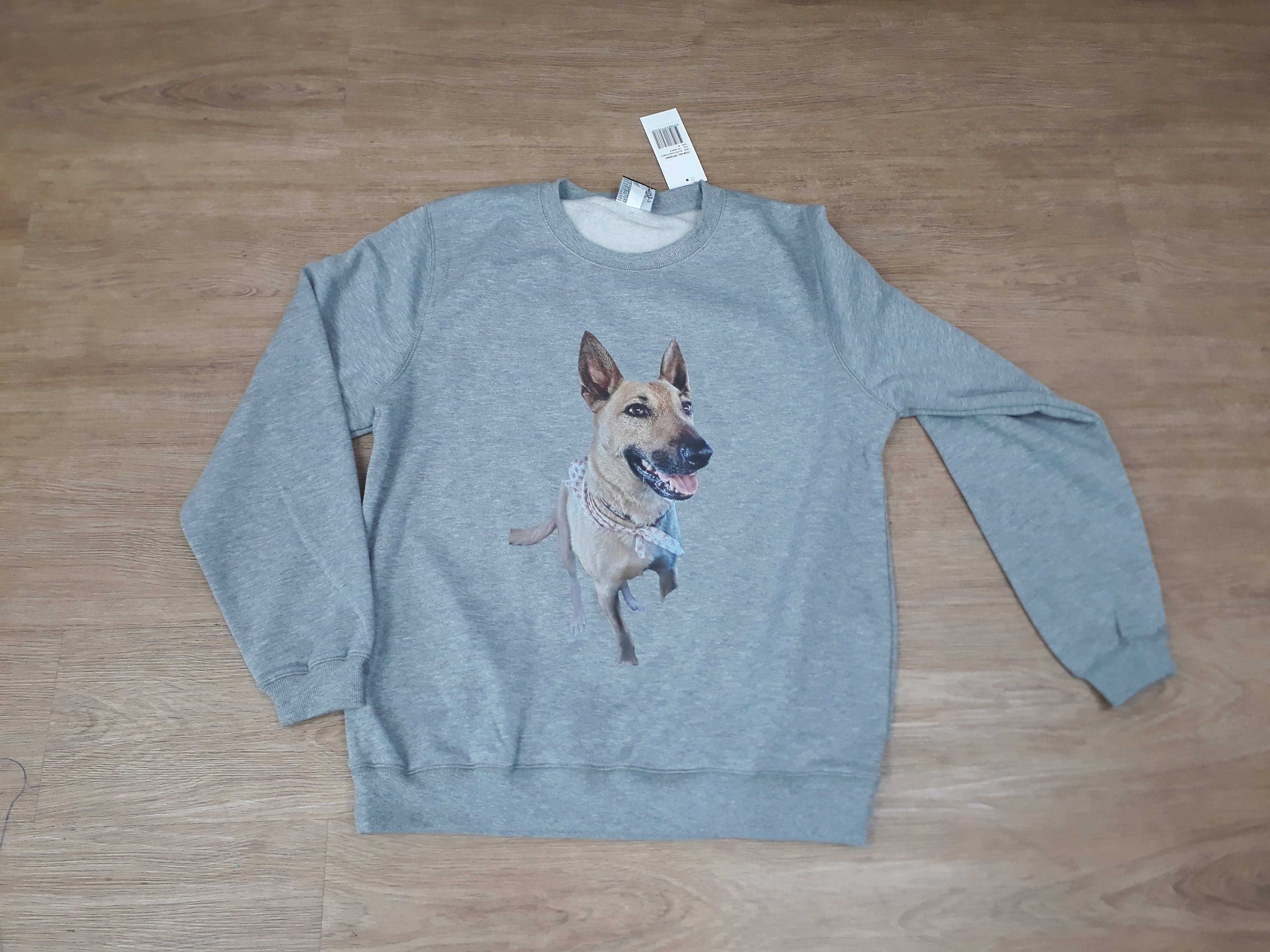 You don't have to be a business to get products vinyl heat pressed or embroidered! We can vinyl heat press any photo onto a garment for you. How good does this furry friend look on this grey jumper? We hope the owner loves wearing it as much as we loved making it!
Contrasting Colours!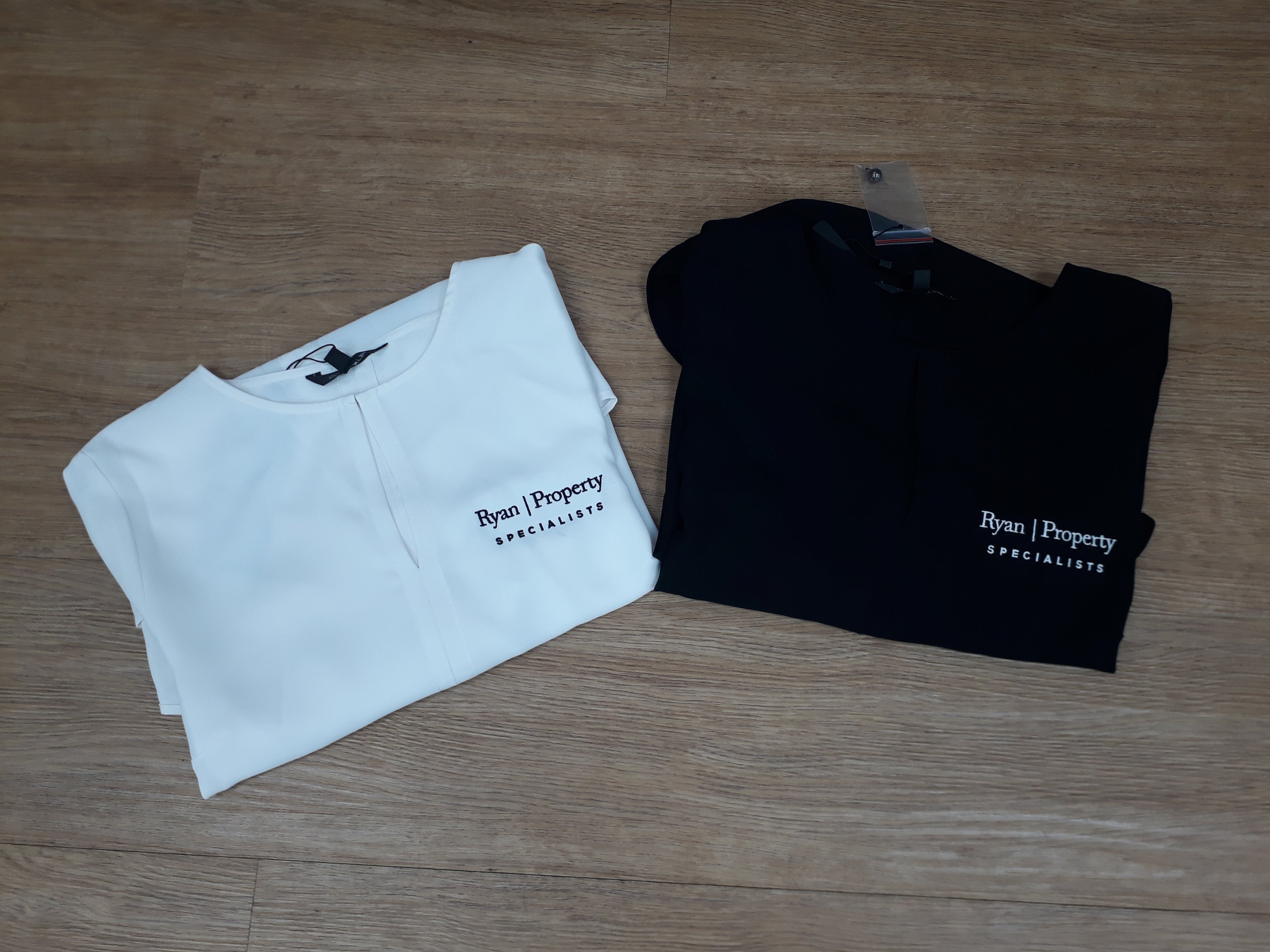 Changing the thread colour to contrast the fabric colour is a fantastic way to ensure your logo stands out. Check out how good these look! We hope the team at Ryan Property Specialists love them as much as we do!
Uniforms, pens and bottle openers!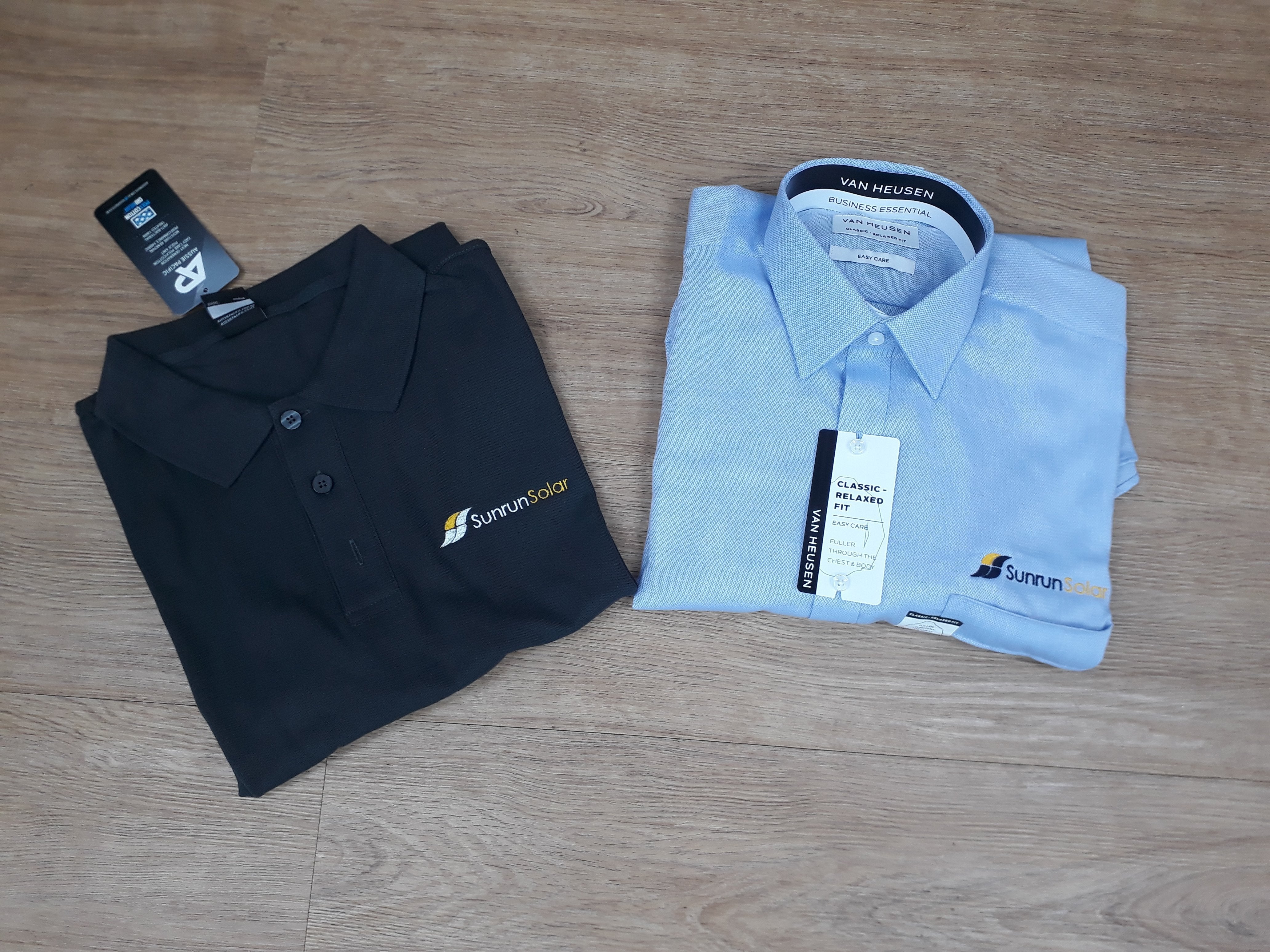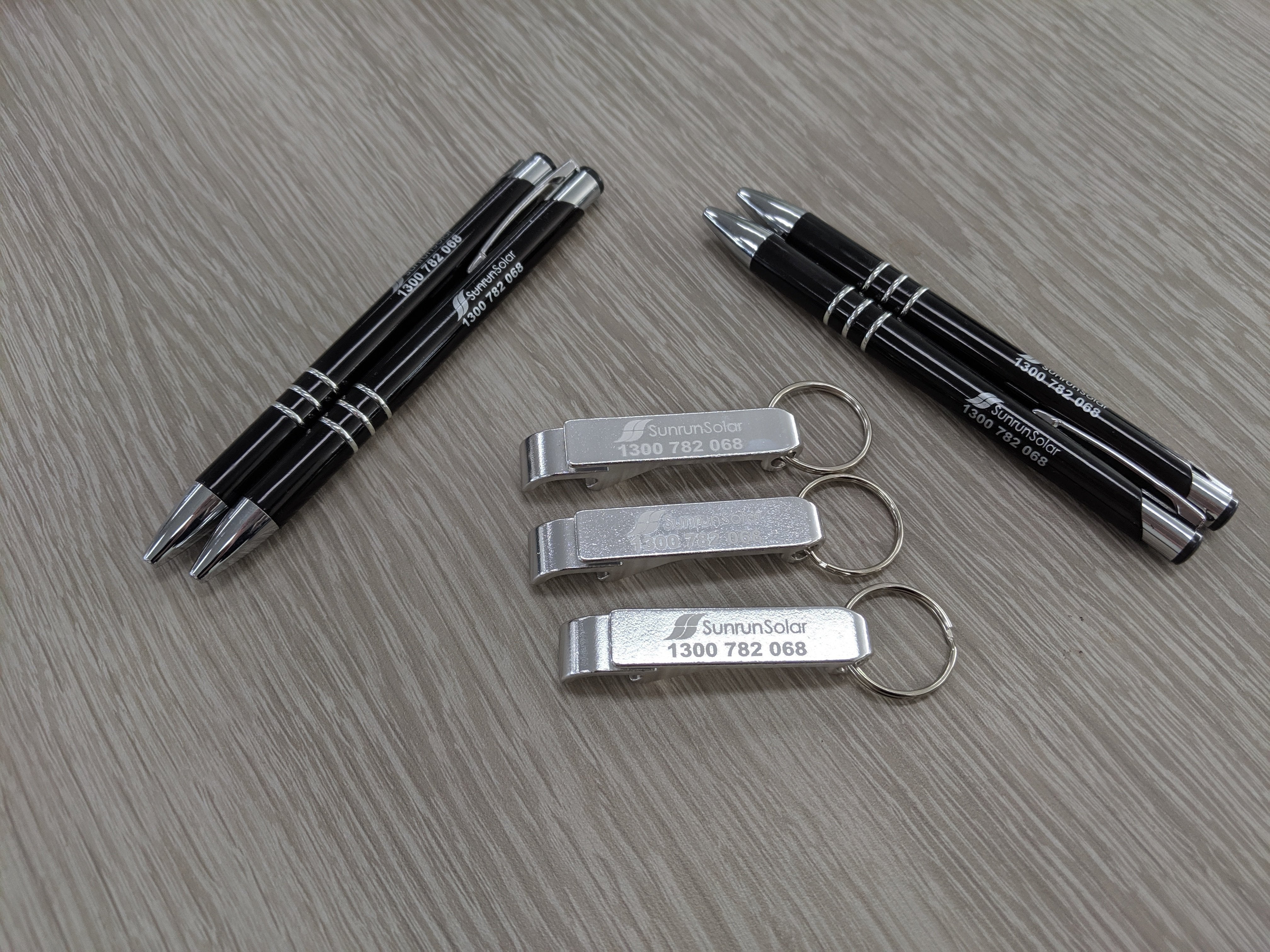 Polos and shirts are perfect for left chest embroidery, as you can see with these examples from Sunrun Solar. Pens and bottle openers are also great promotional items for giving to potential or existing clients and customers. Come in store to have a look at our range and feel the quality of our products.
Embroidery on scrubs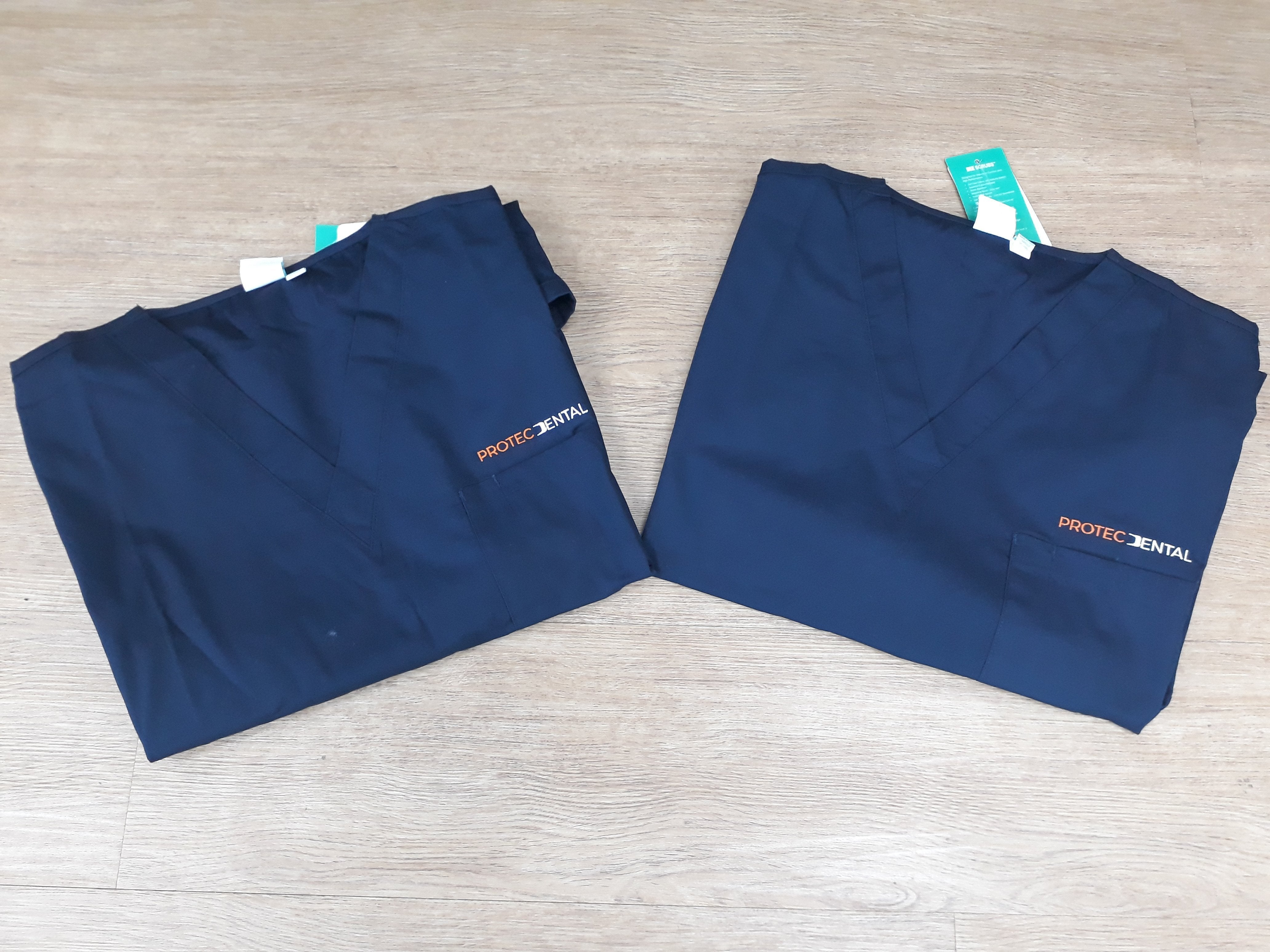 Embroidery is a great option for a whole range of different clothing and uniforms. Here's an example of some scrubs we've done for Protec Denture Laboratory.
Coloured polos to match your logo.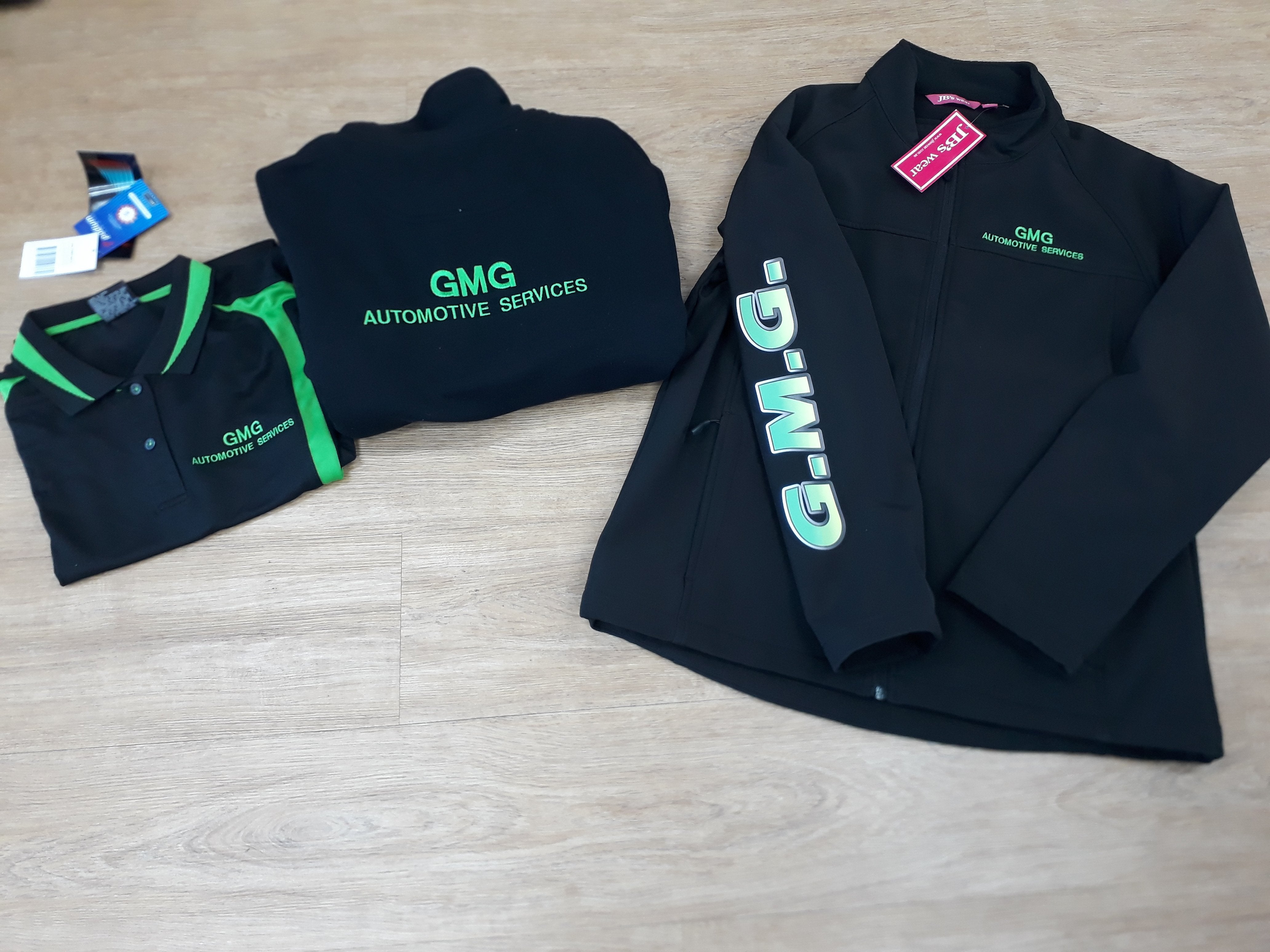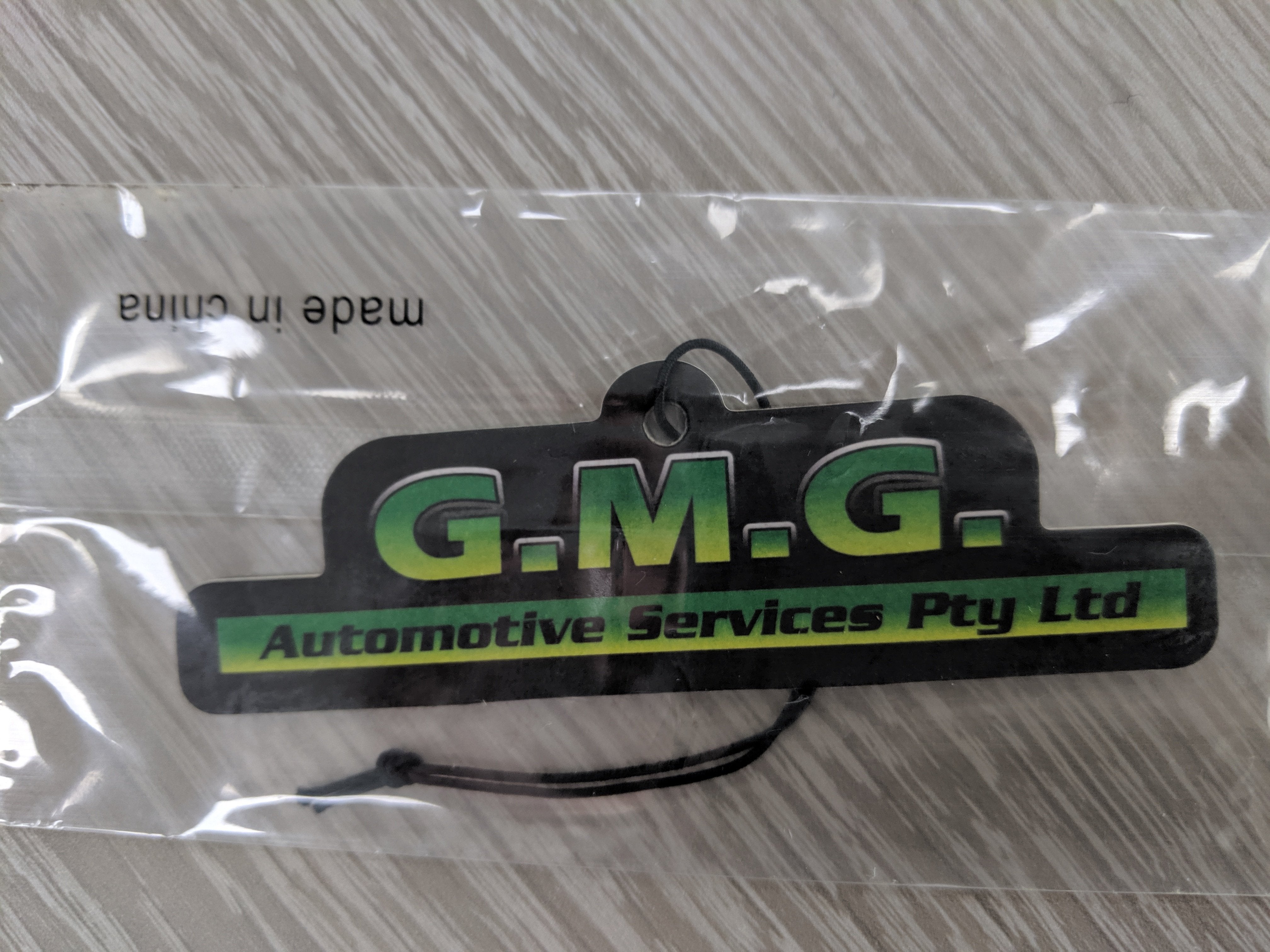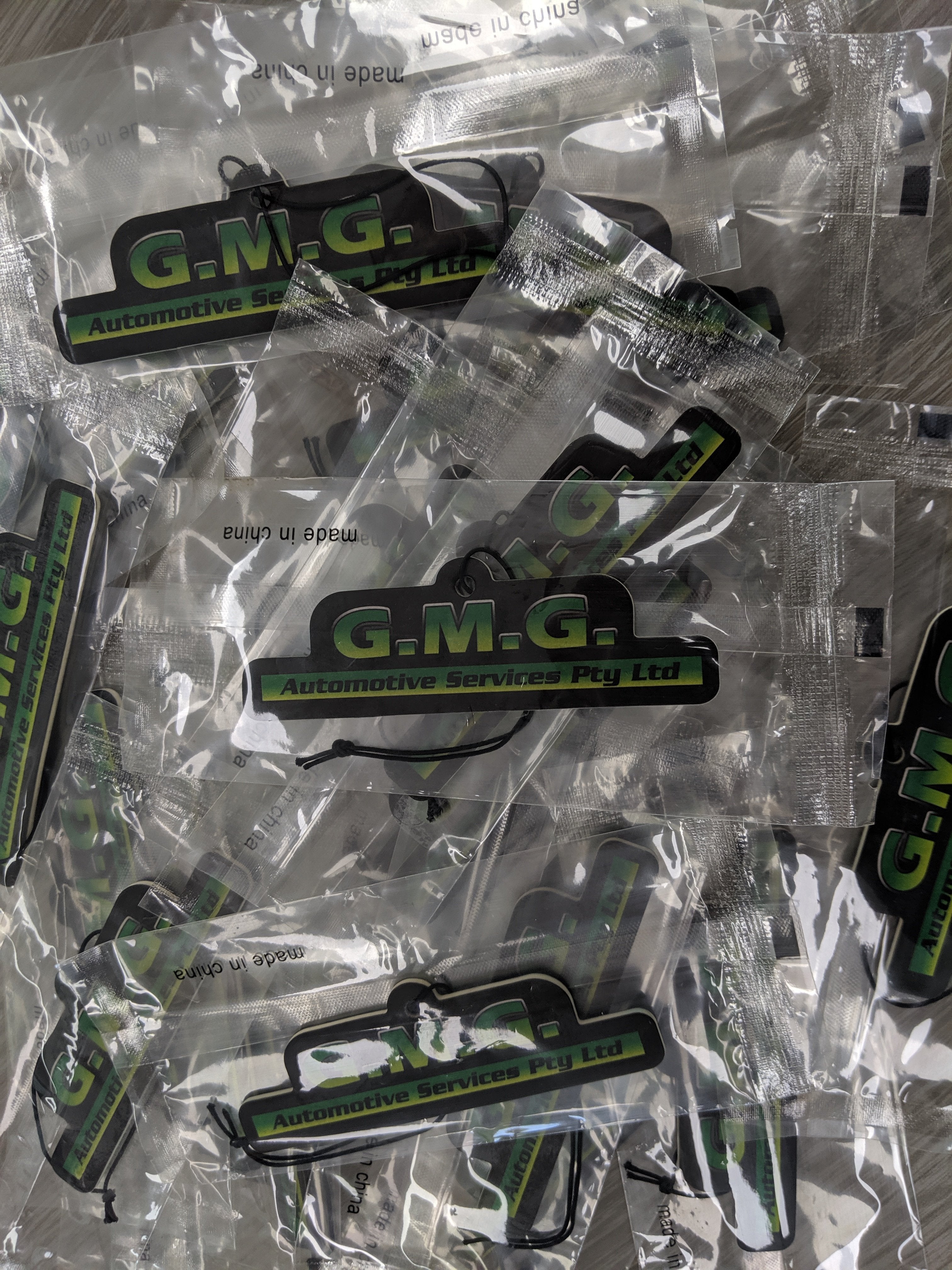 Choosing a polo with contrasting design panels to match your logo is a great way to make your business name pop. The team at GMG Automotive Services are going to look great as well as stay warm in hoodies and softshell jackets, while their clients cars will smell amazing with these personalised air fresheners!
What are the benefits of polyester?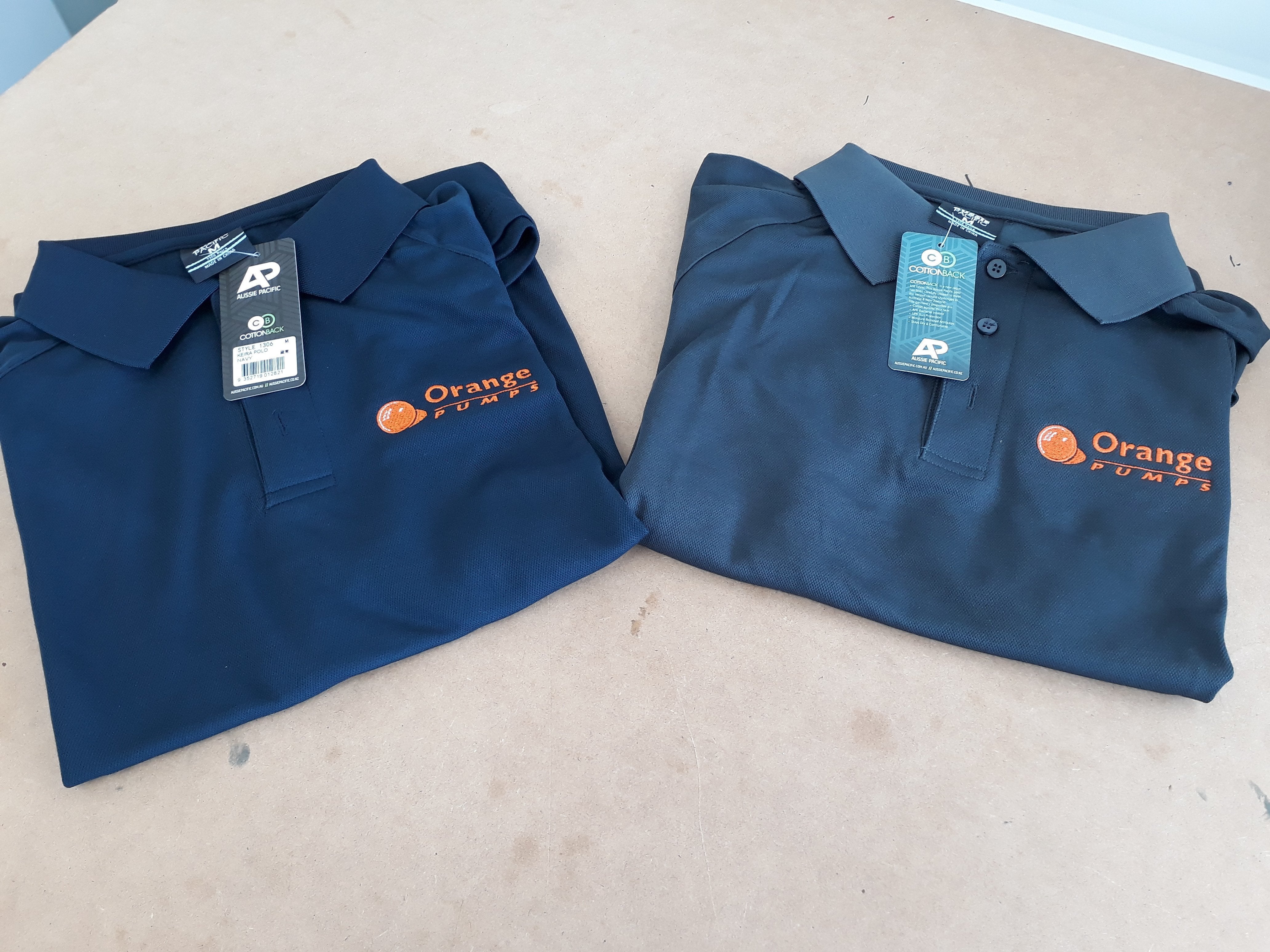 Polyester is a synthetic material with many benefits in the fashion industry. It is a strong and durable material that is resistant to wrinkles and shrinkage while still being lightweight. This material is easily dyed and colourfast, ensuring your clothes continue to look great wash after wash. It's a great choice for uniforms as it is quick drying, so easily washed, dried and ready for the next day of work.
Why we love caps!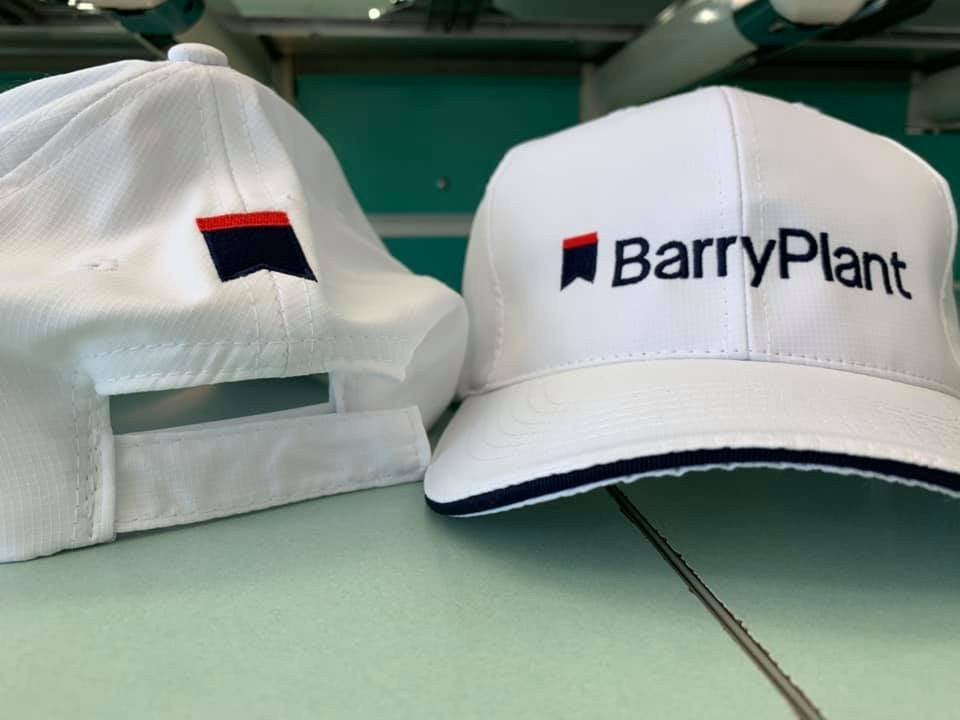 Caps are a fantastic promotional product, along with being the most popular head wear they're a great addition to uniforms, can be used for outdoor events, given as prizes or gifts and they suit all ages. We can embroider or vinyl heat press caps in house at our Mount Waverly store. Come by our show room and have a look at some samples and see the quality of our products.
Feeling the winter chill?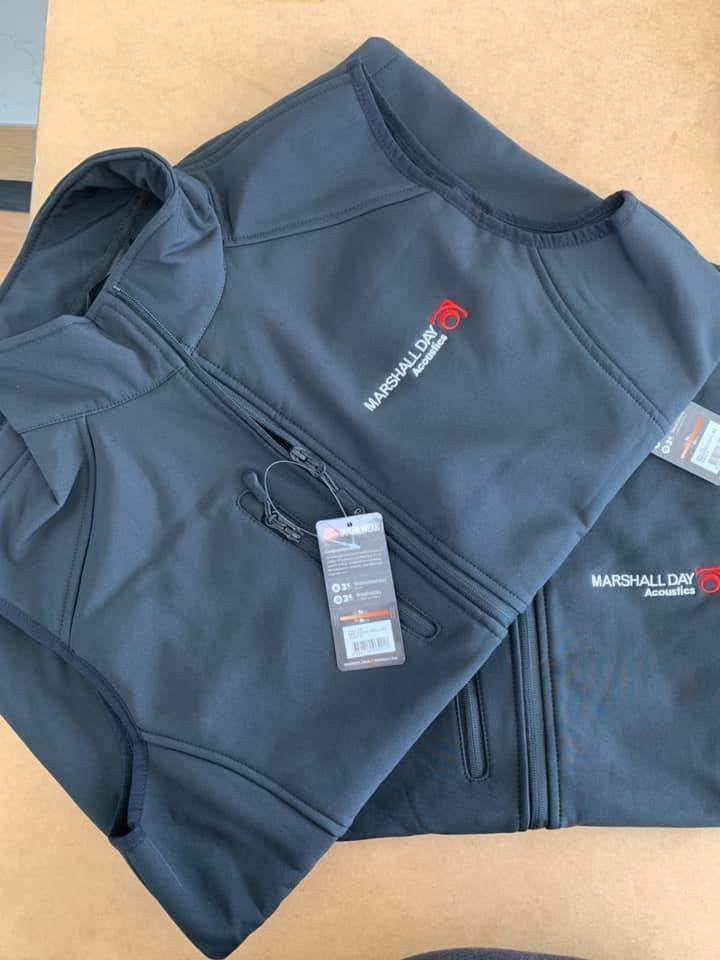 Softshell jackets and vests are great as an outer layer as they provide insulation as well as protection against the wind and light rain. They're a popular option because they look professional while still providing warmth.
For more soft shell jacket and other winter wear options come down to our Mount Waverley show room and talk to our friendly staff.
Acrylic Awards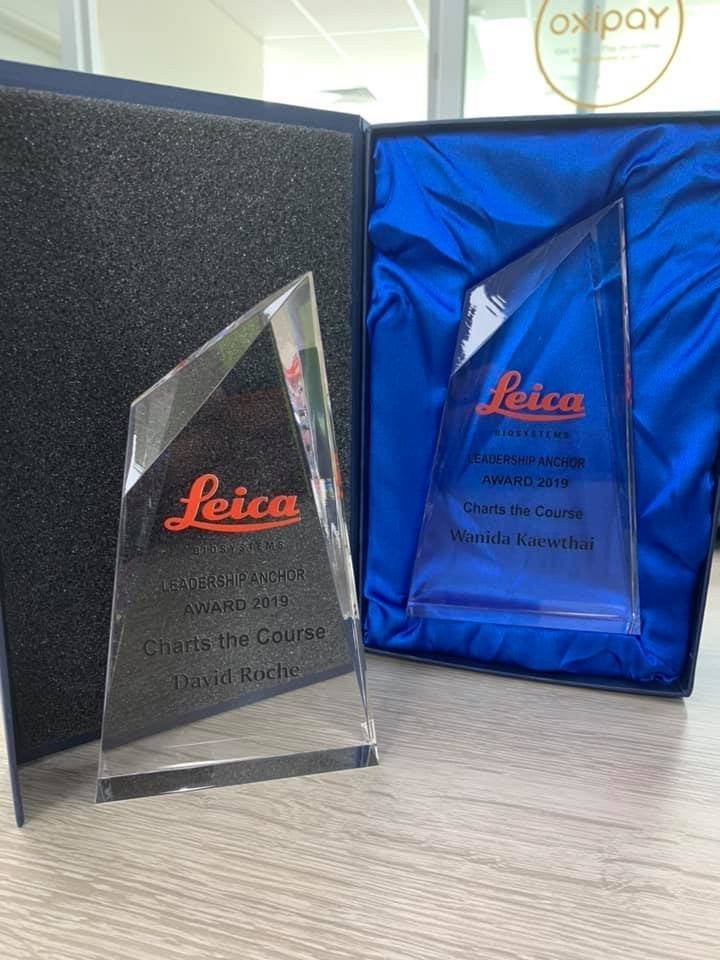 Acrylic awards look better than crystal or glass and they weigh less too. We can print full colour and engrave, what a great way to recognise your employees and clients.
Golf Day Packs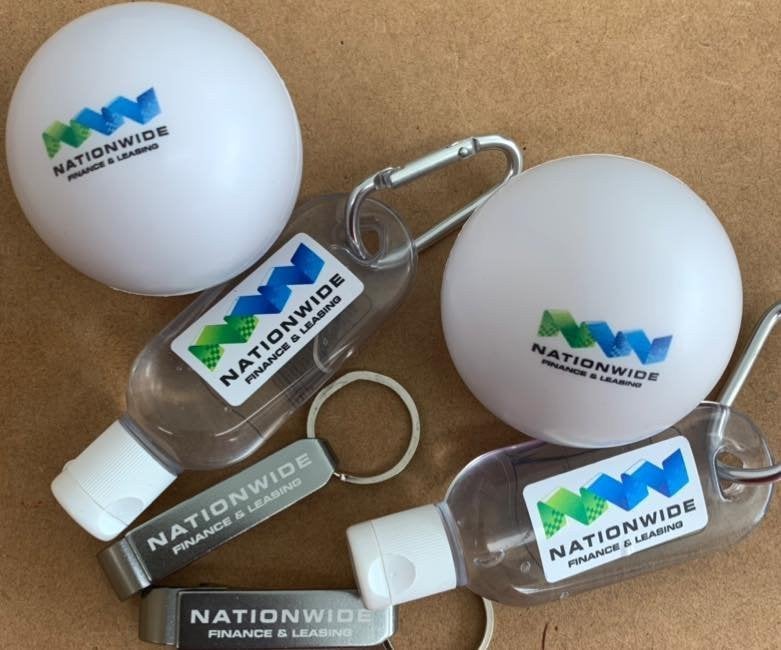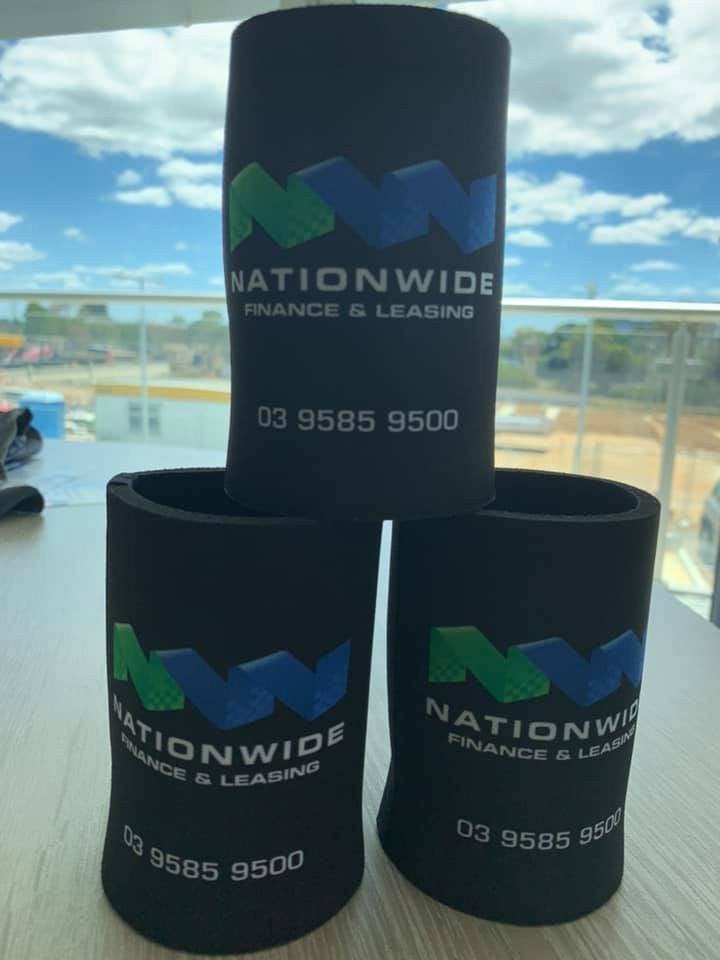 There are a lot of options you can choose from as a sponsor for a golf day. Please call or come in and we can help you put something together.
Way to say thank you to staff and clients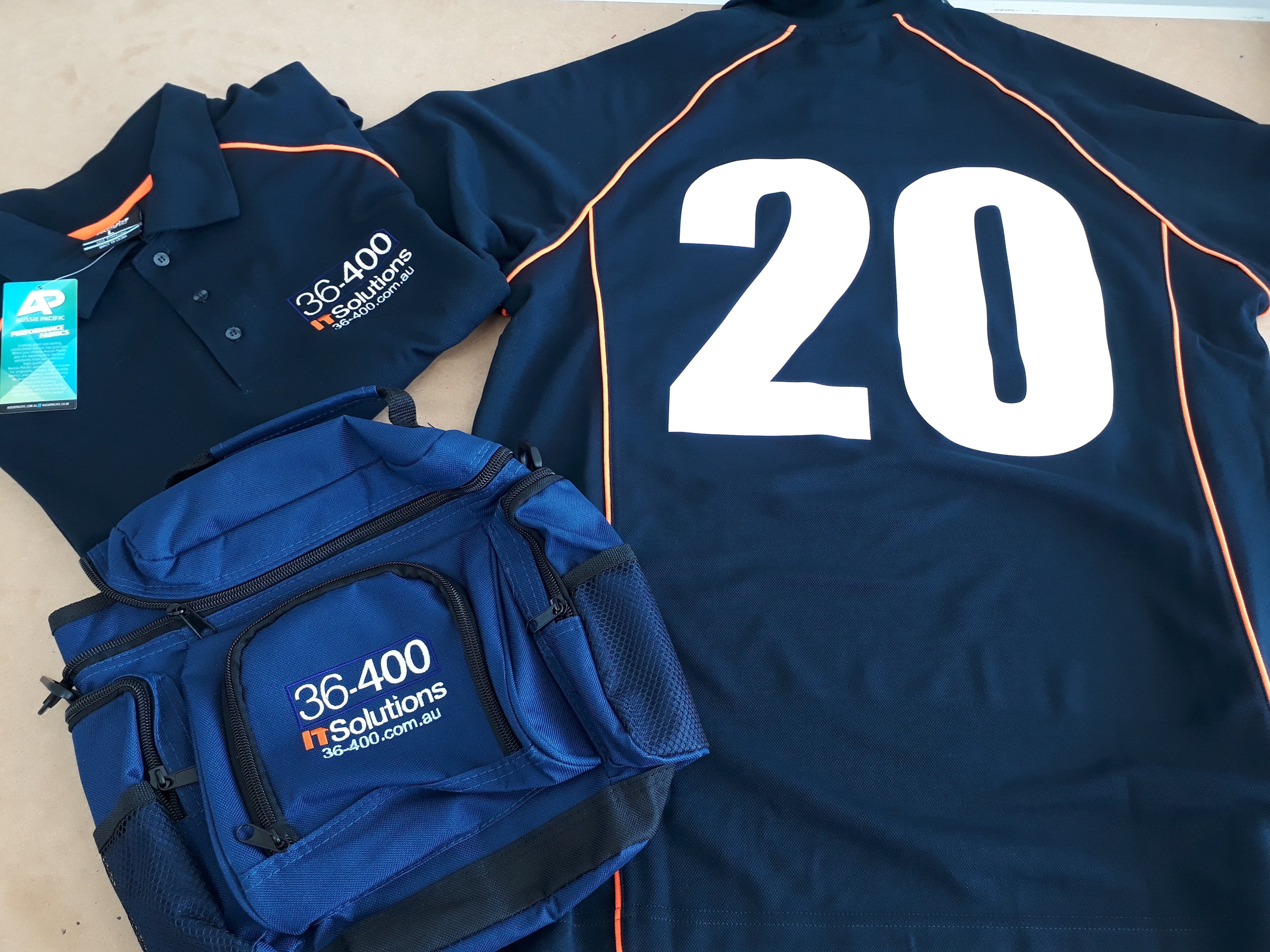 Our client wanted to say thank you to their Staff and clients. So we created these embroidered polo's with the number of years they worked with them on the back and awesome cooler bags with logo embroidered.
Garments for an event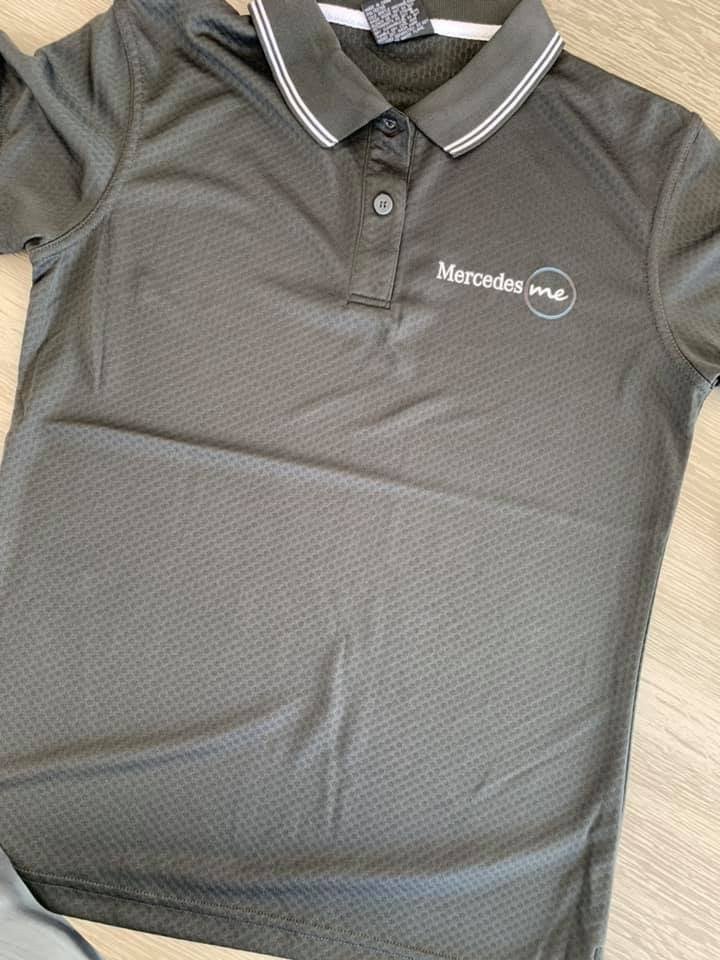 Stunning polo for our friends at Mercedes Benz for their training event. We suggested they go with a vinyl heat press for their logo because of the shading in the circle and that gives the best outcome.
Chinese New Year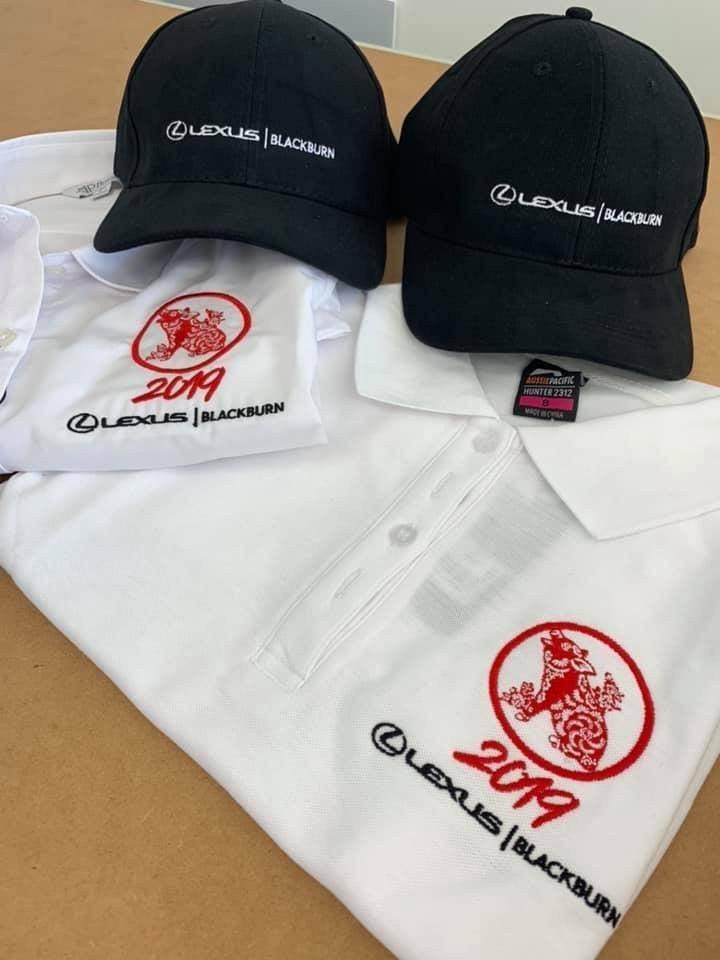 The staff at Lexus in Blackburn decided to kit themselves with branded caps, polo's and shirts and celebrate Chinese New Year at the same time.
New Machine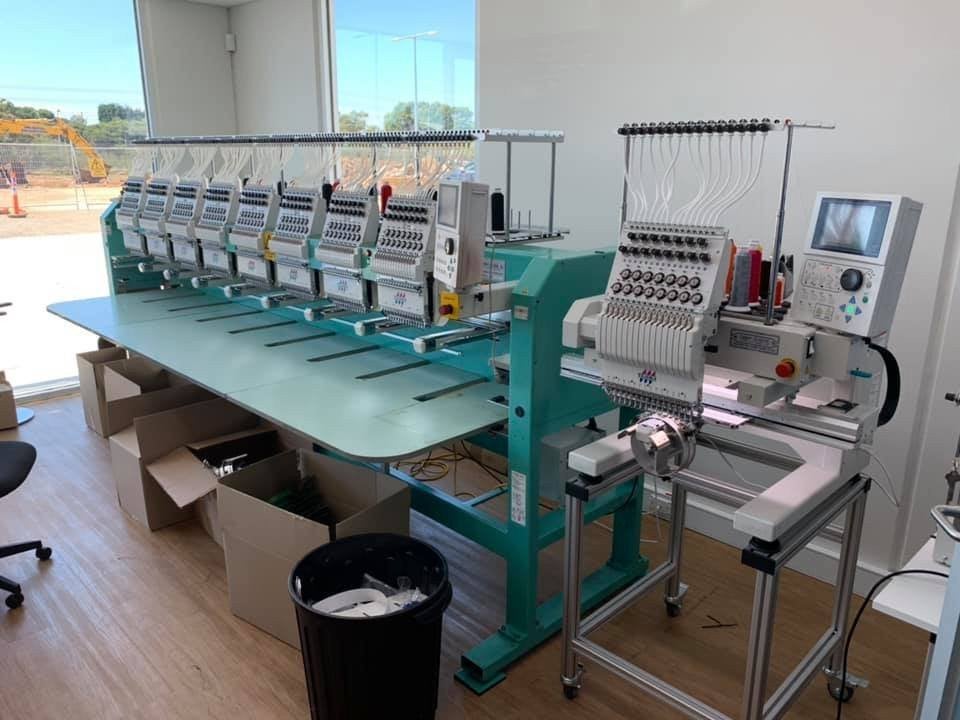 Now we have a 8 head embroidery machine we can embroider 8 times faster. We do all our embroidery in house so we can control quality and time.
Why City Shopper Bags?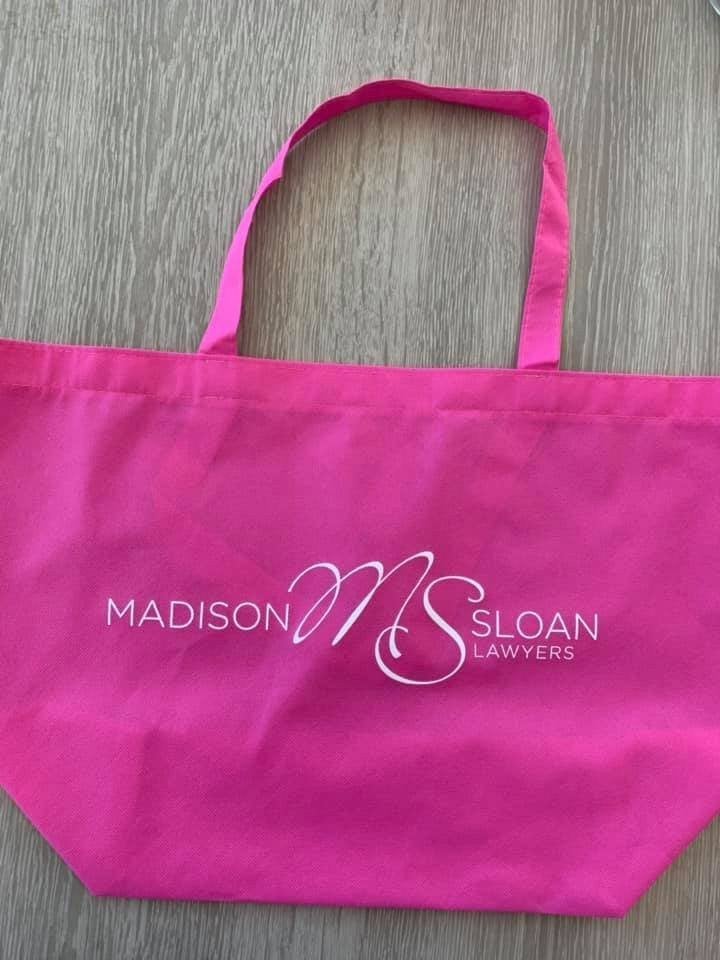 City shopper bags are a great way to get your brand out there while looking stylish and being practical. These days everyone is conscious of the effects plastic bags have and are looking for options to avoid using them. Get your company name out there while also doing something for the environment.
Screen Printing
If you want a large print with one colour, the best option is screen printing. Come and talk to the experts at Fully Promoted and we will help with your branding.
Swimming Tops Vinyl Heat Transfer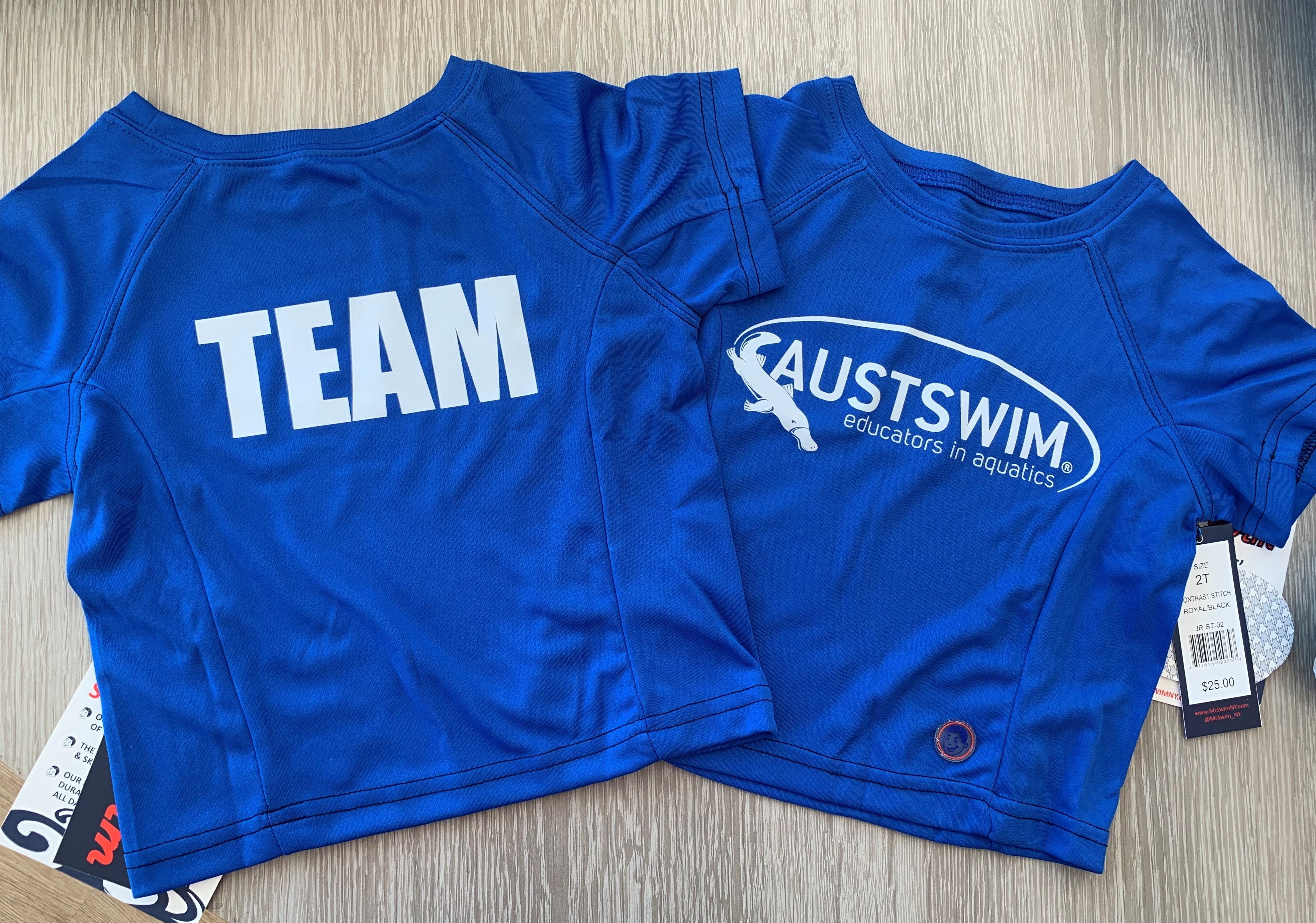 Vinyl heat transfer, the best option to brand your team swimming rashies.
Personalized Stockings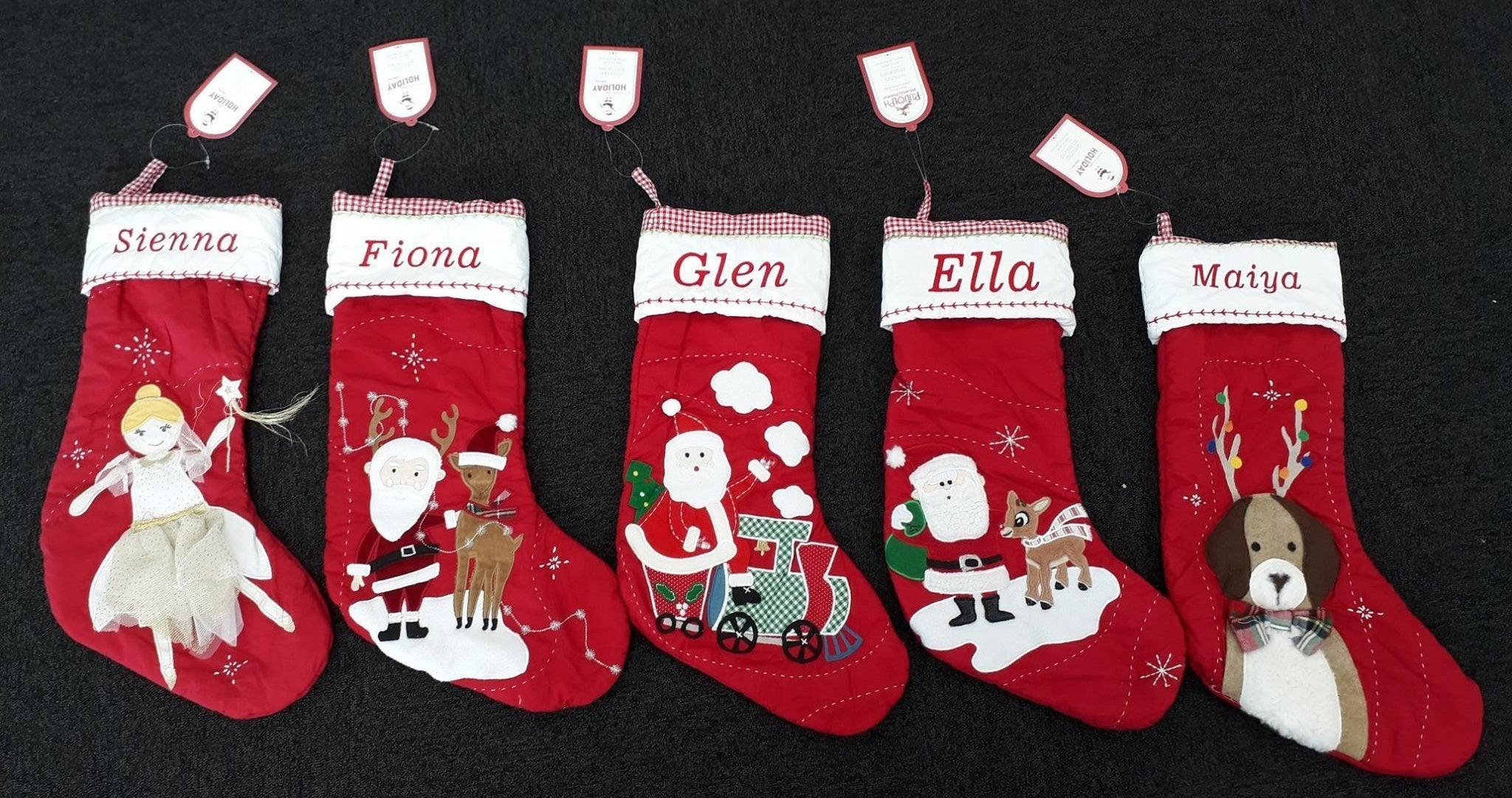 Nothing is better than a personalized stocking done using embroidery
Metal Drink Bottles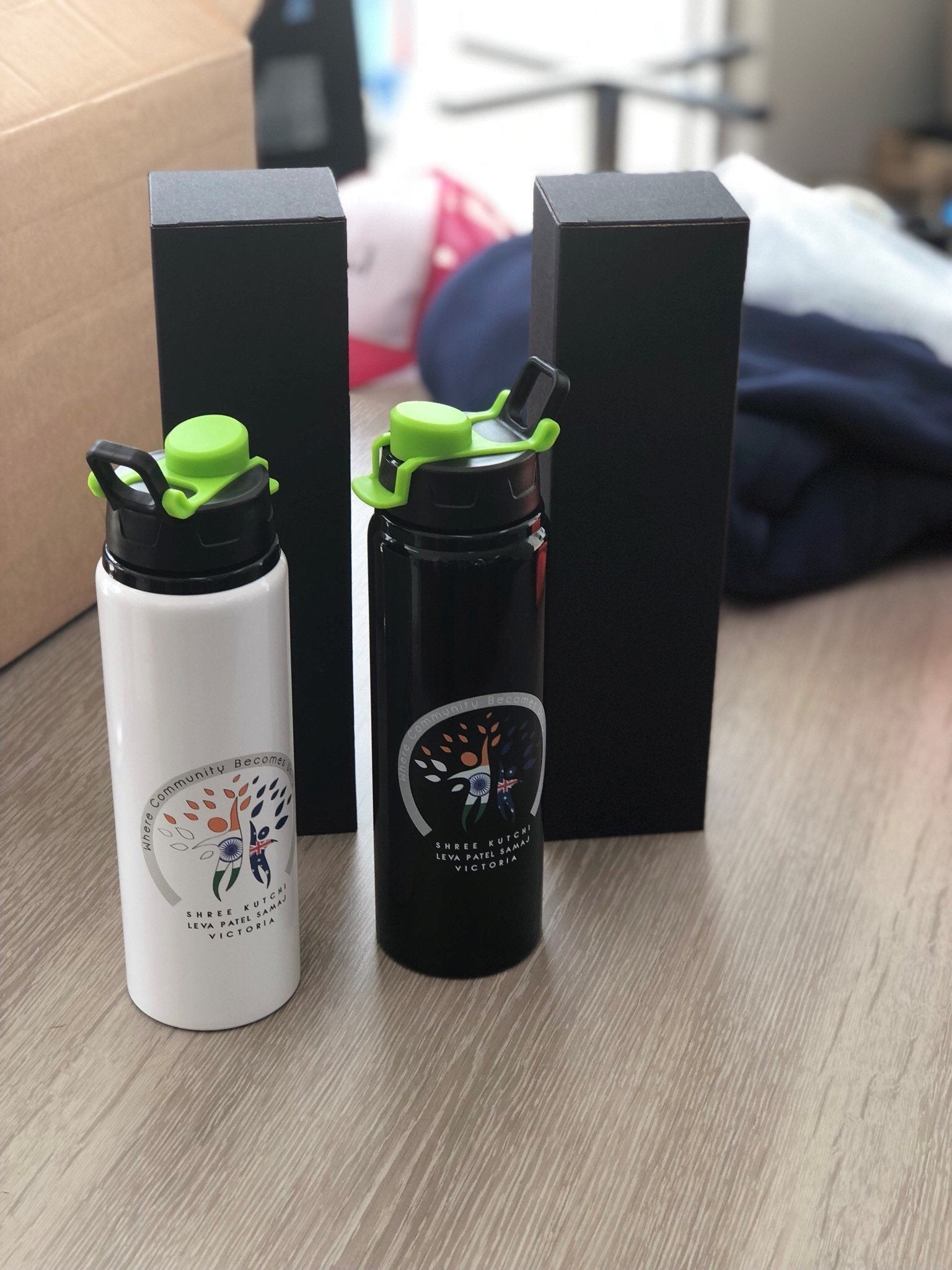 High quality metal drink bottles! These bottles were branded using a digital direct printing method. This allows for the use of many colours with great accuracy, perfect for those colourful and complex logos! These bottles also came with a nice gift box, making them extra special to give away! We have a great range of drinkware and so many other, high quality options that can suit all budgets and needs.
Come down to our store and have a look and feel of the quality of our products.
In House Embroidery Caps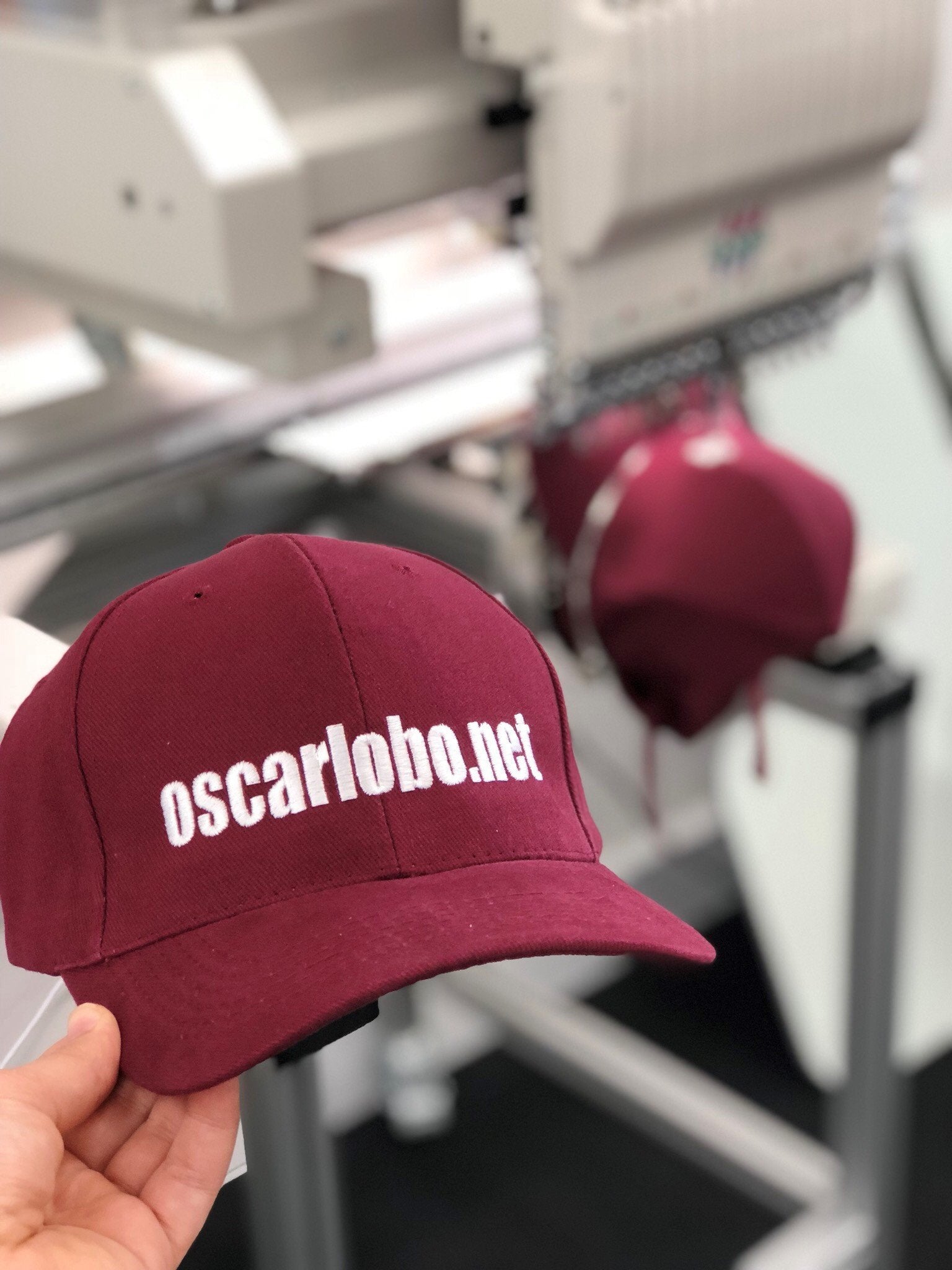 We do the embroidery for caps in house using our own embroidery machine with a special fitting to hold the cap in place while the machine works its magic! This really allows us to have complete control over every single cap and the quality of the embroidery being completed. If you ever come by our store make sure to check out our production area to see how everything works here!
Not just embroidery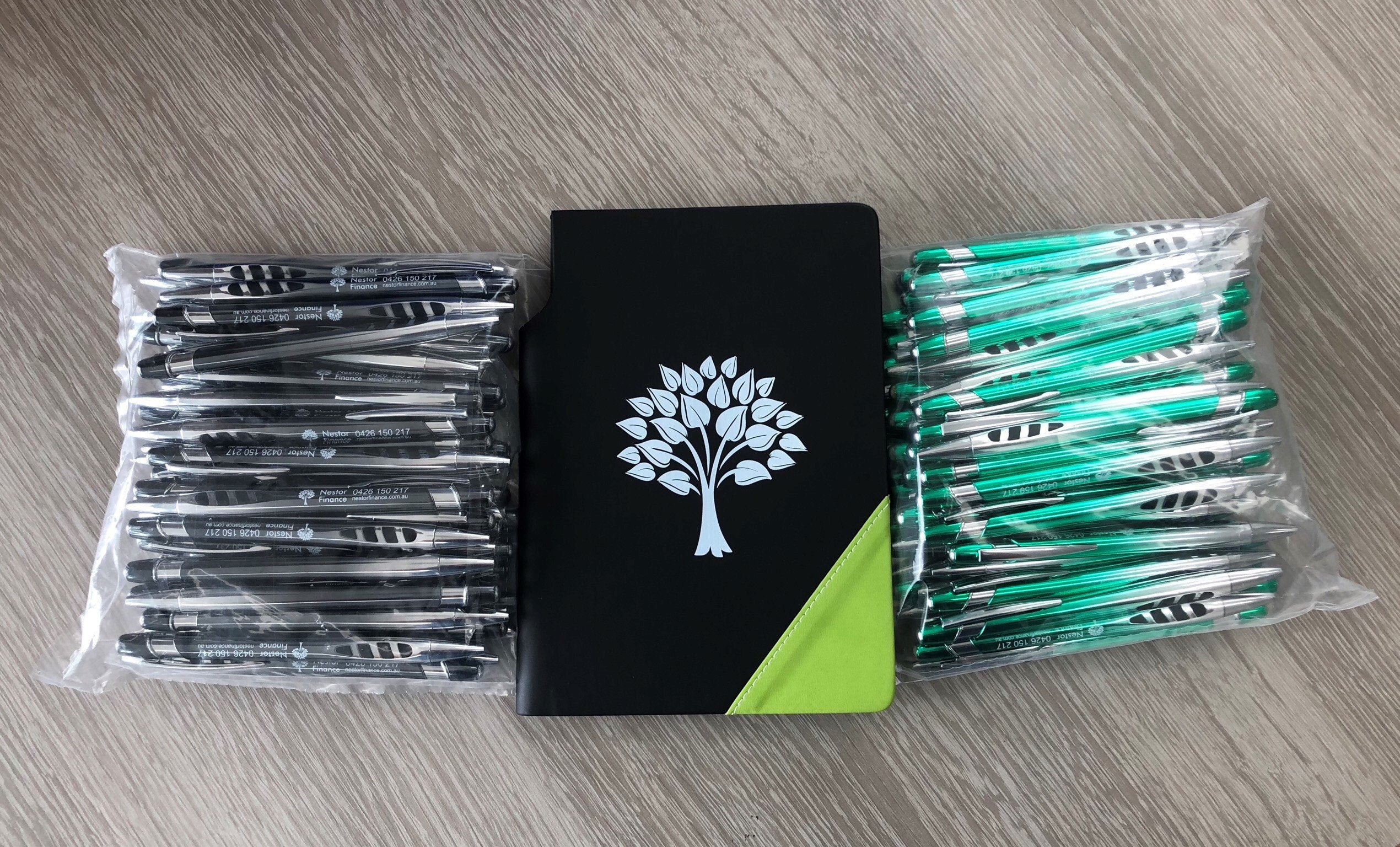 Here at Fully Promoted Mount Waverley we love doing embroidery and vinyl heat press on hats and clothing to help you promote your business. But did you know we also have a great range of promotional products? Bags, drinkware, pens, notebooks, confectionery and USBs are just an example of the kind of things we can get your company name or logo on. Come down to our showroom and have a look and feel of the range and quality of our products.
Why should you invest in Christmas gifts for your Business?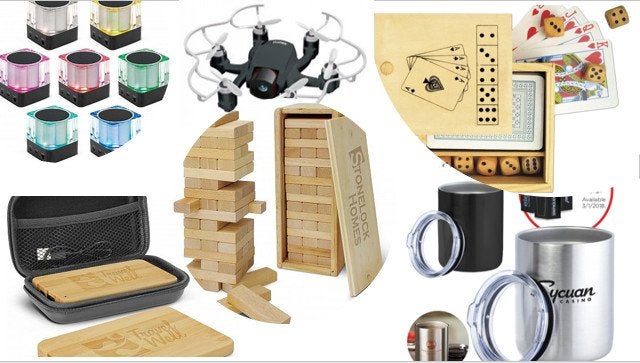 The world of corporate Christmas gifts can sometimes seem very daunting, knowing what to get, whether it's actually worth it, and wondering how you can possibly stand out against all the other businesses? No matter how big or how small your business is these questions probably arise as you head closer towards the Christmas months. Here at fully Promoted we want to help you this Christmas season to find the perfect Christmas gift that will stick within your budget whilst being a stand out against the rest.

This year we have done the hard work for you, searching far and wide for some unique and exciting corporate gifts. We have found an array of interesting and quirky gifts that can cater for all budgets and business. We have found drones that can have your logo professional printed, your clients will defiantly have fun flying it around! We have game boxes, full of cards, dominoes, Jenga and pick up sticks that will surely bring fun to whomever you gift them too this season. We have high quality tumblers and some awesome technology gadgets, like wireless chargers, mini Bluetooth speakers and a huge selection of power banks.

Christmas time is an important time for people all over Australia. It's a time to say thank you and let the people around you know you appreciate them. As a business owner, it's a great time to let your clients, customers and staff know that you appreciate their support and the gesture of a Christmas gift can go a long way.

Having a stand out Christmas gift is also a great opportunity for your business as it can remind people who you are and what you do by raising your brand awareness. Your logo is a huge part of your business and the further you spread it the better, the small investment of a Christmas gift could see the growth of your business from both the continued support from current clients but also the welcoming of new customers.

Please call us today or send us an email so get your gift giving started! There is no business to big or to small and we can not wait to work you and your business this Christmas!
Promotional Products branded with your logo!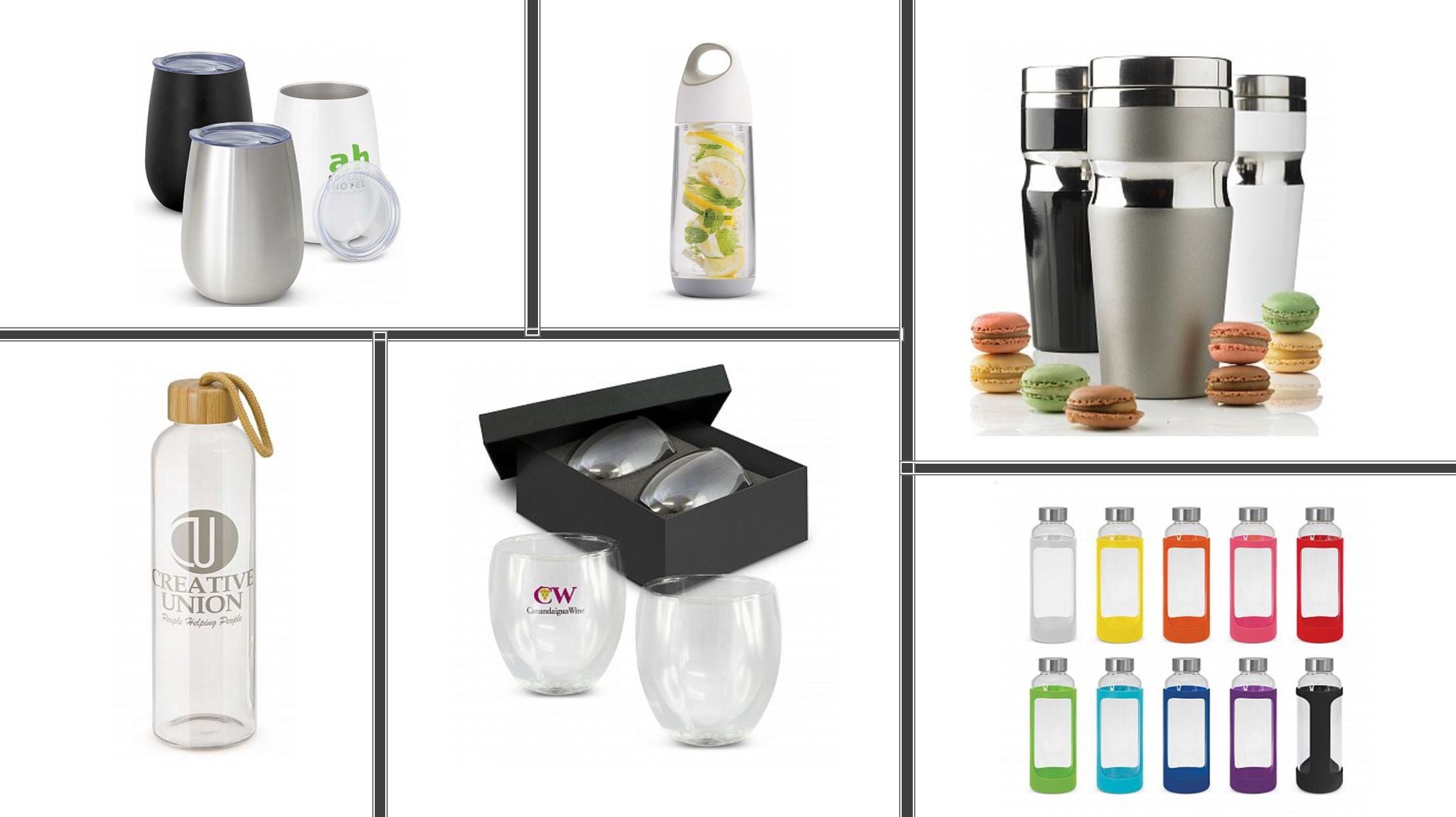 promotional products are a great idea for corporate and Christmas gifts! We have huge range of gifts, including a high quality selection on drink ware that is ready to be branded! Getting some good quality drink ware is a great option as a gift for your staff and your clients. Items such as tumblers, drink bottles, glasses, thermal drink ware and flasks can be practical gift that will be used by who ever you give it to! having your logo professional printed onto the drink ware also helps you promote your business and raise brand awareness. The examples above are only just a few ideas of what we can do for you, but there are so many more options! The team here at Fully Promoted can help you find exactly what you are after and make sure you are feeling fully promoted this Christmas!
Branded Polos and Caps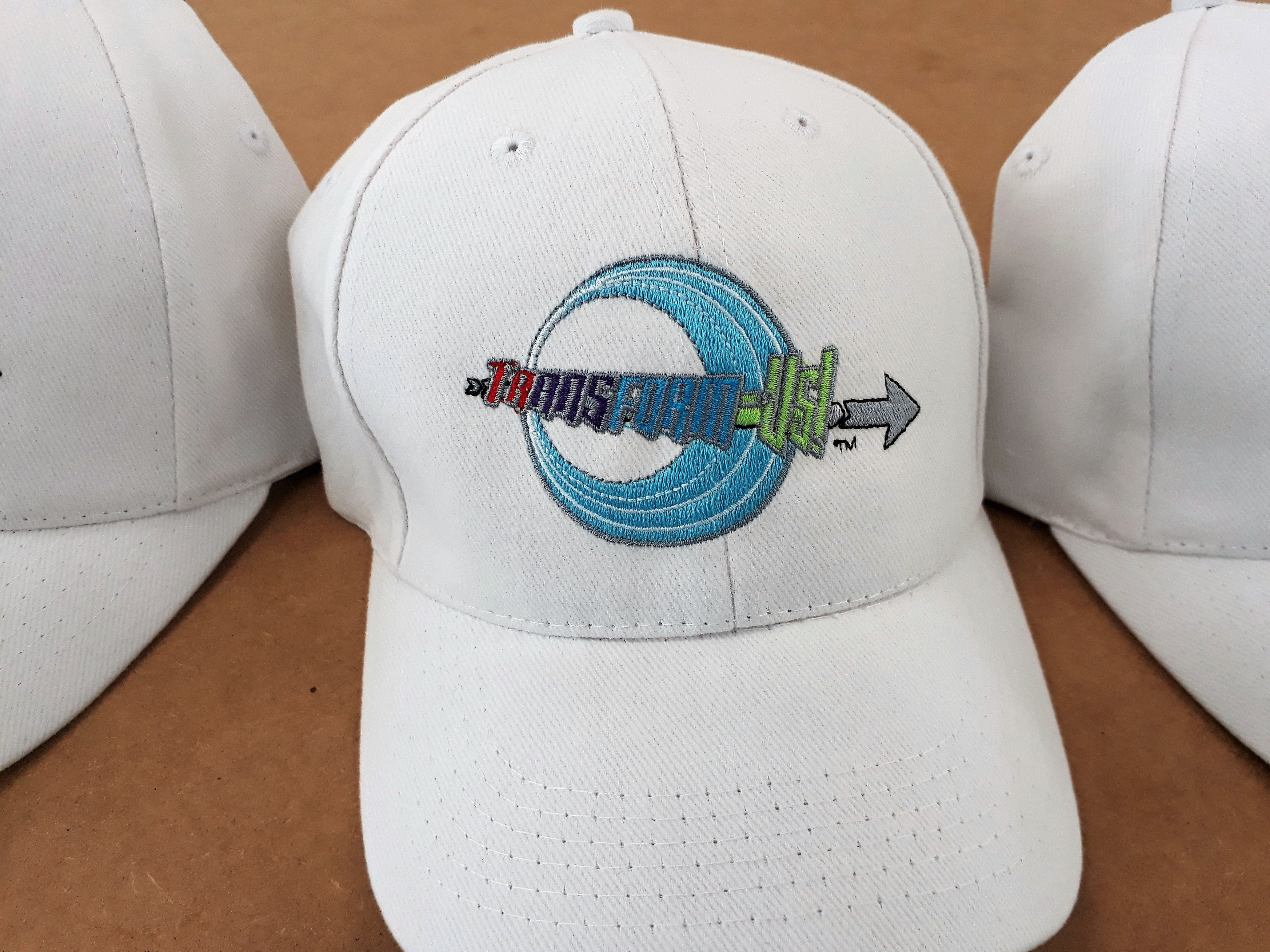 Really nice branded polos and caps for Transform-us! we loved the way this bright logo really stood out against the white apparel. The cap was branded using our in house embroidery service and they also got polos branded using our in house vinyl heat press service. (Check out our facebook to see the awsome polos!)
Bright logo on bright Apparel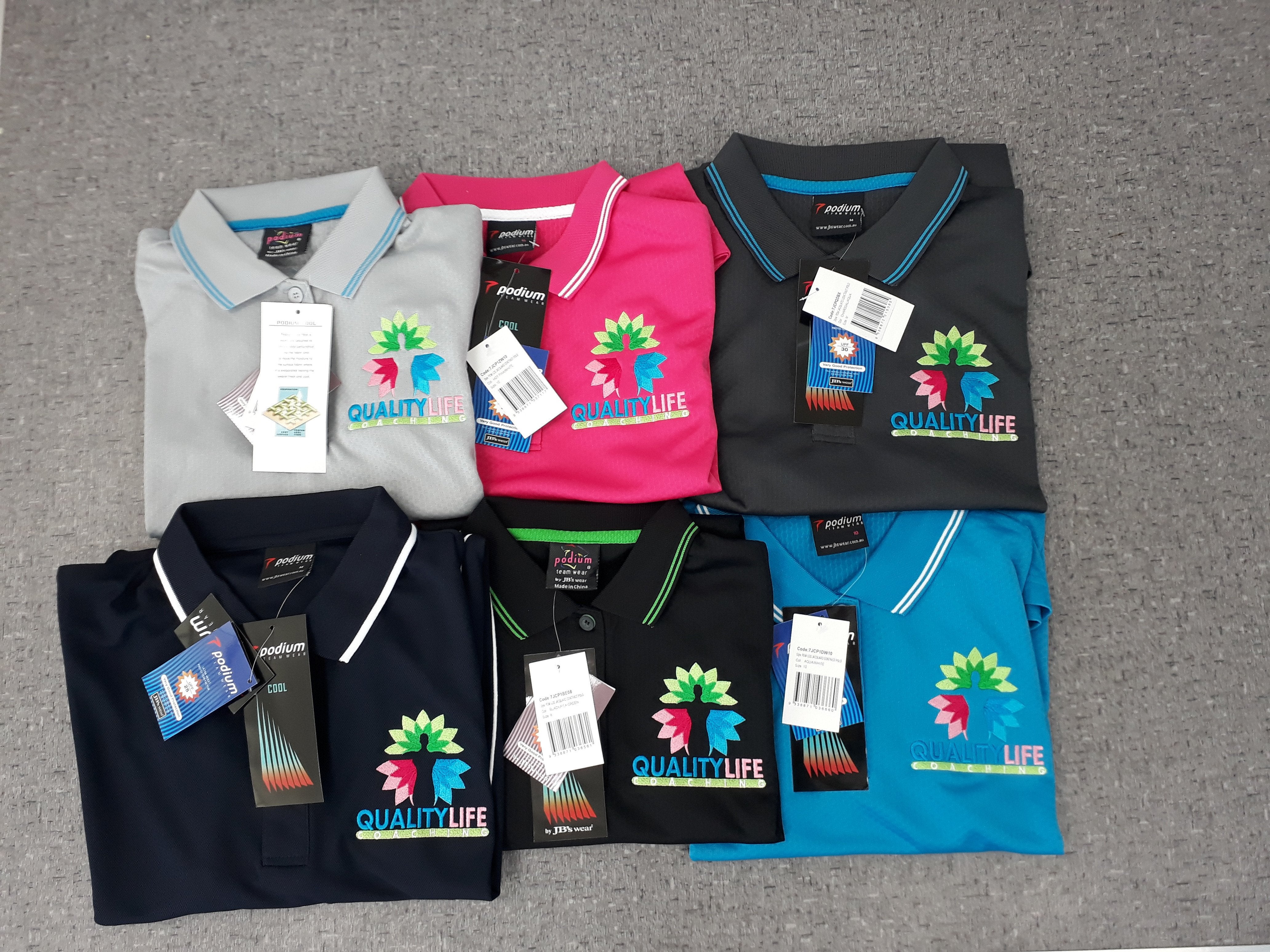 Really eye catching polos with an even more eye catching logo! These polos for quality life coaching came out looking great and all ready for them to wear!
MAKE caps!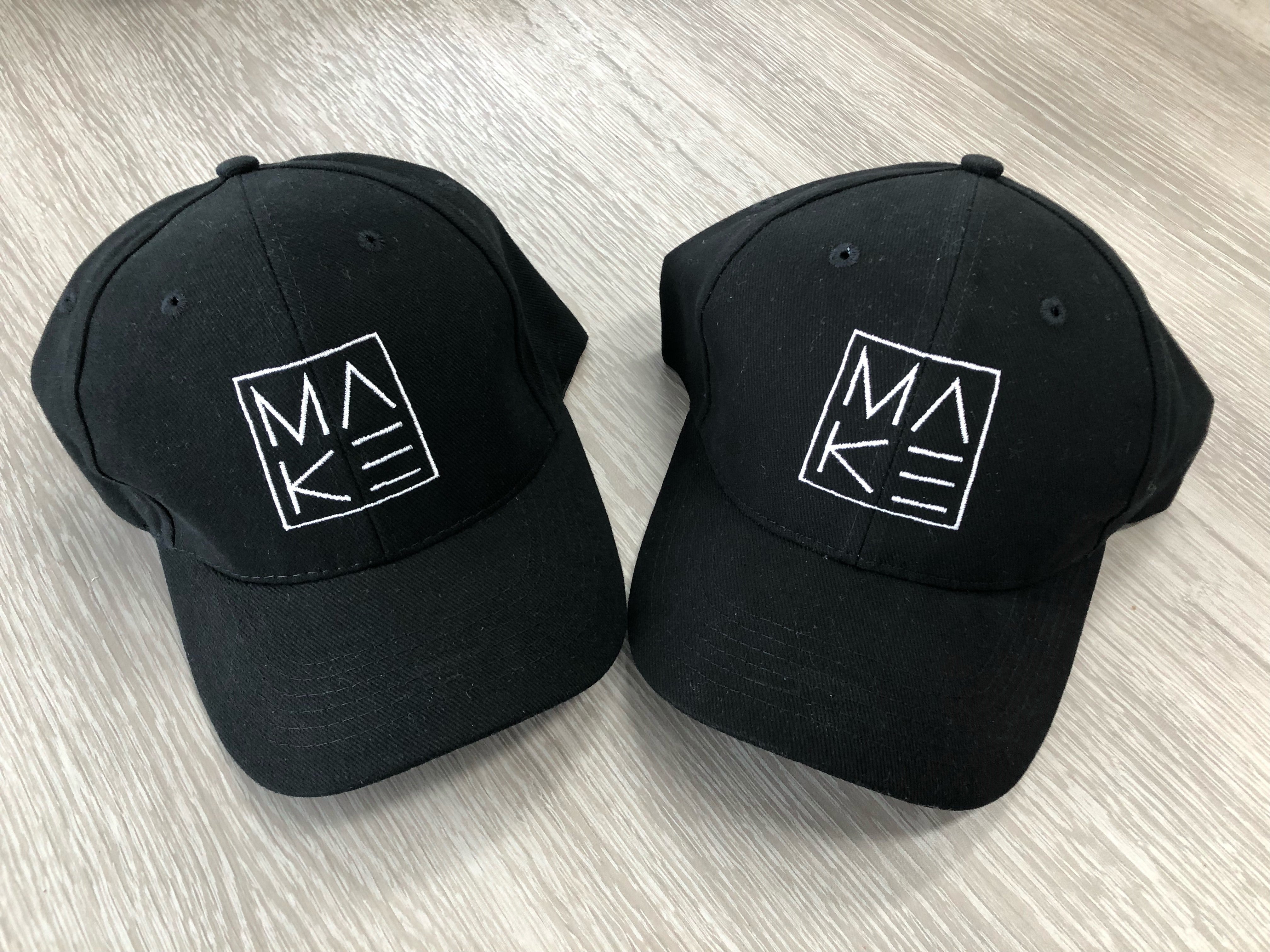 Awesome caps for the company MAKE fences! Perfect addition to your uniform, especially when you and your team work out doors. We hope MAKE likes their new caps!
Awsome Goodies for the Cricket Club!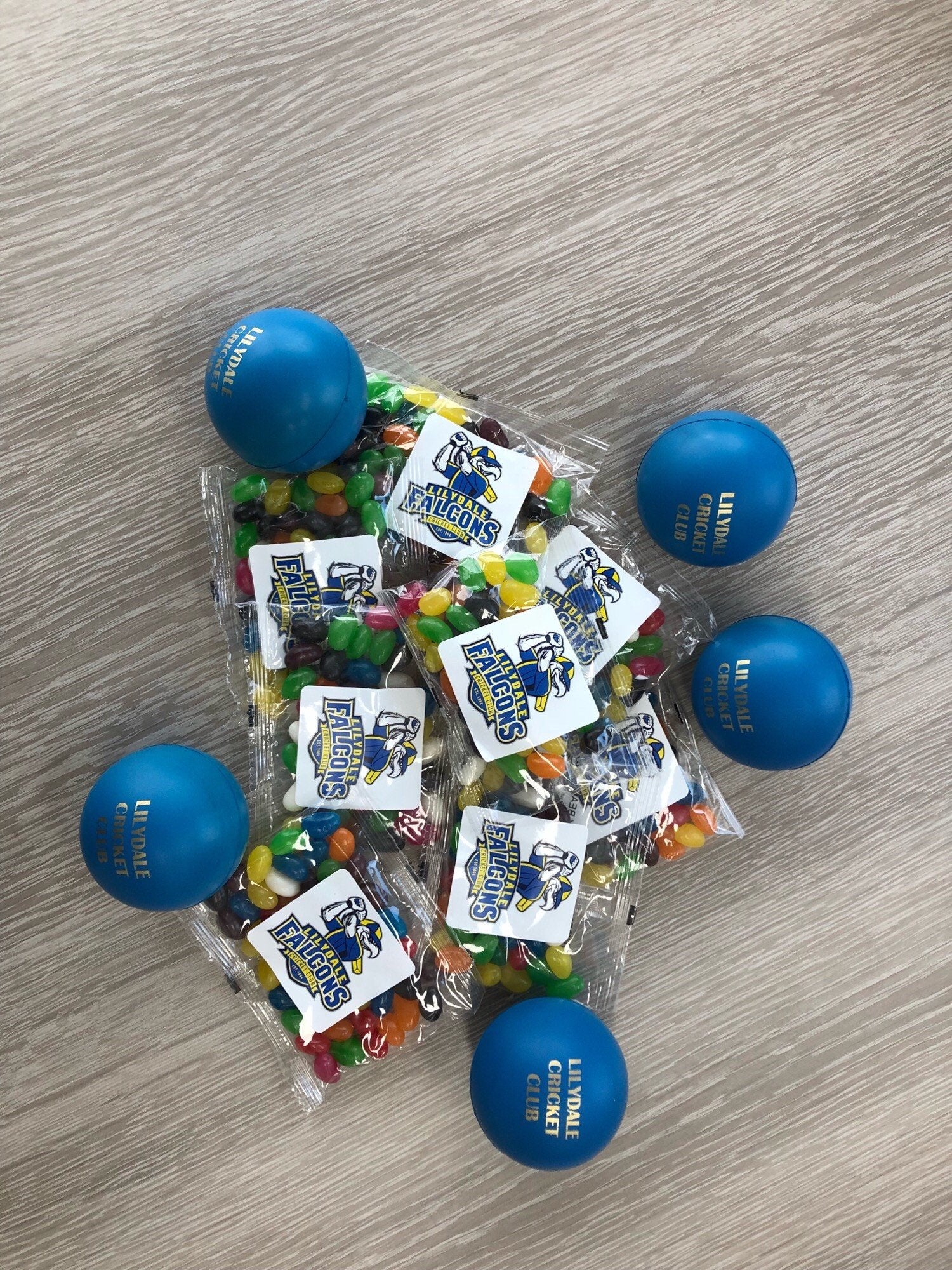 Fun branded stress balls and jelly beans for the Lilydale Cricket club! These are a great idea for promoting your clubs and teams as they are different and also fun!
We have lots of fun ideas like this at our how room in Mt Waverley.
Aprons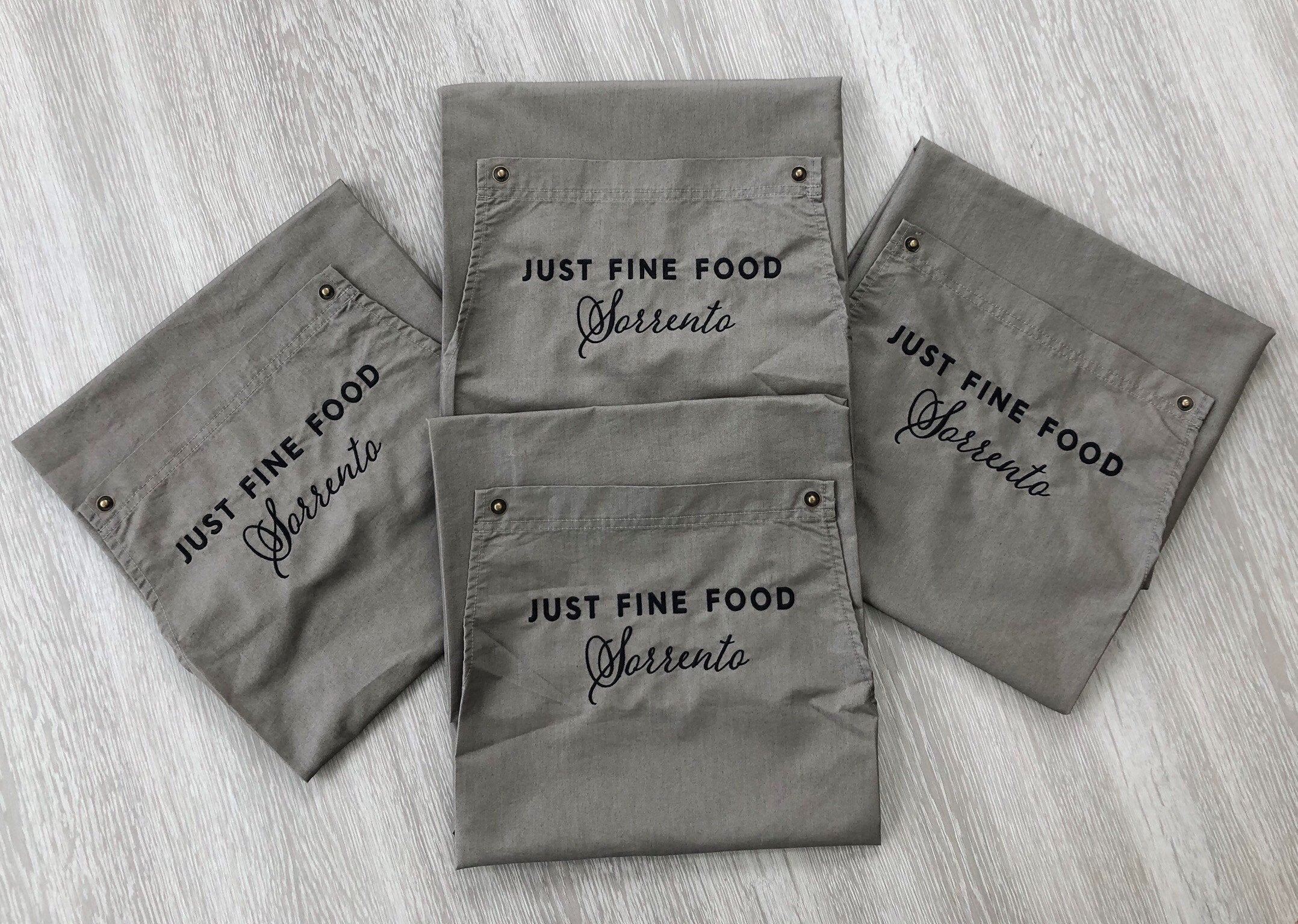 Do your staff wear aprons? Promote your brand awareness while keeping it looking professional with embroidered aprons. They come in multiple colours and styles to suit your workplace.
Light up your Logo!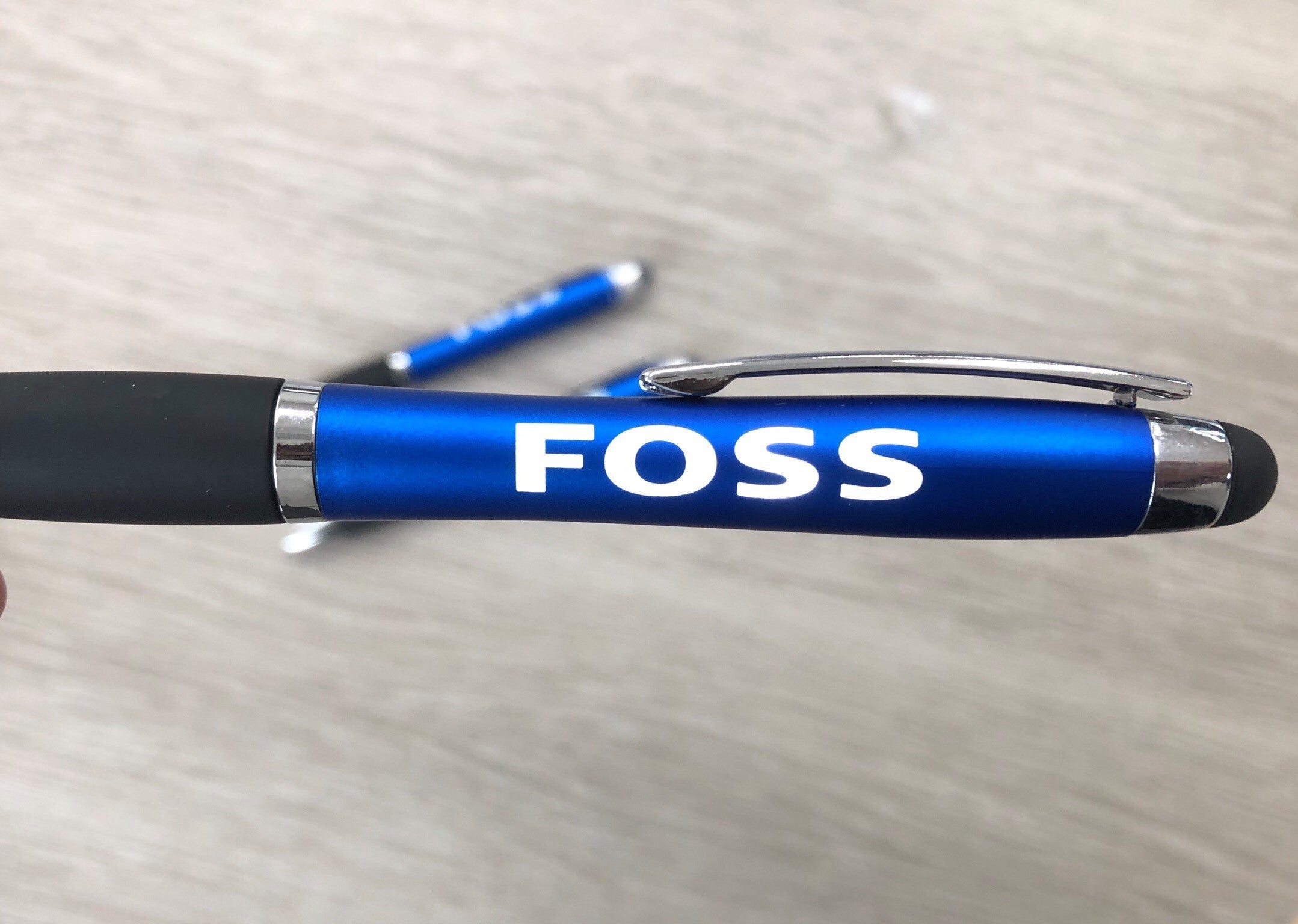 These really cool, attention grabbing light up pens for FOSS. This type of pen comes in lots of different colours and are especially good for more simple logos as it really helps them stand out. Having a different promotional item can really help you stand out against the crowd and we think pens like this are fantastic.
Branded coasters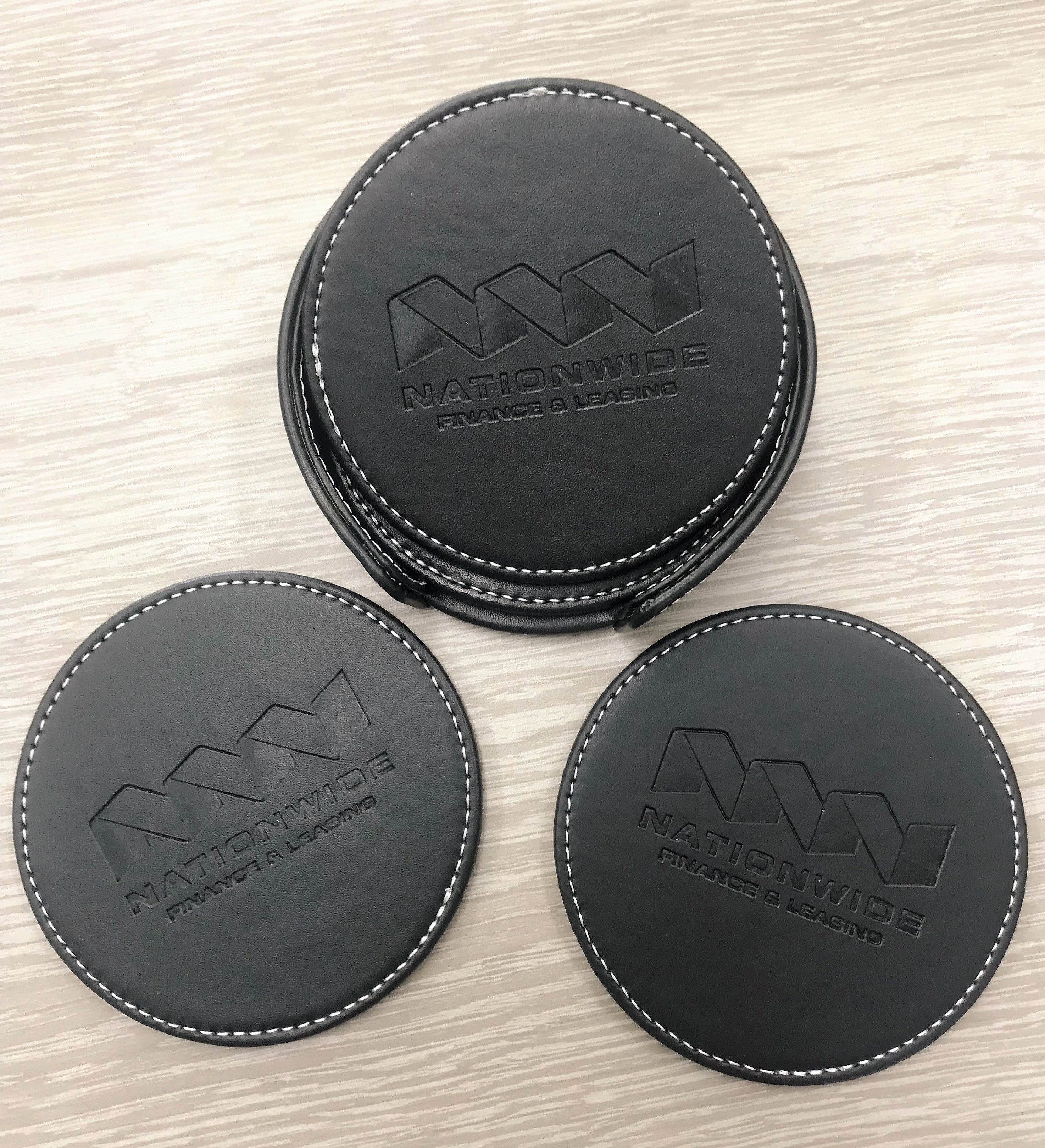 Some branded coasters for nationwide finance ans leasing. These embossed coasters make a great gift for your clients and can help build brand awareness.

It is never too early to start thinking about Christmas presents for your clients! contact us today for some great options!
Reusable bags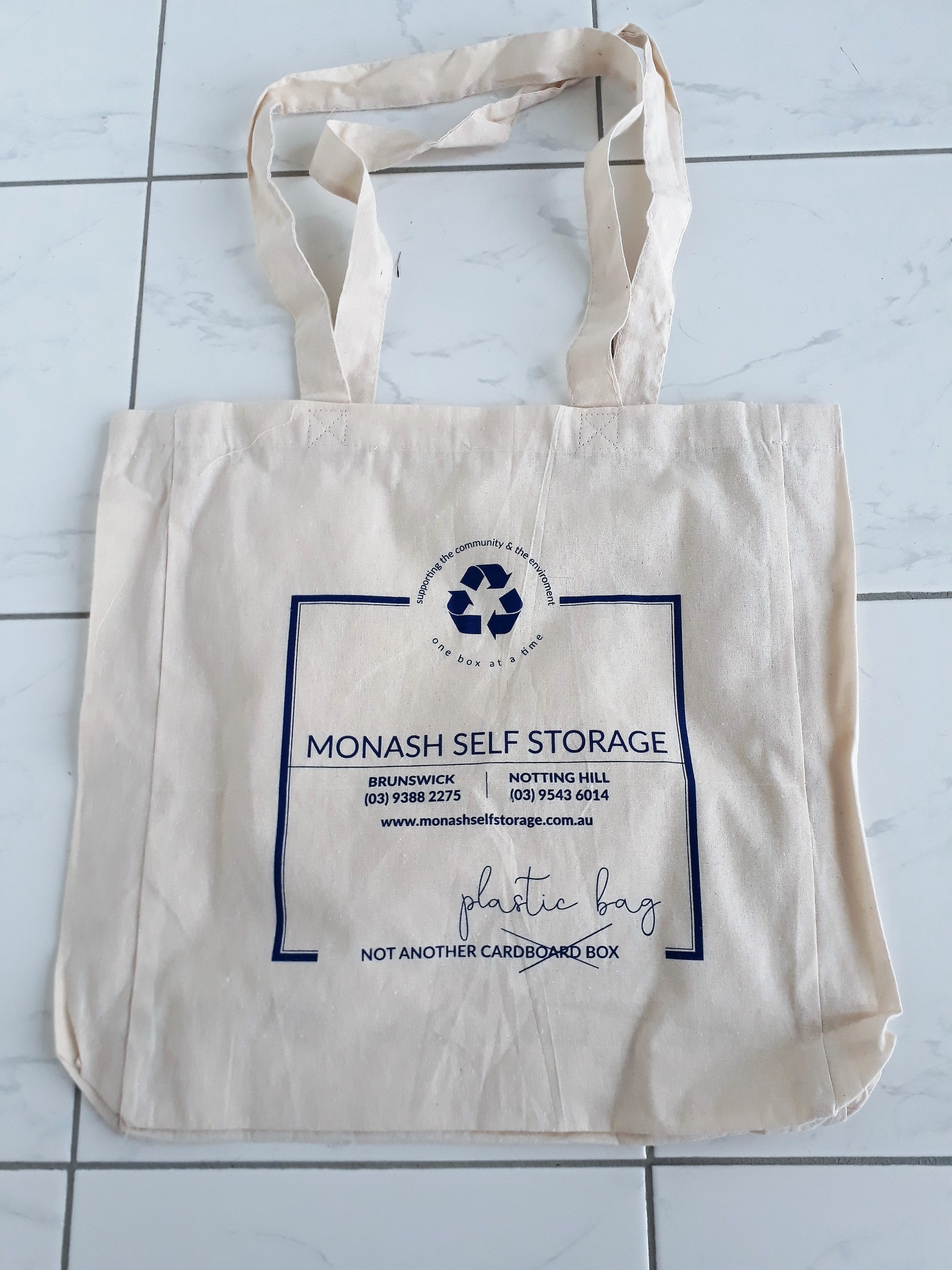 really nice reusable bags for Monash self storage. These bags are a great option for promoting your brand and they help the environment too by limiting plastic bags. We have a huge range of options when it comes to tote bags and we can find an option for every business!
Screen Printed Lanyards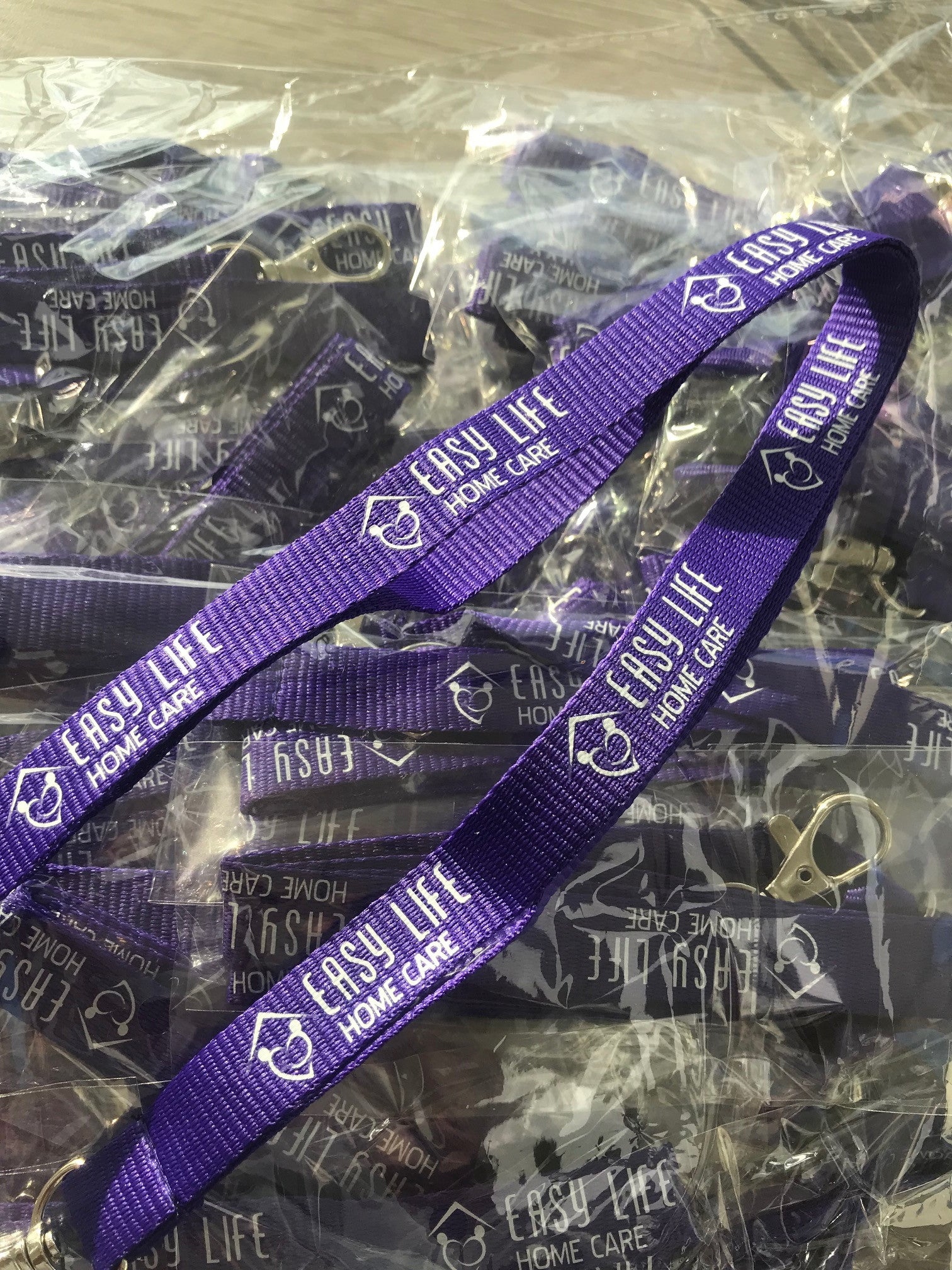 Lanyards get worn everyday by your employees, think about the number of times people will see your brand during a working week when it is printed on your lanyards. Lots of materials and colour options available. This was done for Easy life Home care for their staff to have their ID cards when they visit their clients.
Vinyl Heat Press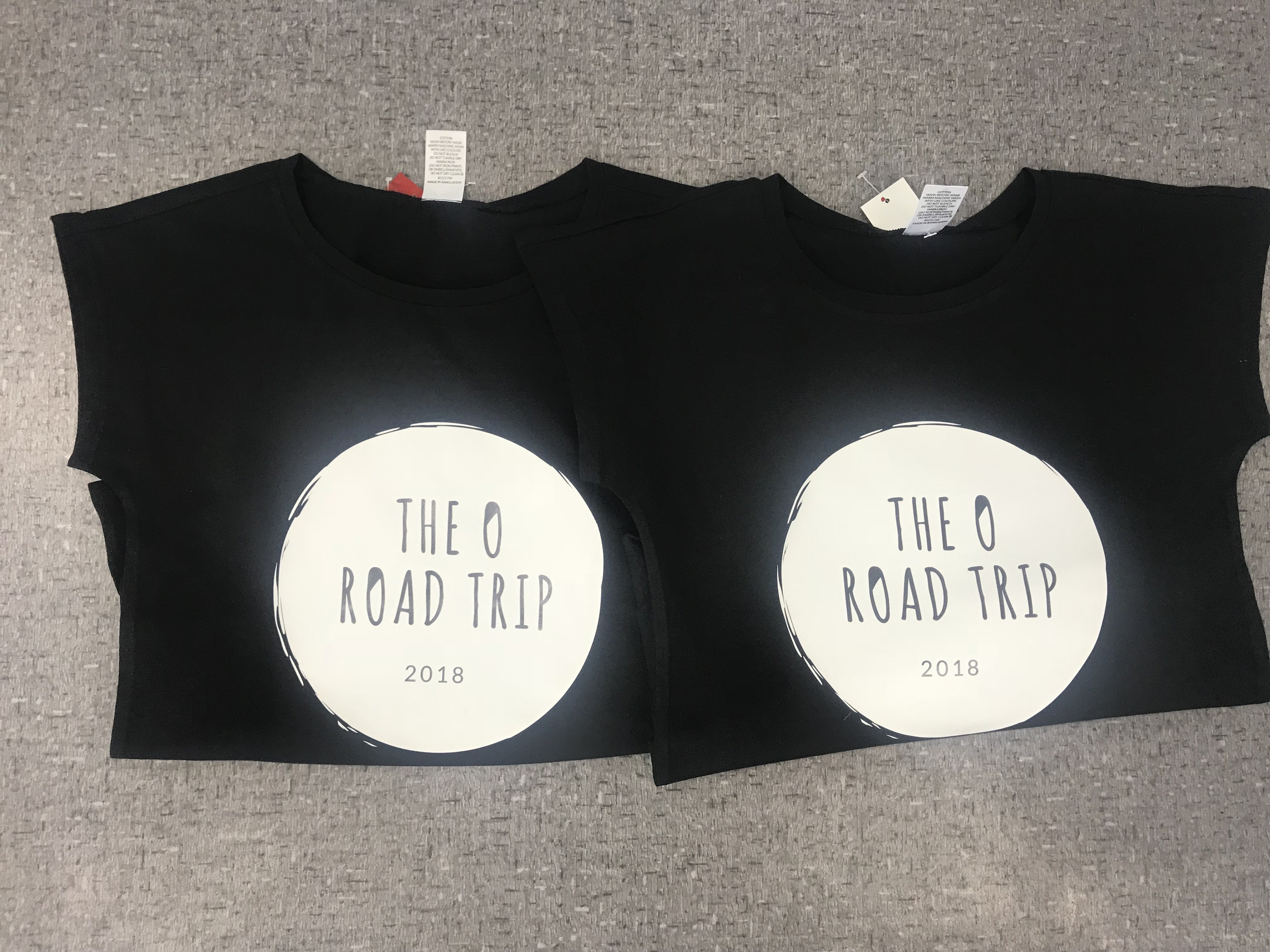 This was done in less than 3 hours, a very clever way to print any amount of detail on your garment. Vinyl heat press is a very economical way to print to any size on the garment with all the detail you want. It can be done on most types of garments.
So many options!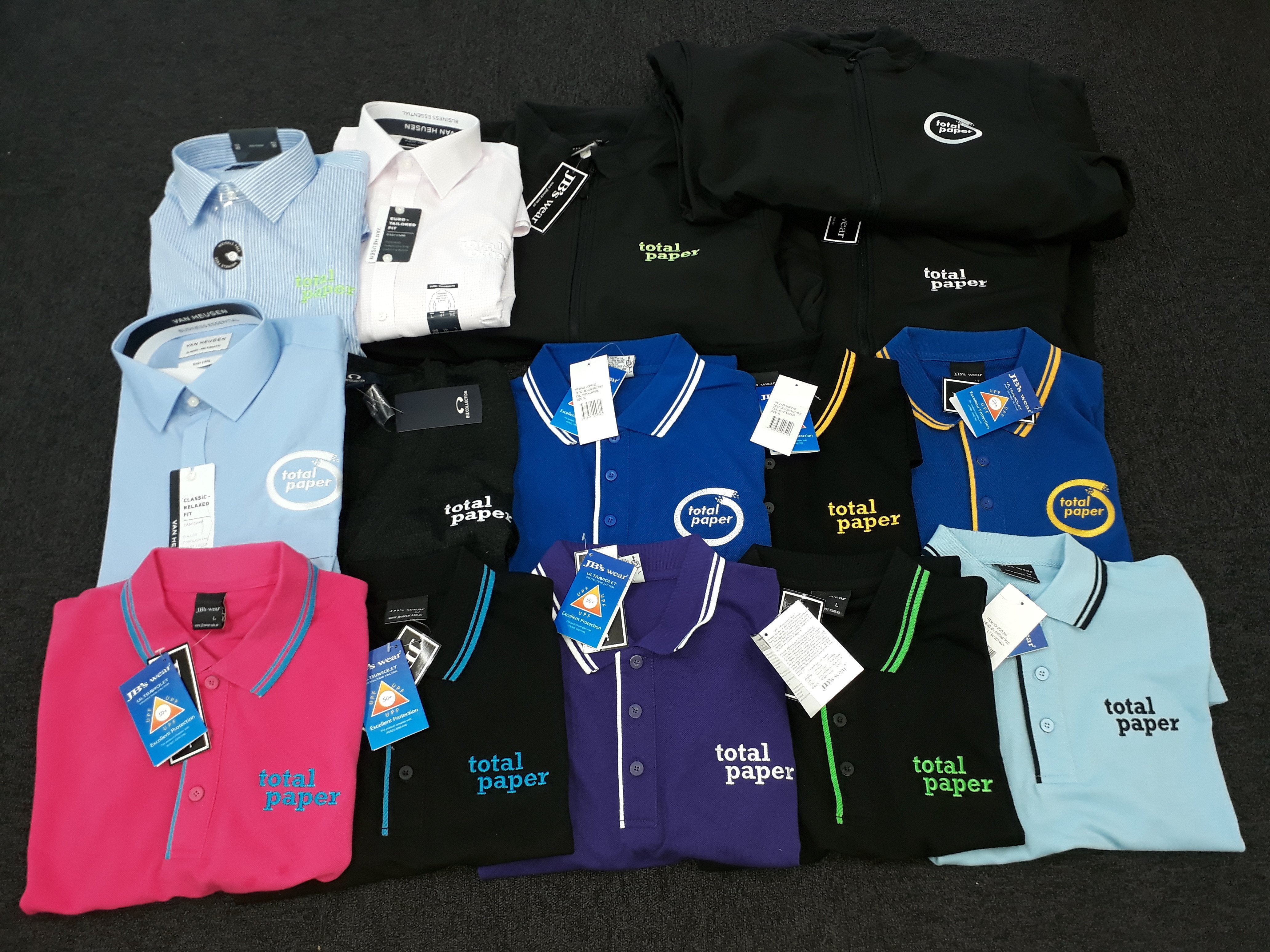 One of the best things about uniforms is they help promote your brand while keeping it professional. With so many different colours and styles we have something to suit every business! Check out how this company brought in some individuality by letting their staff choose their own colours! What a great way to stand out while still being a team, we think they look great!
Come down to our showroom to have a look and feel of our great products.
Branded beanies this winter!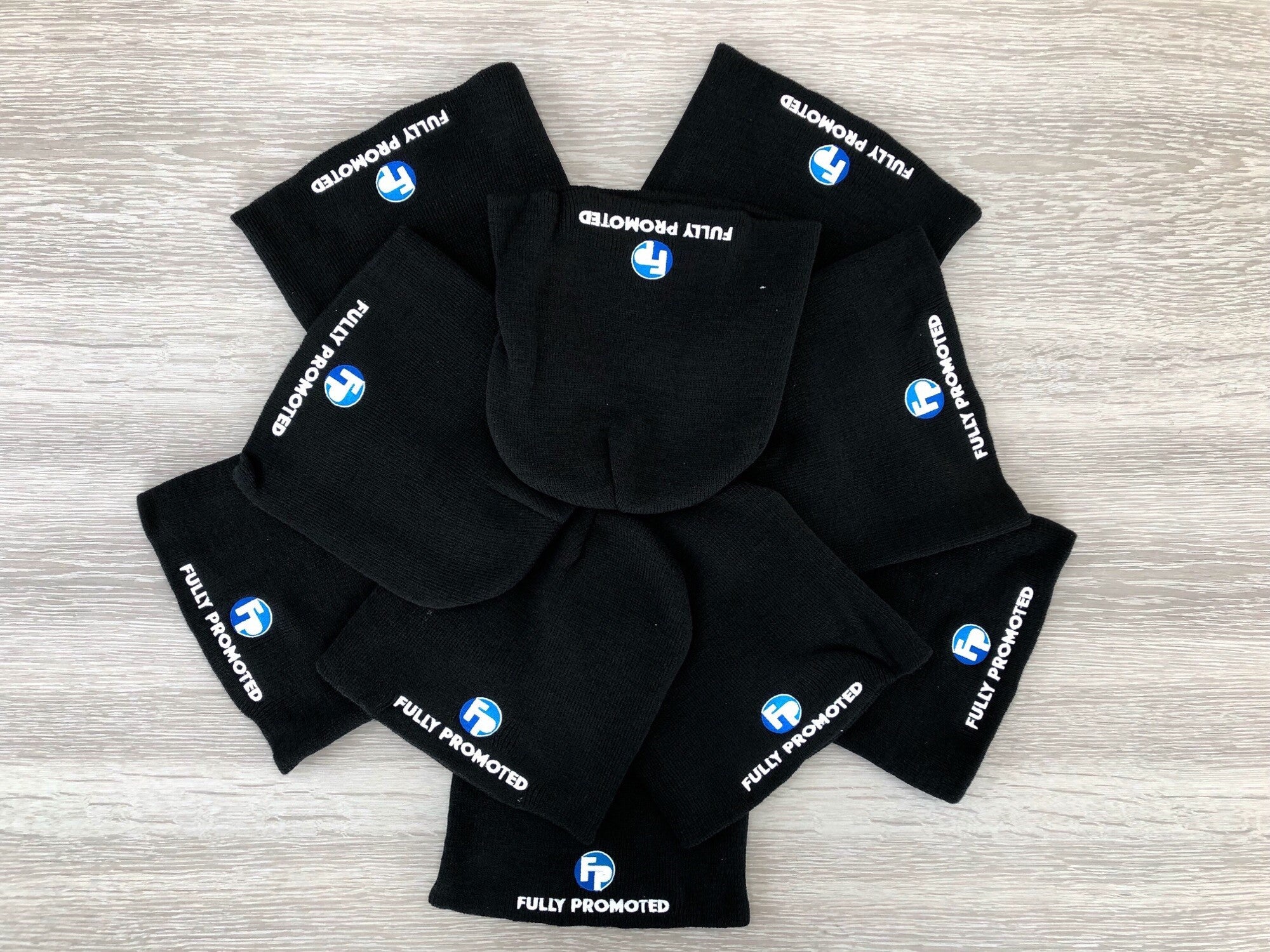 In these cold winter months everyone is looking for ways to keep warm. Beanies are a great way to keep warm and they'll look fantastic with your business name or logo on them. They can be a part of your teams uniform or use them as give-aways for your customers, either way what a great way to get your company name out there!
Soft Shell Jackets for the cold mornings!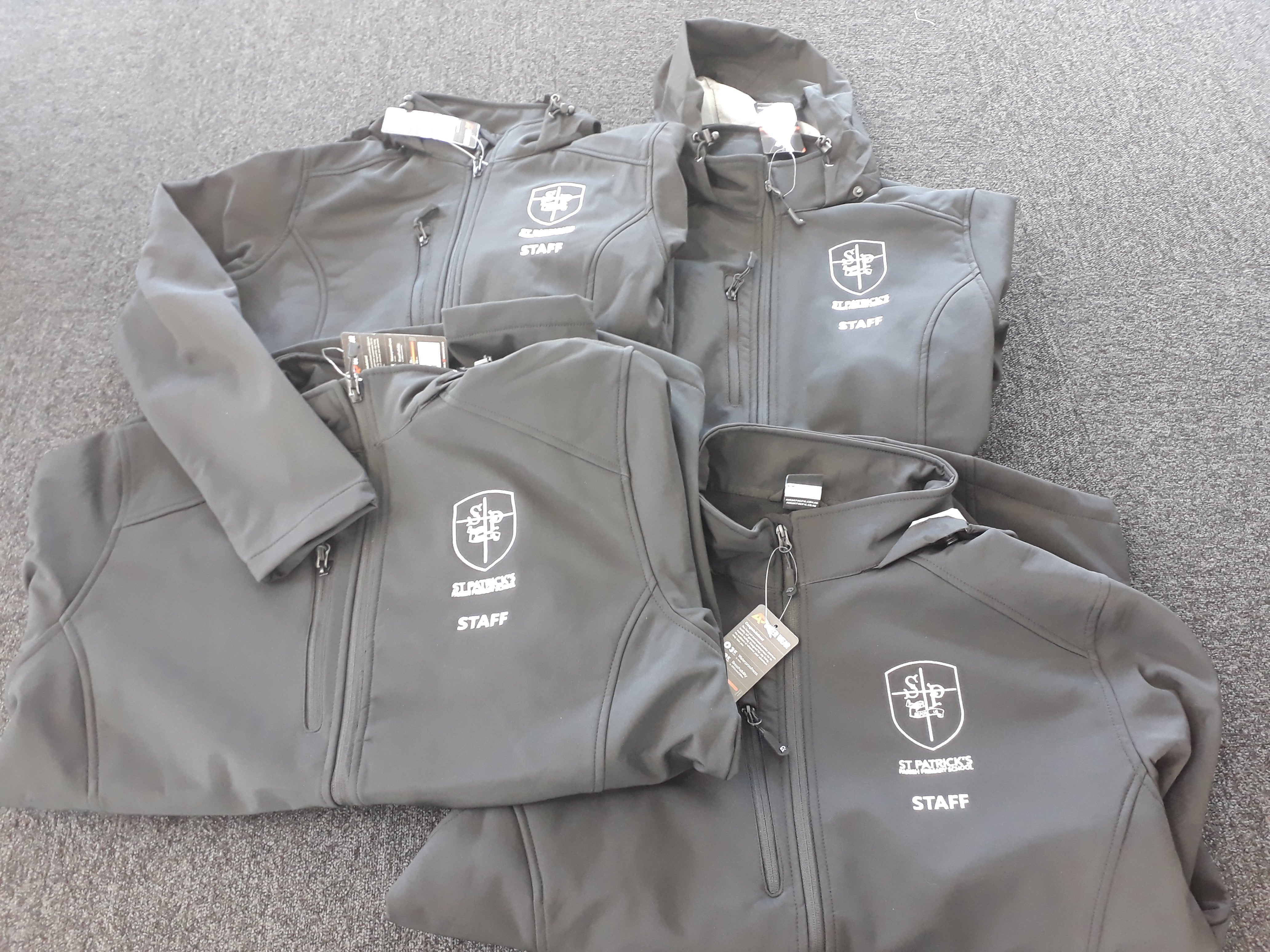 Soft shell jackets to keep the staff at St Patricks Primary school Lilydale warm on these winter mornings! These jackets are a popular option because they provide warmth while still having a professional look.
These jackets have had the school logo added to the chest and they look great!

For more options for soft shell jackets and other winter wear come into our Mount Waverley show room and talk to our friendly staff.
Try Heat Press for your Logo
Heat press allows for the transfer of detailed logos onto your work wear apparel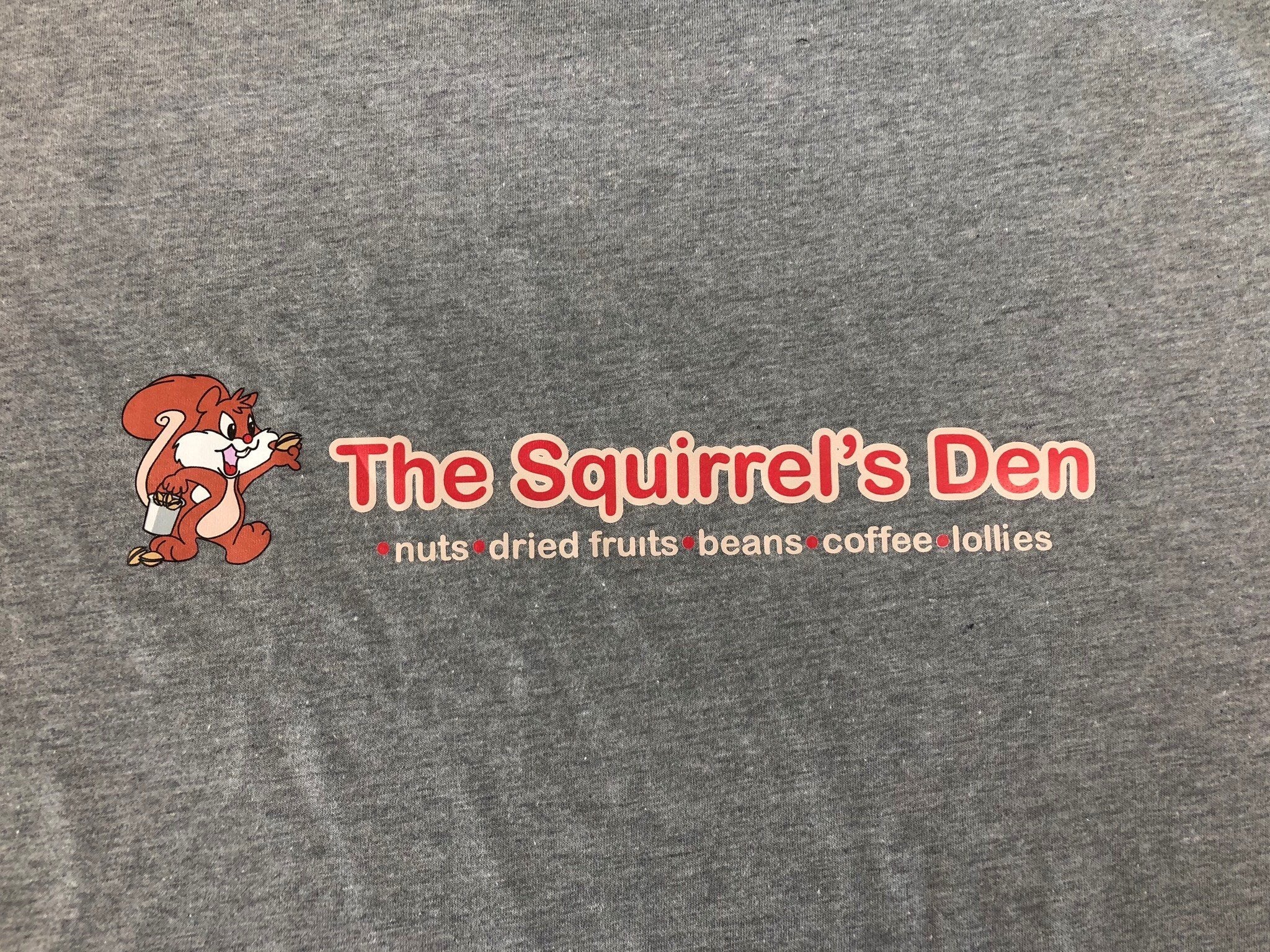 These T-shirts were made for The Squirrel's Den! Heat press was a great option for this business as it meant they could have a large logo with plenty of detail. Heat press is a great, affordable option that can be customised into any image! We complete our heat press in house at our show room in Mount Waverley. For more information and details about heat press come in and speak to our friendly staff.
Hi Vis work wear
Personalised work wear for your buisness
There are many industries that require their workers to wear High Visibility clothing, but did you know not all Hi Vis work wear is the same? There are some brands in the market that do not comply with Australian standards, this makes them unsafe to wear on worksites. By ordering your Hi Vis work wear through Fully Promoted Mount Waverley, you can be sure you're purchasing clothing that is certified to Australian standards. We can also embroider or vinyl heat press your business name or logo on the clothing, what a great way to promote your business!